5 Unconventional Ways to Save Money in 2015
Posted on January 6, 2015 by Cat in
Saving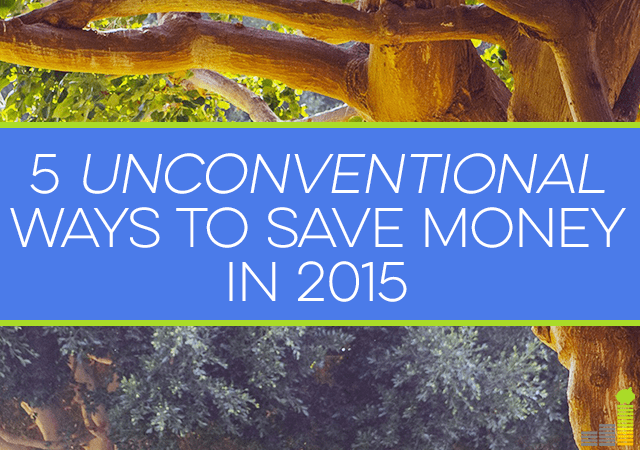 Happy New Year everyone! I hope you've all had a great start to 2015. I know many of you are feeling very motivated to save money and build wealth in 2015, and the beginning of the year is a great time to do just that.
Of course, it's easy to save money when you do basic things like cut cable or stop going to the gym, but the unconventional ways I mention below are far more challenging and dare I say, fun.
1. Get rid of your TV altogether
I always encounter resistance when I write this, but do me a favor and just think about it. I've gone four years without a TV, and it's completely possible. Sell your TV. Sell your entire media center. Pocket the $100-$500 that it will bring you and put it in your savings account (depending on the type of TV and media center you have.) Replace it all with a simple bookshelf or a beanbag chair and get lost in a book instead.
If getting rid of your TV altogether isn't a justifiable option for you, then consider buying an Amazon Fire TV stick for significantly cheaper than what you'd be spending each month on your cable bill.
2. Go Meatless Even if You Love Meat
I love steak and potatoes so much that my dad mentioned it during his rehearsal dinner speech the day before my wedding. I have a lot of respect for vegetarians and vegans and their beliefs, and in 2015 I'm going to try my hand at having a lot more meatless meals.
Meat is extremely expensive, and I'm always looking for ways to save money on groceries. In fact, I'm confident I can slash my grocery costs by as much as $50-$75 a month by going without meat.
3. Freeze Your Tush Off to save money
Sure it's uncomfortable, but keeping your house at 58 degrees instead of 68 degrees can save you a pretty penny. My excuse for not personally embracing this one is that I have two little babies at home so I have to keep the house at normal temps for them. So far, I'm getting away with it.
4. Avoid Tolls & Increase Time
Moving to New Jersey brought with it people who are required to pump your gas but also a lot of tolls. I try to always set my GPS to avoid tolls. Sometimes it takes a few more minutes and the extra gas is negligible.
Where this really comes in handy is taking public transportation into NYC instead of driving, which is far more convenient for us with two little ones. If you live in the city, take the long way around. Gas prices are at record lows and it might save you more than you think.
5. Make and Repair Your Own Clothes
Many people believe that sewing is difficult, and while high level sewing requires lots of experience, you would be surprised at how easy it is to save money on clothes by hemming a pair of pants or doing basic alterations. Sometimes getting a simple dress altered can cost as much as $20.00. Buy an inexpensive sewing machine. (Mine cost only $50) and try your hand at some patterns. I've made pillows, skirts, and tote bags with very minimal experience.
Overall, there are many obvious ways to save money whether you decide to share a commute with a co-worker or stop eating out so much. However, sometimes it's fun to stretch yourself to find more unconventional ways of saving money, which is what I'm going to try to do in 2015.
What are some of the unconventional ways you save money? Is this one of your goals for 2015? Do you make your own clothes? Would you ever go meatless just to save money? Why or why not?
The following two tabs change content below.
Catherine Alford is the go to personal finance expert for parents who want to better their finances and take on a more active financial role in their families.