TradeKing Review: Get $1,000 in Free Commissions!
TradeKing is a low-cost online broker that provides extensive value to their clients. This TradeKing review will provide a high level overview of what they offer and how they can to help you with your investing needs.
I dealt extensively with TradeKing during my days as a stock broker and was always impressed by their platform and service to clients. This TradeKing review comes from that experience and believe there is a lot of value in the $4.95 commission price they charge – which is the lowest commission price in the industry.
It's important to keep in mind we all have different needs as investors and thus need to do our own homework before choosing an online broker to manage our investment portfolios. With that in mind, feel free to check out some of my other online brokerage reviews:
A little background on TradeKing, they have been in business since 2005 and merged with Zecco in 2012 to broaden their brokerage offerings. They're well-known for their social media presence and low priced stock trades. TradeKing was also acquired by Ally in early 2016, so I'm sure there's going to be some exciting new features in the near future for clients. With that in mind, let's get on to the review of TradeKing.
TradeKing Features
Trading Platform: The first thing I look at when I consider a brokerage is the trading platform and if it's user friendly. From what I have experienced with the TradeKing platform, it is intuitive and relatively simple to master. Added to that, they offer a $4.95 commission on stock trades and $.65 per contract on options (in addition to the stock commission) which is very hard to beat. This makes TradeKing the lowest priced online brokerage out there, tied with Motif Investing.
Free Streaming Quotes: I've mentioned the feature of streaming quotes in previous reviews, and TradeKing does not disappoint here. After placing one trade, you simply contact them and they enable free streaming quotes on your account. This is nice to have if you like to watch the market and execute trades at a specific price.
Forex Trading: Just as with Etrade, TradeKing offers Forex trading thanks to their merger with Zecco. What is even better is they offer a $50,000 virtual account to allow you to get your feet wet before trying it out on your own.
TradeKing Advisors Program: This is a new feature TradeKing launched in late 2014. What I really like about this feature is that it's a major step towards being able to handle all of your investment needs in one location. The idea behind TradeKing Advisors is somewhat similar to a automated retirement program in they manage your investments for you. With TradeKing Advisors you can start with portfolios as low as $5,000 in low-cost ETFs. These portfolios are suggested and modeled by Ibottson (a subsidiary of Morningstar) and are based on your specific goals, needs and circumstances. The TradeKing Advisors program is free of charge for the first year when you open a new account.
Advantages of TradeKing
Low Pricing: Obviously, one of the big draws of is their lower commissions. If you like to invest in stocks then you're hard pressed to beat their $4.95 per stock trade. They also have a solid mutual fund price of $9.95 per trade.
Healthy Mutual Fund Offering: If you like to invest in mutual funds, then you'll be satisfied with TradeKing as they offer over 8,000 mutual funds from a wide variety of fund families. This positions TradeKing as better than average in relation to the rest of the brokerage space. Scottrade and TD Ameritrade are the only other online brokers in the space that offer more mutual funds.
Great Customer Service: I've said it before, but I will pay more for good customer service. If I am going to trust someone with my money then it's a no brainer for me. Every time I've dealt with TradeKing I've been satisfied with my experience. They've also been consistently honored by Smart Money for being one of the top brokers in the industry for customer service.
Free Online Support: One of the things that sets TradeKing apart is their use of social media and forums on their site. They take to heart offering real-time support to their clients and have thought outside the box to do so. They also provide free classes and webinars to offer help which is nice to see and they have it broken down by experience level which is incredibly helpful.
No Minimum to Open: TradeKing does not have a minimum to open an account with them. Many brokerages do not offer this, which can hold some back. This allows clients to open with the amount they can and go from there. This is a huge bonus in my book if you have little money to invest in the stock market.
Disadvantages of TradeKing
Fees: Generally speaking, TradeKing is very light when it comes to fees which is awesome. However, they make up for it with an inactivity fee of $50 per year. I hate inactivity fees with a passion, but there are ways around it, so read on.
They hit you with it if you've not had a commissionable stock trade in the last 12 months and/or your account value is under $2,500. If you're over this, then there is absolutely nothing to be worried about and can go on with your normal investing, but if not you need to be aware of it.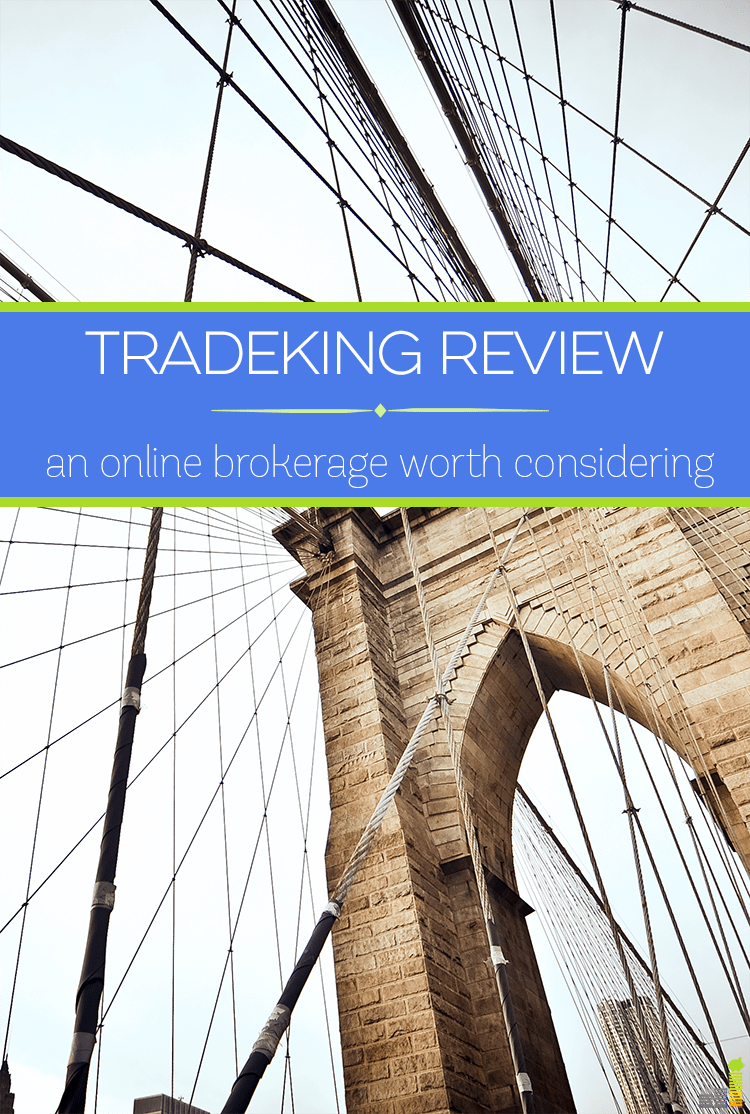 TradeKing review – my take
I think for the right person TradeKing is an excellent fit. I'm not a fan of fees, but if it doesn't apply to you then it's of no significance as you won't be charged. TradeKing offers excellent service and their price can't be beat. With their solid lineup of offerings, valuable tools and resources to help you as an investor and their accolades I would consider TradeKing a worthy online brokerage to consider for your investing needs.
With the addition of the TradeKing Advisors platform I believe they've taken a major step towards becoming a brokerage that can help nearly any investor – whether you're a DIY investor or are someone looking for some help managing your investments.
If you do open an account with TradeKing, make sure to check out my Tradeking promo code post to see what promotions you can qualify for by bringing your business to them – their standard promotion offers $100 in free commissions when you open a new account – just remember to use the code "TRY100" when you open your account. Additionally, if you deposit higher amounts, you can qualify for $500 ("TRADE500") or $1,000 ("FREE1000") in free trades.
Summary
Reviewer
John Schmoll
Review Date
Reviewed Item
TradeKing
Author Rating
The following two tabs change content below.
I'm the founder of Frugal Rules, a Dad, husband and veteran of the financial services industry. I'm passionate about helping people learn from my mistakes so that they can enjoy the freedom that comes from living frugally. I'm also a
freelance writer
, and regularly contribute to GoBankingRates, Investopedia, Lending Tree and more.
Latest posts by John Schmoll (see all)