3 Ways to Tell When You Have Too Much Stuff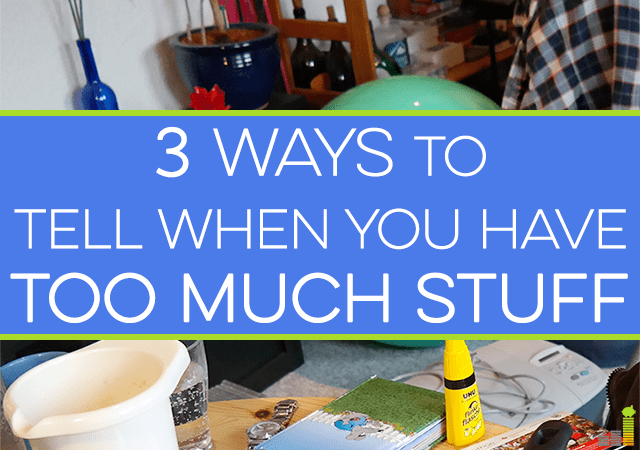 A few weeks ago, a friend of mine asked me to help her clean out her house. She is far from a hoarder, but with a house full of three kids, she felt like she was drowning in unused toys, half-empty medicine bottles, and outdated clothes. I gladly accepted her invitation because I get a thrill from cleaning out junk, and I wanted my friend to feel the freedom that comes with paring down your belongings. It was a long, tiring weekend that we spent dealing with her stuff, but I had fun and she was relieved when it was over.
We spend a lot of time dealing with our stuff. We lust after something, research it, compare prices on it, finally buy it, and then insure it, maintain it, dust it and fix it when it breaks until we finally throw it out. While we are off work on the weekends and want to do whatever the heck it is that we want to do, we are instead stuck cleaning, storing, and reorganizing all of our stuff. It doesn't make sense.
We are so busy maintaining our things that we can't simply do what we really want to do in our spare time. Do you ever want to dust all your knickknacks and unused objects every weekend? Do you want to spend an entire weekend cleaning out the basement? Or would you rather sit outside in the sun with a good book and take your kid to the park?
While I do realize there are exceptions to every rule, here are three ways to tell when you have too much stuff.
You can't park a single car in your two-car garage
So many people today think of a two-car garage as a "must have" on their list of wants for a new home, but how often do you see a two-car garage with two cars actually in it? It's more common to see stuff piled in it as a storage area instead of a place to actually house cars. In my cul-de-sac alone, there are six houses with 2-car garages, only two of which actually hold two cars.
If you have so much stuff that you park two of your big investments outside just so you can store your yearbooks/outgrown baby clothes/grandma's china in your garage, you probably have too much stuff.
You pay a monthly fee for a storage building…and you're not moving
There are some very valid reasons to pay a monthly fee for a temporary storage unit, but the key word here is "temporary." Maybe you are in the middle of a move and in between houses, maybe a dear loved one passed away recently and you aren't emotionally ready to deal with their stuff yet, or maybe you have a side business that requires you to keep some big equipment. I understand that there are sometimes reasons for paying for storage units, but let's face it, most of them are not used for temporary purposes.
There's a reason storage buildings are such big business. People are attached to their stuff, so much so that they are willing to shell out $50, $100, or $200 per month for a storage unit (which turns into $600, $1200, and $2400 per year) just to store it all. Yikes!
If you've been paying for a unit for over a year, are you actually in a temporary life transition or is it time to start paring down? Do you even remember what's in there? If you haven't looked at your stuff in months, is it really that important to you? I think you know the answer.
You are constantly reorganizing and buying organization tools
Maybe you have a junk drawer that you can't actually close or your clothes can't even hang in your closet because they're so jammed in there. So you spend a weekend going to the store to purchase some new, pretty boxes to store your other things in.
I do love organizing from time to time, but buying more things to organize your other things doesn't fix the problem, it only adds to your clutter and costs you money in the process. Moving stuff around from place to place doesn't work either.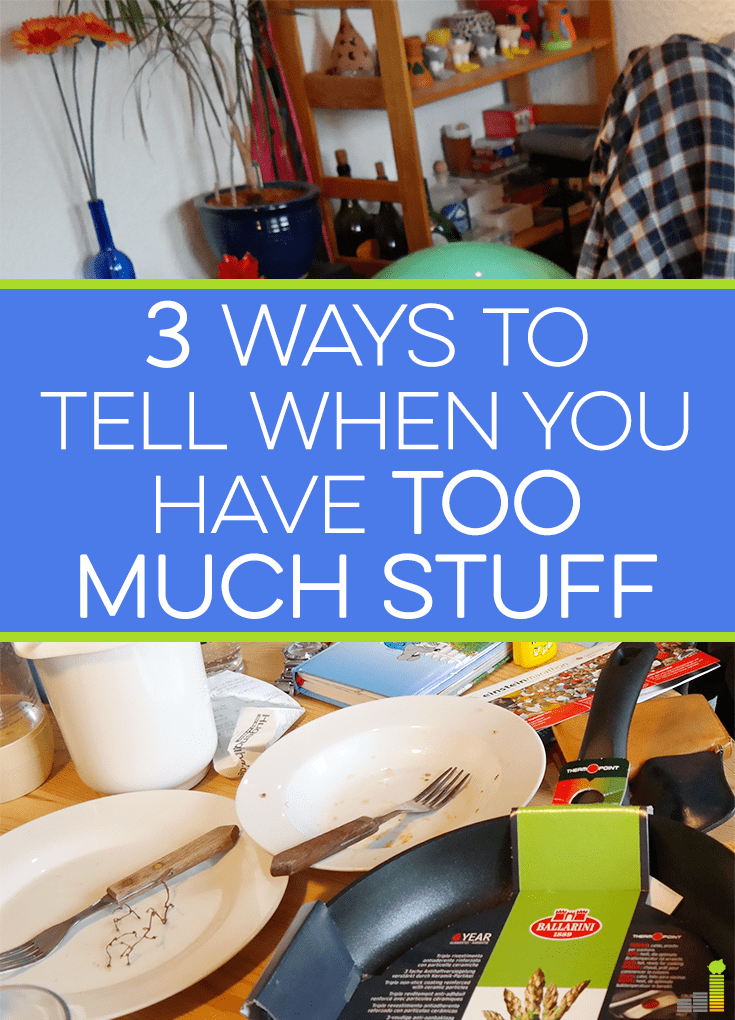 Your Home Should Be a Sanctuary
Your home is supposed to be your sanctuary, your solace against the outside world with all of its pressures, responsibilities, and work. If you don't feel at ease when you walk into your home, then it's creating unnecessary stress. Treat your home like your sanctuary, keep the things that give you pleasure, and discard the rest. You won't miss any of it.
What's in your garage or storage unit? What can you get rid of? What can you not imagine ever getting rid of? How do you like to spend your weekends?
The following two tabs change content below.
Robin McDaniel
Robin is a freelance writer who chronicles her financial missteps and victories on her blog www.TheThriftyPeach.com.
Latest posts by Robin McDaniel (see all)