In Just Two Days, Tomorrow Will Be Yesterday – Start Now!
Posted on December 17, 2014 by Grayson Bell in
Goals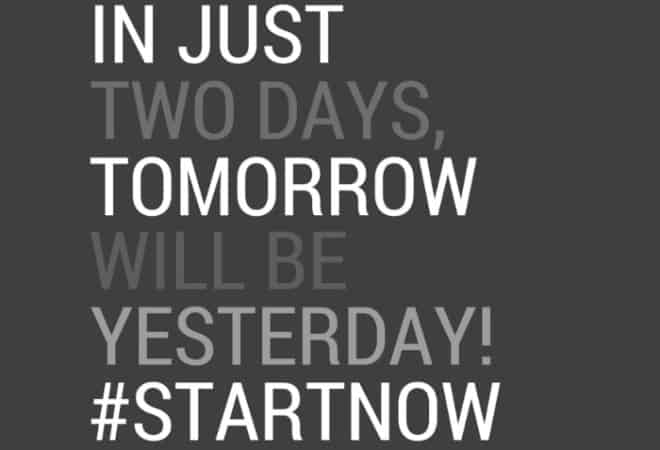 I have always been enamored with the quote in the title: "In just two days, tomorrow will be yesterday." I've never found out who said it, but it bodes true each and every day and in every situation. I even took some time to create a little image and send it out on Twitter. I use this quote to inspire me to get my mind right and stay on track. This quote is powerful in more ways than one.
What Does This quote Mean?
I think this quote is simple and to the point. What it means to me is if you constantly say you will do it tomorrow, yet you don't, then time, and the things you want to accomplish, will get away from you. Tomorrow will become yesterday in just two days. Taking action is extremely important in life. This is especially true with it comes to finance.
I know I was guilty of butchering the "I'll start tomorrow" line when I was deep in debt. I just kept putting it off by saying I would work on it tomorrow. Tomorrow would come, pass me by, and I would say it again. Tomorrow just worked it's way into days, weeks, and months. I didn't start attacking my debt until about three months after I first said I would tackle it. That was three months longer I had to pay interest and lose more money to the credit card company. I can't take it back, but I can learn from it.
Why Do We Push Things Off?
I have been fascinated with our reasoning for putting off things we don't like. Maybe it's as simple as we just don't like doing them. I know I hate cleaning the house or washing the dishes, but if I don't get them done, then it just takes me longer to do them. What time I think I'm saving is actually just costing me more time down the road.
I do think fear has a lot to do with some things getting pushed off. Debt was a big fear for me. I didn't know how to tackle it. I didn't know what to do first.  When I can't find or figure out a solution to a problem, I tend to just push it off and tackle something I can do. It's the little victories. This is the premise of the debt snowball, by Dave Ramsey. While I didn't use this method, I understand it. Motivation is huge in debt repayment. Huge, I tell you!
How to Use this Quote
No matter what your goals are or what you want to accomplish, this quote can get you there.  This is a powerful, yet simple quote telling you to get started today. I use the hashtag #startnow and I think we should get this bad boy trending.
Starting now can be for anything.  Do you want to pay off debt? #startnow! Want to earn more money? #startnow! Want to start investing? #startnow! Want to create a business? #startnow!
You'll never achieve what you don't start. While there may be fear of failure with everything we do, we have to overcome said fear and push through; that's the only way to live without regrets. If I let fear run my life, I would still be in debt, spending money uncontrollably, and contemplating starting a business. Everything in my life has been put there because I started.
If you have some goal that you need to accomplish, put this quote somewhere visible where you'll see it all the time. Use it to motivate you to start something today. Don't put it off any longer. This is especially true since the new year is about to begin. With a new year come new goals and responsibilities. Start the year off with a bang and tackle your goals. The longer you put something off, the worse off your situation gets. This is especially true with debt. While it can be scary to try and tackle such a large problem, just starting today and putting a small dent in it can be motivation enough to knock out the problem once and for all.
Have you set any goals for 2015? What's one of the things you want to accomplish next year? What do you need to start but haven't yet?
The following two tabs change content below.
Latest posts by Grayson Bell (see all)