Is it Time to Get Out of the Stock Market?
Posted on January 20, 2016 by John Schmoll in
Investing
"Is it time to get out of the stock market?" This is a question I've heard a lot lately. It makes sense on many levels. We've seen the indices drop like a rock the past month. We've seen China go into financial convulsions. We've seen oil drop to ridiculous prices. This makes many wonder whether or not it's time to get out of the stock market.
Let me answer that question with one simple word…No! It's not time to get out of the stock market and hide your money under the mattress.
I know this is easier said than done. It's difficult not to separate emotions from investing. That's especially the case for those who saw their 401(k) balances plummet between late 2007 and 2009. You want to get out of the stock market now and stop the bleeding. I get that, though you'll only do yourself more harm than good in the long run.
If you're wondering whether or not it's time to pull out of the stock market, consider some of the following ideas before doing so.
What Goes Up Must Come Down
This is a well-known axiom in the investing community. If life were all lollipops and puppies, the stock market would just continue to go up and up. Unfortunately, there is a little something called reality and a continued, unceasing trajectory is impossible. While I may dislike seeing investment losses as much as the next person it is vital to come to grips with the fact that you will lose money when investing in the stock market.
We can never truly know what exactly is going to happen in the market. Anyone who tells you otherwise should be ignored. What we do know, however, is fear is rampant. That's what is leading a lot of the current market downturn – fear. Fear isn't necessarily bad, per se, but when it leads you to make rash decisions it can have a significant negative impact.
Look at it this way. Your investments are going down. You think it's time to get out of the stock market and you sell everything. What you've done is lock in your losses. Far too many did that back in 2008 or early 2009 and missed out on the resulting upswing that many others took advantage of.
The moral is not to jump in head first just because everyone else is acting out of fear. I am not an expert at speculating on the stock market, but I do know that what goes up must come down. I obviously don't know what that amount will be, but it will come down. This is also not to mention the fact that I agree with Warren Buffett when he says that he's greedy when others are fearful and fearful when others are greedy.
Who Should You Listen to?
If you follow the media you know the stock market, and getting out of it, is something that has been talked about a lot lately. Everybody seems to have an opinion on being in the stock market, and they will tell you exactly what to buy or sell. There is one simple reason why they do this – to get ratings. They have no idea what your exact situation is. They have no idea what your portfolio looks like. They simply need ratings as it's their job to get you to watch.
While the noise can make it difficult for many to decide what to do when it comes to their investing strategy, I will say to be very careful of who you listen to when it comes to making an investment decision of your own. You are the only one who knows your specific situation and only you will care as much about your money as you do so make sure to your due diligence before listening to anyone. This is why I simply monitor all our investments through my free Personal Capital account. I'm able to stay on top of what they're doing and if there are better, lower cost alternatives available. If you need a simple way to monitor all of your investments, you can do so with a free Personal Capital account.
Know How Being in the Stock Market Plays in Your Future
I have written before about having an investment plan and the current state of affairs in the stock market is one of the very reasons why I think it's vital to have one. An investment plan helps you separate emotion from your investing and make a rational decision. That is key in times where the stock market it having palpitations. If you do deem it's time to get out of the stock market, at least it'll be because it's based on a plan and not because you're fearful.
With that in mind, you need to know the role investing in the stock market plays into your future. Are you saving for retirement? Are you saving for a down payment for your next house? Are you saving for a college fund? There may be many other reasons for your investing, though the point is you need to know the why so you can make your decisions accordingly. Some online brokerages will even offer tools to help you make these decisions on your own so you can make an educated decision.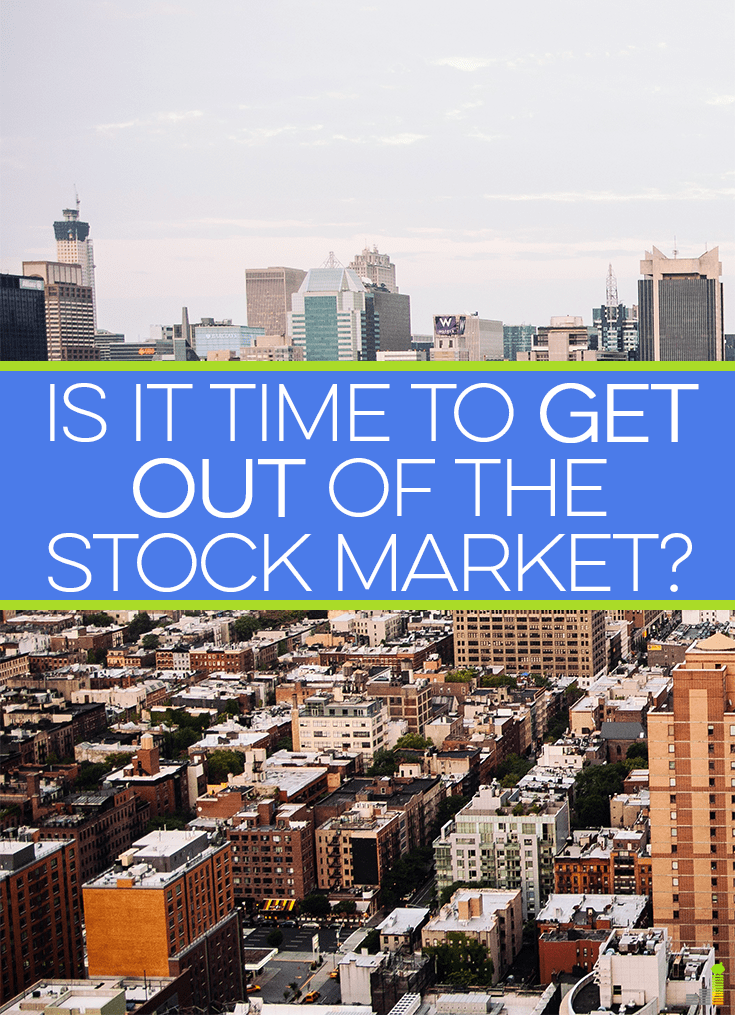 I find that times like this are a great time to reassess your investing. You should take a look at your overall portfolio and see if and when it might be time to rebalance it. In most instances you'll find that nothing will need to be done, though it's a good exercise to go through if you don't actively watch your investments. Ultimately, when you're asking yourself if it's time to get out of the stock market you need to keep the long-term in mind. Whatever kind of situation you want in the long-run it likely won't happen by acting out of fear.
Personally speaking, I take moments like the one we face now and let it roll off my back. We take a lazy approach to investing and are investing for the long run. It's inevitable that we'll see blips from time to time, but we'll also see the market go up over time as well – that's not something your mattress can promise.
What are your thoughts on the current state of the stock market? Are you making any changes in your portfolio, or are you staying the course?
Additional resource: Are you new to investing, but don't know where to start or how to manage your investments? Would you like to have someone manage your investments but think you don't have enough money to afford it? You can open an account with Betterment as they have no minimum balance requirement and they will manage your investments for you, for incredibly cheap, and maintain a portfolio of solid, low-cost index funds so you don't have to constantly monitor what your individual stocks are doing.
Open a Betterment account today and get up to 12 months managed for free!
The following two tabs change content below.
John is the founder of Frugal Rules, a dad, husband and veteran of the financial services industry whose writing has been featured in Forbes, CNBC, Yahoo Finance and more.
Passionate about helping people learn from his mistakes, John shares financial tools and tips to help you enjoy the freedom that comes from living frugally. One of his favorite tools is Personal Capital , which he used to plan for retirement and keep track of his finances in less than 15 minutes each month.
Another one of John's passions is helping people save $80 per month by axing their expensive cable subscriptions and replacing them with more affordable ones, like Hulu with Live TV.
Latest posts by John Schmoll (see all)