Teaching Kids About Money: A Call to Action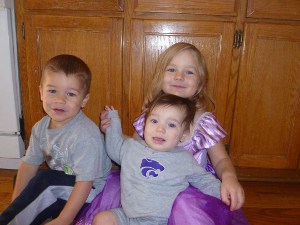 If you take a look at that picture at the top of the post, you'll see three of the most important people in my life. They mean everything to me, and as any parent can tell you, they feel the same way about their kids. As a parent, on one level, you want to protect them as much as possible from mistakes and the outside world – but let's be real, that's not always going to be feasible. You'll always have situations that are one off type situations, but there are also issues that you need to be building into your children over years to help prepare them for the life they'll live as adults. One of those situations, and likely one of the most important, is teaching kids about money. I know that teaching kids about money is not the most glamorous topic, or one that we can all relate to, but is one of vital importance if we're going to stem the tide of financial illiteracy in our society.
Financial Literacy is the Name of the Game
I know for many families money is a taboo topic, heck it was in my family growing up as a child. However, making it taboo is part of the problem and ignorance is no solution. I've written about financial literacy in the past, and I see teaching kids about money as a vital part of financial literacy. I've shared some of the statistics in the past, and spare you those now, but it's obvious that we struggle in terms of managing our finances as a society. I see teaching kids about money as a critical means of combating this. It does not have to be difficult, or impossible, but can be simply accomplished through just starting. Begin today to teach your kids about money; by starting early and teaching often you can help build a foundation that they can call back to as they get older.
A Want is Not a Need
As you're looking more practically at how to teach kids about money, one of the first steps should be to begin to establish the difference between a want and a need. A perfect place to teach that is at the grocery store. It never fails that when we take one of the kids we end up with something in the cart we did not put in there. These are incredibly teachable moments for kids and will only become more complex as they get older. By starting out early on this basic step you'll help your child learn that just because they want something does not mean they really need the item in question. As an advertiser, I know how companies target children, as early as pre-school, to work on these emotions – and it works. Try driving past the Golden Arches with a four or five year old and see how many requests you get. These opportunities for teaching kids about money happens at every turn, so be on the lookout for them.
A Little Fun can go a Long Way
As any parent will tell you, the attention span of a little one is short at best. By using fun ways to teach kids about money you're more likely to grab their attention and cause them to enjoy it. Young children are such concrete thinkers that using games or something with tangible aspects will help drive home the purpose of the game. If you're struggling with how to start, look for things they or your family enjoys. In our family, we love to travel and enjoy going on vacation but it takes money to do that. A simple thing we've done is have a big jar in our kitchen that we fill up with spare change. We involve the kids by letting them put the change in, which they get excited about. They get excited, because that change usually results in several hundred dollars that we can use on whatever we want while on vacation. That simple act begins to show them the power of saving and doing it regularly. There are many other games to teach kids about money, or even make some up yourself. The point is teaching kids about money does not have to be boring.
Make Money Real to your Children
I find where many families fail at teaching kids about money is by not making money real to them. If we don't involve them in family discussions or help them start to grasp money on their own, then how can we hope for them to make wise financial decisions as they get older? In all honesty, we really can't, unless they're getting taught financial basics at school. I know this may seem daunting, but I guarantee you that your children will benefit, even if you do make mistakes along the way. Do you struggle with debt? Then involve them, as appropriate, in discussions about how you're dealing with the debt. Do you have family goals like going on summer vacation or saving money around the house? Then involve them in those discussions and allow them to be active members. Teaching kids about money is a process and when we make it real to them they can start to form their own ideas about money, as well as see the need to handle it seriously.
Teaching Kids About Money is in Act of Love
There are many things Mrs. Frugal Rules and I want for our kids, and most parents will say the same thing. I have come to the belief that teaching kids about money is one of the most loving things parents can do for their children. Think about it for a moment, they're possibly going to have families of their own when they grow up, which causes me to think about the kind of legacy I want to leave. I want them to not only learn from our mistakes, but I want them to have a clear head when it comes to money so they can make balanced decisions. As a parent, it's our responsibility (in my opinion at least) to help prepare them for that. To help prepare them to provide for their families, avoid things like spending crazily on credit cards, retirement planning and caring for their families. I would go so far as to say that it's a moral issue in keeping with the attitude of desiring a better future for them and their families. By allowing them the opportunity to learn about money, make decisions about money and mentally grapple with money they can start that process now. Teaching kids about money is not a one and done event, but it's a life of learning and growing so they're well prepared for what's ahead of them.
Are you currently teaching your kids about money? If you're not a parent, what ways did your parents teach you about money?
Photo courtesy of: Nicole S
The following two tabs change content below.
John is the founder of Frugal Rules, a dad, husband and veteran of the financial services industry whose writing has been featured in Forbes, CNBC, Yahoo Finance and more.
Passionate about helping people learn from his mistakes, John shares financial tools and tips to help you enjoy the freedom that comes from living frugally. One of his favorite tools is Personal Capital , which he used to plan for retirement and keep track of his finances in less than 15 minutes each month.
Another one of John's passions is helping people save $80 per month by axing their expensive cable subscriptions and replacing them with more affordable ones, like Hulu with Live TV.
Latest posts by John Schmoll (see all)