3 Reasons Why Target Might Be the Best Place to Buy Groceries
Posted on September 12, 2016 by Cat in
Lifestyle
Since I moved to Michigan about five weeks ago, I've gotten in the habit of going to Target to buy groceries.
Maybe it's just something about moving to a new place, but I tried a few other grocery stores and all of them seemed so overwhelming.
It takes time to figure out where everything is in a new store. Plus, everyone in Michigan is so nice. Every five seconds someone asked me if I needed help finding something, and I honestly wanted to just yell in the middle of the store that I needed help finding everything (but that would have caused a scene so I didn't.)
So, I find myself at Target more often than not to buy my groceries. Most Targets look the same, and I know how to navigate them. It sounds silly, but when you've been completely uprooted, sometimes it's nice to go somewhere familiar. Plus, I've realized Target is a phenomenal place to buy groceries.
Here's why:
The Circle App
Target has a great app called Circle (formerly known as Cartwheel), which is free on either an iPhone or Android based smartphone. All you need is a Target account and a smartphone, and you're good to go. Hold up your phone and scan any barcode as you go through the store. It'll either give you an excited "Ta da!" noise or a "Bonk Try Again" noise. The "Ta da!" noise means that there is a coupon that matches what you've scanned.
I know there are people out there who use other apps to save money on groceries, but the Cartwheel app is the easiest way that I've found to do this. I don't have to sit down for hours and clip coupons for products I know I don't want.
I literally just scan the organic milk and sometimes it tells me it's five percent off. It's hard to find a coupon in the paper for blueberries or yogurt or milk, but with Circle, more often than not there's a deal.
On a recent grocery trip earlier this week, there was organic yogurt on sale for my kids. Then, there was a five percent off cartwheel on top of it. I ended up getting really nice organic yogurt that my kids have been enjoying for breakfast for far less than the generic brand.
This is something that I would have passed on before, thinking it was too much of a luxury, but because it was on sale already, I decided to scan it, which brought the price down even more due to the coupon.
The only main issue with the Target app is that it commands the use of my phone so my son, who hates shopping, is always grumpy that he can't hold my phone to watch YouTube (or videos of himself) while we shop. Still, it's a super easy way to make sure that I use coupons every time I go to Target, including ones that are specific only to Target.
The Target Red Card
Because I've been doing all of my shopping at Target lately, I finally got a Target Red Card. I opted for the Target debit card vs. the Target credit card mostly because I've been simplifying my finances and my accounts lately.
Regardless of which one you get, though, the application process was relatively painless and the best part is that you save five percent on every order. Plus you get free shipping online with every order. It's a great perk for a free card.
There's nothing quite like saving money using the Cartwheel app throughout the store and then seeing the numbers fall at the end because you used the Red Card.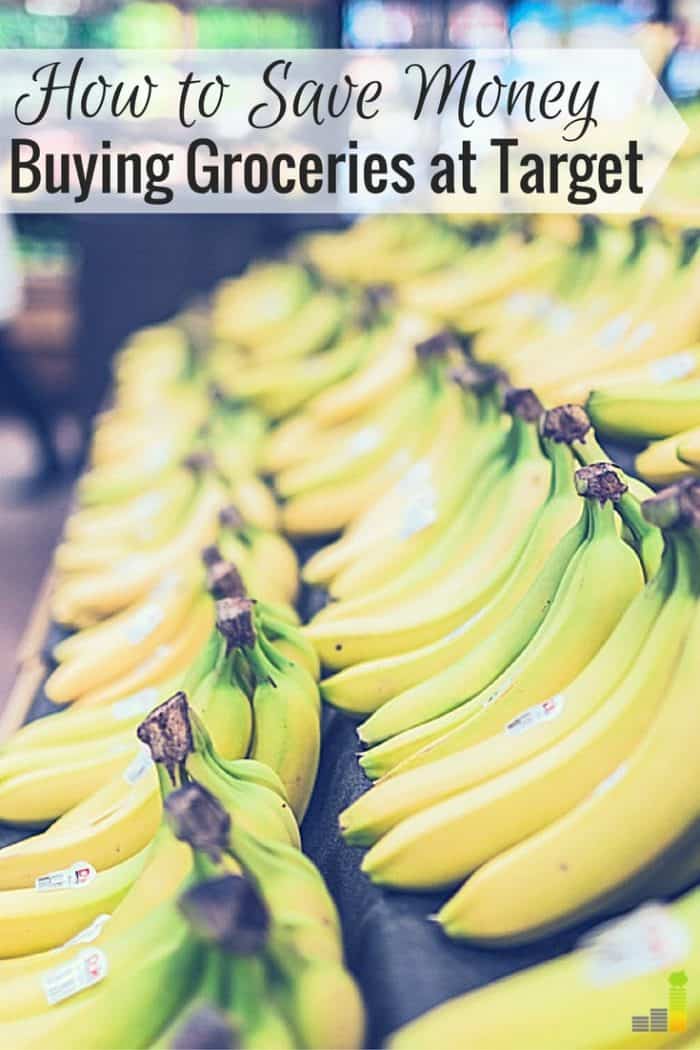 Great Options, Small Space
In my previous life, I really didn't do the grocery shopping at all. My husband is a great cook and loves to go to the grocery store. Every weekend, he'd switch off taking one twin with him and then the next weekend taking the other. It became a sort of Daddy date for the kids, and they loved it.
*Related: Love to shop at Target? Check out our guide on how to get discounted Target gift cards and save money at the store.*
Unfortunately, due to his new and intense residency schedule, I've taken on doing the weekly grocery shopping in addition to several of his other chores (hellloooo grass cutting.)
Because I really, truly hate grocery shopping especially with two little kids, Target is my place since it's relatively small. Sure, they don't have as many options when it comes to food but the options they do have are really pretty nice.
They have a lot of nice packaged items, nice meat and nice produce and plenty of healthy, whole food options that accommodate a healthy lifestyle. In fact, just recently the meat was on sale so much that my whole freezer is stocked with different types of meat that should last us a few weeks.
The fact that there is less selection has actually been pretty nice for me. As I said, I tend to get overwhelmed at the grocery store when there are just too many options, and shopping at Target has allowed me to get what I need without being tempted to throw a million more food items in the basket. Plus, I love the savings I get, and I feel as though the prices really do rival other grocery stores.
Do you do your grocery shopping at Target? How do the prices compare in your neighborhood? Have you tried the Cartwheel app yet? If so, what's been one of your biggest savings? How do you feel about grocery store loyalty programs?
The following two tabs change content below.
Catherine Alford is the go to personal finance expert for parents who want to better their finances and take on a more active financial role in their families.