Taking the Plunge: What the Hell Have I Done?!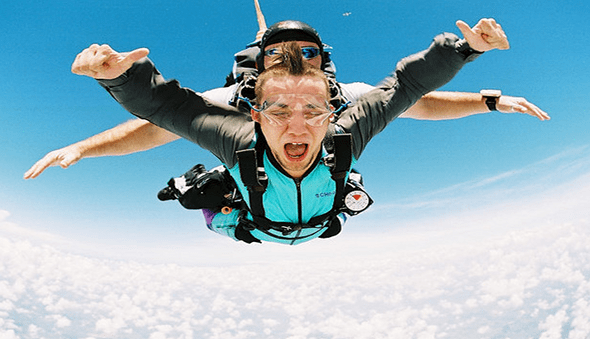 Do you ever have those times where you wonder WHAT on earth you were thinking when you made a certain decision? I hate times like that as it makes me question whether or not I acted too rashly or if I made an absolutely idiotic decision. This was the place I found myself in this past summer as the responsibilities of running our own business came home to roost. We had taken several months to seriously contemplate and run the numbers to see if taking the plunge was right for us or not. We made the decision for me to quit my day job in mid-May and things were going great for the first month or so and then it came to what seemed to be a screeching halt. Questions raced through my mind and I seriously wondered if I had completely misled myself. I share what I do not as a means to be a motivational speaker, but to share some of the things you experience when you've decided to take a huge step like this.
My Dream or a Desk Job?
To take a step back in the discussion, there was a financial company I had been trying to get into for several years here in my hometown. I had interviewed there four or five times over the course of maybe 18 months and each time I came in second. My last interview with them was for an opening for an analytical role I was interested in. As with all my previous interview experiences, I lost out to an internal candidate. This was frustrating, but I did respect their philosophy of promoting from within…much of why I wanted to go there. Well, as we were in our decision making process I had one final interview there. Things went well but I did not hear back from them for several weeks. Literally the day after we made our decision I got the call that I had been offered the job. My thoughts were WTF, where was this job offer a year ago? So, in the span of 24 hours we dealt with what should I do? Should I give up on our dream for this job or was I just being silly for questioning giving up on our dream. The sad fact of this job was that it was at the same level I was at in my previous company and who could say where I would go over the course of time. The job meant nothing in terms of a pay raise which was a disappointment. After a thoughtful night of discussing it with Mrs. Frugal Rules we decided to stay the course as it still did not change the fact that we had a vision and wanted more in life than a desk job.
Where the Hell is the Work?
The first month or so we were killing it, or so we thought. Business was coming in and one of our clients had signed us for a larger retainer. Things were going great and then, all of a sudden, there was no work. I mean NOTHING. We had been going to networking events, following up with past clients, meeting with new potential clients and absolutely nothing came in. As someone who tends to not doubt himself, this was a bit jarring to say the least. We questioned if we were doing things wrong or if we had made an absolutely boneheaded decision. I even questioned whether or not I should call that company back seeing if they had filled the job or not. We also learned over this time that people are liars and that work we had counted on was nowhere to be found. I know it's crazy, but you need work to pay the bills and we weren't getting any work. We ended up having a couple of months where we were barely scraping by. It's amazing how quickly we question ourselves when things do not go the way we want and the rubber meets the road in terms of questioning your decision making. Looking back now, I am immensely thankful for that time as it has taught us that when life gets tough, you don't give up, you just persevere. We find ourselves applying the truth of that lesson over and over as small business owners. Now that business is going well, we can speak to clients from a place of confidence because we know exactly how committed we are to our vision. More practically, it helped us learn even more about the cycles in the advertising business and that we need to be able to budget accordingly.
Hard Choices
In the middle of our two month drought of very little work we were also faced with tough choices. We had been planning on going on a family vacation to Minneapolis over the Labor Day weekend. We were going to go to the State Fair, enjoy some time outdoors and visit the farm that is still in my family. My Dad was even flying out to go on the trip with us to help with the kids and he was excited to go to the farm that belonged to his grandfather. We had the money saved for this trip, the kids were excited and we had made all of the plans. The problem is, as you now know, business was NOT coming in and we were questioning the wisdom of going on a vacation when things were not the greatest. We questioned it, debated it and at the end of the day we decided to still go. Looking back I don't know that I would've made the same decision as the PF blogger inside of me cringes at writing this, but we had the money saved and could afford it from that perspective. The thing is though that the week we had decided to stay with going on the vacation, work started pouring in! Looking back, it was a turning point in our business.
When the Going Gets Tough Don't Give up on Yourself
I share what I do because it's almost always easier to throw in the towel, especially when things get tough. When times are tough you learn awfully quickly that motivation is not an issue as you'll do pretty much anything, legally, in order to put food on the table for your family. I have also learned that I am my own worst critic, as many of us are to ourselves. It's easy to criticize and wonder what you were thinking, especially when things are not all lollipops and rainbows. The old adage that anything worthwhile takes time fits very well here. If running your own business was easy then everyone would be doing it and everyone would be rolling in cash. But the nasty truth is that anything you want that will require work or sacrifice takes time and is hard work. Whether it's paying off a mountain of debt, running your own business or training for a marathon, it's going to require hard work and persistence.
Additionally, I would like to point out that there may be times where the wise decision is to question whether or not you're going down the right path. Often times when you hear of individuals running their own business they can sound a bit delusional in thinking that they should never consider questioning what they're doing or if they should perhaps go a different path in life. I love running our own business, but I have also learned that self-reflection is vital. The worst thing is, in my opinion, to continue down the path of doing something when the writing on the wall is telling you to stop. On the flip side, if you have a vision, or if you have a goal you're striving for, do not let adversity hold you back. By growing through it and overcoming it to achieve your goal you'll be a much stronger person in the end and ready to take on more difficult things as life throws them at you.
If you've made it this far, thanks for sticking around while I let my inner Tony Robbins out. What dream(s) are you holding onto but haven't started pursuing yet? What's holding you back from going for it?
Photo courtesy of: KathySmithFL
The following two tabs change content below.
John is the founder of Frugal Rules, a dad, husband and veteran of the financial services industry whose writing has been featured in Forbes, CNBC, Yahoo Finance and more.
Passionate about helping people learn from his mistakes, John shares financial tools and tips to help you enjoy the freedom that comes from living frugally. One of his favorite tools is Personal Capital , which he used to plan for retirement and keep track of his finances in less than 15 minutes each month.
Another one of John's passions is helping people save $80 per month by axing their expensive cable subscriptions and replacing them with more affordable ones, like Hulu with Live TV.
Latest posts by John Schmoll (see all)