Taking the Plunge: Everything Happens for a Reason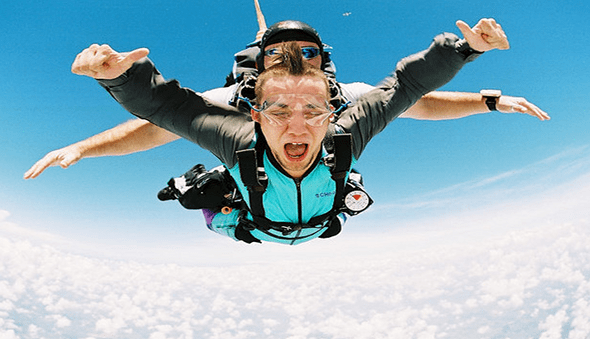 I shared a few weeks back that our business more than doubled in size and income during 2013. In fact, when I started working on taxes for the year I noticed something beyond awesome – the amount we made during the final quarter or so (typically a slower time for us) was only a few thousand dollars shy of what we made during ALL of 2012!
To say that I was pleased is putting it lightly. I'm excited because I know the growth is not a fluke. When I examined our growth more closely, I saw that it rose with each quarter. With everything looking up at the start of this new year, I'm excited to see what the future has in store for this little business of ours.
For those of you newer to Frugal Rules who may no have not read much from my Taking the Plunge series, you can check out some of the posts below:
Running Your Own Business is Not All Puppies and Lollipops
I had envisioned for years running my own business and being my own boss. I don't know if it was because I despised being in a cube farm for eight hours a day or if I had the entrepreneurial itch, but I knew there just HAD to be something else out there that was a better fit for me. I saw running my own business as a way to make something of myself and believed I could do it but had no idea if I would be successful or not.
Sure, I knew on some level that it would be difficult, but had no idea what I was in for. Take getting clients for example; I knew that would entail some work for both my wife and I, but I greatly underestimated just how much.
The same could be said for the hours we would need to put in in order to get the business to the point where it could be successful. Let me tell you, when you've been working until 11:00 pm or later every night for a month or two you really start questioning your decision in taking the plunge.
What I See Now
Mrs. Frugal Rules and I were discussing the other night after dinner the crappy jobs I've had in the past. Some were better than others and some gave me some wonderful opportunities to learn in fields I had never thought possible. Some even pushed me in to some questionable moral situations that I struggled with at the time. But, as we were discussing the different roles I was in I was suddenly thankful for each and every one.
Why you ask? It's pretty simple really, they all shaped me in a way that prepared me to run a business with my wife. It is for that reason that I'm thankful for having gone through all of those situations. As difficult as they were at the time, they taught us to endure the various challenges we experience today running our own business. I don't know if we wouldn't be successful without those experiences, but I do know that those experiences have been incredibly helpful as we run our business now.
How Does This Apply to Life and Money?
One thing I've learned through my years is that time is THE most precious commodity there is. I can almost always find ways to make more money, but more time is a different answer altogether. With that in mind, I've come to see risk in a much different light.
There is stupid risk and there's smart risk. Stupid risk is liquidating your bank account, going to Vegas and putting it all on red. Smart risk is seeing an opportunity, weighing the potential on both sides and acting with a certain level of confidence.
Will that smart risk always turn out for your good? Not at all! But, I can pretty much guarantee you that it has a much greater chance of success than taking on stupid risk and you'll almost always learn something from it that'll mold you as you go on to the next opportunity in life.
This take on risk, and not running from it either, can be applied to many areas of life. Take investing for retirement as an example. You can wait around and lose precious time in whatever market you're in or you can start off small (even with little knowledge), educate yourself along the way, and grow yourself into a savvy investor who makes wiser investing decisions that strengthen your portfolio and set you up for greater success in the long term. That is only one example, but the point is that you never know what will happen from taking the plunge into something new and seeing where it takes you.
Looking at the success of our business last year, it's easy for me to wonder why I didn't take the plunge earlier in life. But as I look back at all the situations I've been able to be in, I see it was all for a reason – it helped put me where we're at today and has me fairly hopeful of the prospects for our future. Point in fact, I had always envisioned hiring others to bring on to our business but thought it was a pipe dream. However, those conversations between my wife and I of the need to do so is increasing in nature to the point where we're seeing a new risk we haven't dealt with before. As I look back though, I have confidence that we'll be able to handle it thanks to the wisdom prior situations have provided us with.
The moral behind my stream of consciousness today? Everything does happen for a reason in my opinion and you never know how what you're going through today will help you tomorrow or five years down the road. My encouragement is to learn from it and take it for what it's worth as you never know how it will help you in the future.
What is something you experienced years ago that is helping you today? What risks are you considering, but find yourself hesitant to plunge into?
Photo courtesy of: KathySmithFL
The following two tabs change content below.
John is the founder of Frugal Rules, a dad, husband and veteran of the financial services industry whose writing has been featured in Forbes, CNBC, Yahoo Finance and more.
Passionate about helping people learn from his mistakes, John shares financial tools and tips to help you enjoy the freedom that comes from living frugally. One of his favorite tools is Personal Capital , which he used to plan for retirement and keep track of his finances in less than 15 minutes each month.
Another one of John's passions is helping people save $80 per month by axing their expensive cable subscriptions and replacing them with more affordable ones, like Hulu with Live TV.
Latest posts by John Schmoll (see all)