Why You Should Stop Saving Your Money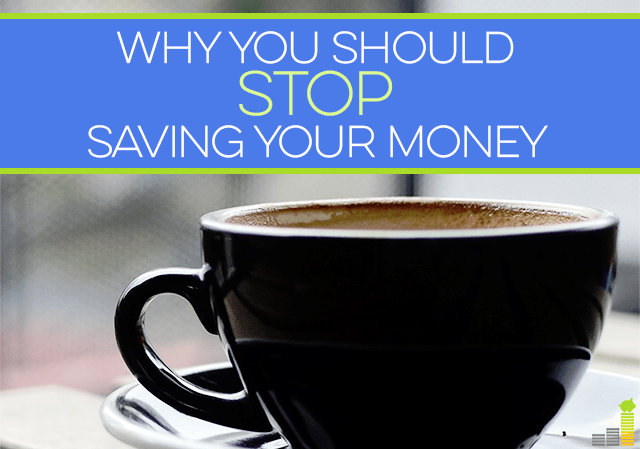 After years of drowning in debt, I've finally put myself in a much better financial state. It took me four years to dig out of the debt hole I created many years prior. It was a hard journey, but rewarding at the end. After making that final credit card payment, I was laser focused on increasing my savings.
I've always wanted to have an established emergency fund that should be able to last me at least six months to a year. That's a good protection plan in my head. Well, I can finally say that we have that covered. The problem now is I'm still laser-focused on saving money. I want to keep adding to my online savings accounts, but now it's just a waste.
When is enough, enough?
Do I Need to Break the Savings Mentality?
It took me some years to create a savings mentality. I've probably pushed too much for it. While I will say there's nothing wrong with saving, my savings mentality is too strong. I don't want to let go of any of my money.
I want to see it continue to grow each day. Unfortunately, we all know money doesn't grow in savings accounts anymore. You can't retire off money sitting in an account earning less than one percent. It just won't happen. Compound interest is amazing, but it can't do much with money earning little returns.
I think I need to break (really modify) my savings mentality. I need to shift it from the traditional ideology regarding keeping my money safe in savings accounts and start moving some of it into an online brokerage account where I can make it grow. I'm talking about using my money to help me grow my wealth. Use my money to grow more money. That's what I need to be doing.
Luckily for me, I know just the thing to work on. Investing!
After you reach Your Savings Goal, You Should Invest!
Bold statement, I know. 🙂 While I'm sure there are many out there who say investing and saving are synonymous. I would have to disagree. I don't lose money when it sits in my savings account.
Please don't bring up inflation. I know I lose buying power, but I don't lose money. Investing is different. You can gain a lot, but you can also lose a lot. It has been scary for me to transition from hoarding my money to using it for the advancement of my financial goals.
I was scared of investing at first, because I didn't fully understand it. I thought you had to invest in single stocks and pay close attention to the market. It took me some time and a lot of reading to realize I could stick my money in certain index funds and ride the wave of the market. My money would go up and down like a roller coaster, but in the end, I could hope for a typical eight percent return. That's much better than the below one percent I would get in my savings account.
People I have spoken with feel the same way about investing. Some people are scared of it. They don't want to lose their hard-earned money. I know I didn't and still don't. I've been hoarding my money ever since I paid off the credit cards in 2012.
I've been watching my money grow, but very slowly. It took sites like Frugal Rules and others to show the error of my ways. I was afraid of something I knew nothing about. I was allowing hearsay and speculation ruin the advancement of my money agenda. I was not being fair to myself or my money.
I'm slowly learning to break away from my money saving mentality (more like hoarding) and pushing myself to break into actually using my money to make more money. Learning to invest doesn't have to be scary, it can be quite simple really, and it should be a part of everyone's financial plan.
Most will be hard pressed to reach retirement without actually investing some money in the market. You don't have to give into the idea that you have to invest in individual stocks. You can go with the humdrum method and pick index funds that will allow you to track different parts of the market. It's much more stable and can help the beginner/average investor do something with their savings. Remember, your money can't do anything for you when it sits in a low interest-bearing account or under your mattress!
At what point do you think you're saving too much? Why do you think people are prone to just leaving money in savings accounts as opposed to trying to grow it more? Do you think a saving mentality can ever be "wrong" or over the top?
The following two tabs change content below.
Latest posts by Grayson Bell (see all)