4 Ways to Gain Control Over Impulse Spending
Shopping and impulse spending used to be the death of me (or at least my finances.) For a while, I even thought that shopping was my favorite (and only) "hobby," and doing so only encouraged me to make a lot of impulse purchases.
Fast forward to today, and now I can't stand stepping foot into a clothing store, and the mall completely stresses me out. I dread shopping when I actually need certain things, because there are so many other, more productive ways I'd rather spend my time.
But how did I get to this point after spending so much time shopping in the past? By learning tricks to curb my impulse buying and completely nixing shopping for fun. After making some small changes to my bad shopping habits, I reigned in my impulse spending and changed my perspective on shopping for fun, which is something that I never do today.
If you want to learn how to gain control over impulse spending and save more money, here is what worked for me.
Learn to Delay Purchases
The number one thing I do to curb my impulse spending is to delay my purchases, and it's something I practice on a regular basis. I rarely purchase something by reminding myself that I can return it later if I choose to do so.
That plan doesn't work for most people, because liberal return policies actually favor the stores themselves and are basically marketing schemes.
Instead, if I spot something I didn't plan on purchasing ahead of time, I will leave the item at the store to gain some perspective. If I'm still thinking about it in a few days, I will return and purchase it, but 9 times out of 10, I don't return to purchase the item.
This works from big items like furniture and cars to little ones like shoes and purses. If you take anything away from this post, this is the most important thing that I do to curb my impulse spending.
A List is Mandatory to kill impulse spending
Whether I'm heading to the grocery store or to buy a few items of clothing to replace worn-out versions, I always make sure to take a list with me, even if it only lists two things. I do this because if I spot something I want that is not on my list, I remind myself that it's not what I'm looking for, and that I need to focus on what I came here to find. It's a way of policing myself.
Shopping this way helps me have an inexpensive wardrobe, which makes me not only look good, but feel good too.
If you're shopping for clothing, it's also helpful to remind yourself on your list what kind of clothing does and doesn't work for you, such as certain colors, cuts or styles. It may seem like a no-brainer when it comes to finding clothing that works for your body, but if it was that easy, then we wouldn't have so many items of clothing in our closets that we never wear thanks to lousy impulse purchases.
Take Fewer Shopping Trips
Another trick that helps me is limiting my shopping trips, especially when it comes to the grocery store or other warehouse-style stores. If I make multiple trips each week to the grocery store, even if I only have a few items on my list each time, I will inevitably spend more over the course of the week, which completely blows my grocery budget for the month.
Also, because I've gotten in the habit of tracking my spending, it's easy to see when I'm going over on a certain category – like groceries or clothing. If the idea of tracking your spending seems too overwhelming, consider an online tool like Personal Capital to make it easier.
I fixed the problem of spending more by limiting my grocery shopping trips to once per week, and my Target trips to once a month, which helps tremendously.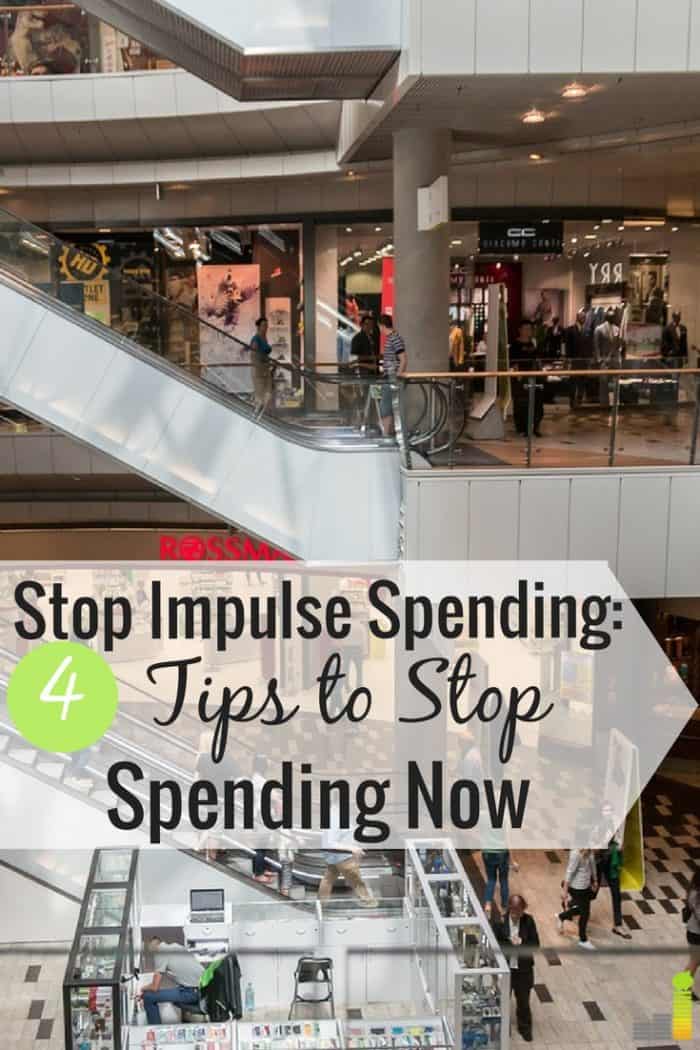 Have a Decluttering Session
The process of decluttering may not seem like it would help with impulse buying, but it actually forces you to look at how much money you've spent on impulse buys in the past that you no longer want to keep.
Honestly, it sucks to get rid of items that you spent good money on, especially clothing with the tags still attached or shoes that you never wore.
When I go shopping now, if I spot something I want, but don't necessarily need, I ask myself if I will be decluttering the item six months from now. If I can't answer that question with an honest "no" or if I even hesitate, then it goes back on the store shelf and my money stays in my pocket. (And then I revel in my new-found ability to recognize and quash that urge, because I sure have come a long way!)
Each of these tips contributed to my reduction in spending, particularly when it comes to impulse buying, and now they are habits for me. I can't imagine going back to my old ways. Hopefully they will work as well for you as they did for me.
Do you have any tricks that you use for controlling your impulse purchasing? What's your weakness when it comes to impulse buys?
The following two tabs change content below.
Robin McDaniel
Robin is a freelance writer who chronicles her financial missteps and victories on her blog www.TheThriftyPeach.com.
Latest posts by Robin McDaniel (see all)