When is it Time to Stop Budgeting?
Posted on March 10, 2016 by Erin M in
Budgeting
A very common piece of financial advice is to budget. Plain and simple. You need to know where your money is going, you need to know how much you have coming in, and you need to balance your expectations against reality. A budget can help with all of that.
While that's true, I argue that budgets simply aren't for everyone. It's one of those conventional pieces of financial wisdom that doesn't apply to every single person out there. I learned that the hard way.
You see, by nature, I'm a fairly frugal person. I always look for ways to save, and I don't spend my money without analyzing every option I have. As you can imagine, shopping with me is a ball as I stand there in the aisle, painstakingly comparing prices and ounces and generic brands. (Shopping adventures with Erin.)
My "financial personality," if you will, doesn't lend itself well to a traditional budget because I get way too focused on the numbers. If you manage your money in a similar way, it might not be for you, either.
The Problem With Budgets
Before I get started, I want to get a little disclaimer out of the way: budgets are great for the majority of people who aren't paying any attention to their money whatsoever. It's a highly recommended starting point for a reason.
However, if you're already super frugal, or if you feel guilty when you spend your money, then I argue you can get by without one.
How do I know? I tried a little experiment back in 2014. I was blogging regularly and got caught up in the monthly budget reports that everyone else was doing. I realized that I wasn't budgeting the same way as other people were, and wondered if that was detrimental to my financial situation.
So instead of just tracking my money each month, I decided to try the traditional budget route. I typed out all the categories I wanted to include, went back through my past transactions and figured out what a good "estimated expense" was, and then filled out what my actual spending was throughout the month.
Sounds good, right? The problem with budgeting, at least for me, was that I got completely lost in the numbers and failed to think about the larger picture. My budget allowed me to focus on one month out of the entire year, and if that one month wasn't going well, I felt horrible about my financial situation as a whole.
Don't Miss the Forest for the Trees When Budgeting
The worst mistake you can do with anything related to personal finance is to get so lost in the details, you lose sight of your overall journey.
Here's what happened to me: week after week, I entered all my transactions, and I would get discouraged whenever I was close to or exceeding a certain category…even if it was by $5-$15.
I am extremely hard on myself in all aspects of my life, and money is no exception. The worst part? I wasn't even close to living paycheck-to-paycheck; I had a decent buffer in my checking account just in case anything unexpected happened.
Yet, that didn't matter. I felt shame in reporting my budget on the blog when things didn't go according to plan. I had only meant to hold myself accountable and attempt to become a bit more aware of my spending habits throughout the month. I didn't think tracking my spending was active enough as I usually waited until the end of the month to tally everything up.
I also didn't take a full view of my budget. For example, I may have spent $20 more than I budgeted for groceries, but $25 less for gas. That didn't matter. All that mattered was that I couldn't stick to my grocery budget. I just beat myself up over every dollar I spent over my "estimated" limit.
I also have perfectionistic tendencies (which is silly, I know), and I was too stubborn to increase my budget in certain areas because I was confident I could lower my spending. It was just a matter of executing it. Try telling that to life, which totally loves going according to plan! (Sarcasm.)
That's a horribly unhealthy relationship to have with money, which is why I decided to stop budgeting and continue to only track my spending. I haven't looked back since, and my financial situation hasn't suffered. If you're like me or if you'd rather have someone else help you track your spending and monitor your finances, a free online tool like Personal Capital can help you manage your money without getting mired in the details or overwhelmed by the sheer idea of budgeting.
The Budget That Isn't Super Focused on Numbers
Many people would find this ridiculous on all different kinds of levels. I made a lot of mistakes when trying to budget (even people who love money management make mistakes!), and I'm glad I learned from them.
The biggest takeaway for me was to keep the focus on what makes me happy. At the beginning of 2015, I created a list of about five values that were non-negotiable for me. I was allowed to spend on these (within reason, and I can trust myself not to go wild) as long as I cut everything else out.
Due to the fact I'm already focused on saving as much money as possible, and on paying off my student loans at an accelerated pace, it works. That's why this method isn't for everyone. If you're prone to spending your paycheck before you even have it, then I wouldn't recommend it.
However, if you're like me and you tend to obsess over the financial details that don't matter to your long-term finances, and need to focus on feeling good about spending your money, then you should give it a try.
Other Numbers that Can be Misleading
In personal finance, numbers aren't always cut and dry; they rarely tell the entire story. Don't let numbers have that much power over you. It doesn't make for a fun time, trust me!
A great example that comes to mind is your net worth. A lot of people check this on a quarterly basis to see how their financial situation is doing. Are they on the right track? What has changed and why?
Checking up on your net worth can be great, but if you love your numbers, you need to do it in moderation. There's always the potential for huge swings to happen in the market, and chances are, your net worth now could be drastically different from your net worth six months from now, depending on what you're invested in.
Another example? Your salary! I know it's cliche and some people don't like to hear it, but it's not always all about what you make. Someone could be earning six figures and saving none of that, while you could be earning $40,000 and saving 20 percent of your income. Who is better off in that situation?
Lastly, your credit score is another number that you're judged on, but doesn't always tell a creditor everything about you. Perhaps you're very responsible with your money otherwise, but hit a horrible rough patch and haven't had a chance to recover. Or maybe you're super rich and spend, spend, spend, so good credit isn't difficult to have. That doesn't mean you're crazy responsible with your money!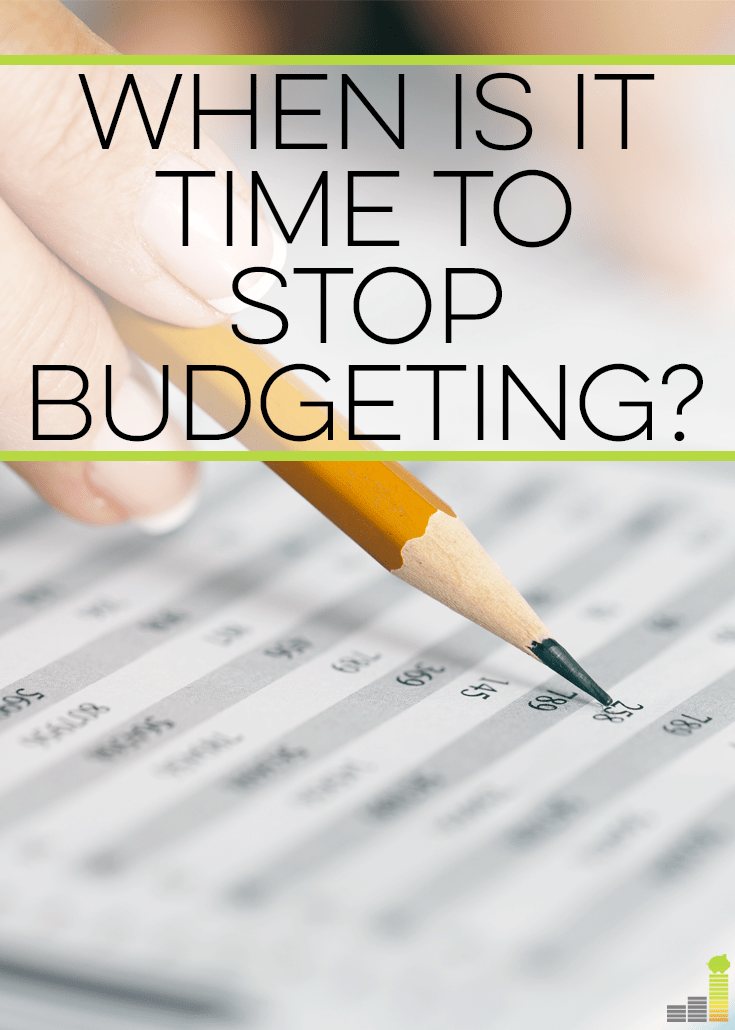 Appreciate the Numbers, but Don't Live By them
Bottom line: numbers are good for measurement, but don't get lost looking at them for too long. Your focus should be on the long-term game plan, not just this month or this year.
Life throws us curveballs. It's rare everything goes according to plan, and to try and plan for that is insane.
Instead, go with the flow as much as possible. Control costs where you can. Be a conscious consumer. But don't write your efforts off if you miss the mark ever-so-slightly. We all have bad days/months/years. The beauty of personal finance is that you can bounce back from financial mistakes, learn and do things differently.
Use your numbers to help you figure things out, but don't think you're doing something wrong if you find budgeting a certain way doesn't work for you. Experiment, fail, evaluate and get back on the road toward financial freedom!
Additional resource: If you're looking for a simple way to stay on top of all your finances without having to live by a traditional budget, then check out my favorite tool – Personal Capital. Completely free, it allows you to track your spending, monitor your bank and investment accounts and watch your net worth grow plus many other tools. 
Open a free Personal Capital account today!
Have you ever taken conventional financial wisdom into consideration and been burned by it? Do you enjoy budgeting? Why or why not? What method of budgeting do you use? 
The following two tabs change content below.
Erin M. is a personal finance freelance writer passionate about helping others take control over their financial situation. She shares her thoughts on money on her blog
Journey to Saving
.