5 Steps To Accomplish Anything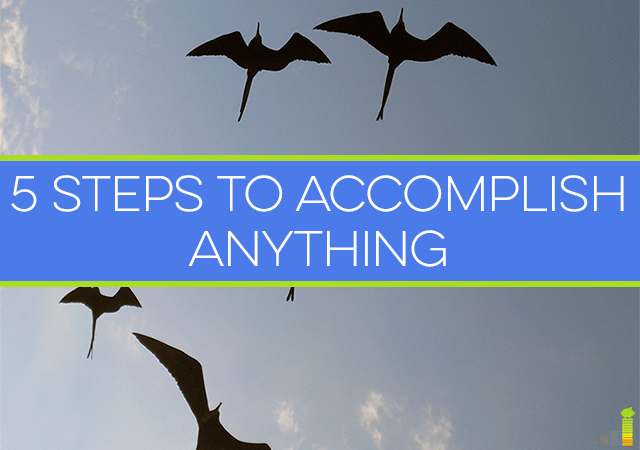 While I'm out of town for a family wedding, please enjoy this contribution from Adam at AdamChudy.com.
I often find that many people have a problem I don't identify with. Getting started. This has never been a failure of mine. I'm a list maker and a planner who tends to map out goals and processes and immediately jump in to projects. My problem is that I tend to create major projects out of small things. For example, our few garden beds have morphed in to 22 trees, 4 major vegetable beds, and a herb garden.
I realize I'm not like many who sometimes struggle with taking the first steps toward accomplishing goals. It can seem overwhelming. The most important step is to get in the game.
be honest about where You Are
Regardless of the goal (financial freedom, college degree, new skill set, six pack abs) the first step to being able to accomplish anything is always an honest assessment of where you are. If you want those abs, you need to measure your body fat and evaluate the amount of weight you need to lose to get there. You're going to have to carefully examine your diet and be honest about the junk food.
If you want to pay off debt, you need to pull all those bills out and add up the balances and look at the interest rates. It may be painful, but it's always the first step.
determine Where You Want To Be
"Would you tell me, please, which way I ought to go from here?"
"That depends a good deal on where you want to get to."
"I don't much care where –"
"Then it doesn't matter which way you go."
― Lewis Carroll, Alice in Wonderland
As the Cheshire Cat taught us, if you don't know where you want to go, the path you take doesn't really matter. The most important thing you can do in this entire process is create a specific goal to be accomplished by a specific time.
Bad Goals:
I want to lose weight
I want to save money
I want to advance my career
Good Goals
I want to be at 15 percent body fat by June 1.
I want to max out my IRA of $5,500 and have $10,000 in my emergency fund by the end of the year.
I plan a raise of at least $10,000 at my year-end review or I'll have to re-evaluate my role here.
know How To Get There
Every destination needs a roadmap (let's pretend we're pre-GPS here) and guideposts along the way to ensure you're still going the right direction. All good goals need something similar. Once you've established where you are and where you want to be, you must map out specific, actionable steps to track your progress toward your goal.
Good Steps:
To Run a marathon this year I want to:
Follow the detailed plan of couch to marathon
Run the local 5k in June
Run the local 10k in May
Run in local marathon in September
To Save 50 percent of my income this year:
Save $10,000 by March, $20,000 by June, $30,000 by September and $40,000 by year end.
Automate maxing out of my 401(k) / IRA (which hits 30 percent)
Set up an automatic $500 / month move to my savings account
Reduce bills by 10 percent (20 percent stretch goal)
Cut cable
Switch to a cheaper cell phone plan
Eat out less than once per week
Get Started
Many people spend their whole lives too afraid to leave their cage. They're afraid they'll fail. They're afraid they aren't good enough. They worry about what other people will say. There are always a million reasons (excuses) not to take a risk, take a chance, or try to better yourself.
Take the first step. Just get out there and try it. If you want to run that marathon, start walking. If you want to attack that debt, start saving. If you want to start a business, find a client. Don't be scared. Well, be scared. We're all scared. Don't let being scared stop you. Step up.
If you still can't seem to get over whatever issue you have, I'll tell you one of my favorite tricks. This is something guys are often told when they have a deep fear of approaching a girl. Ask yourself what is the worst that can happen? Sit down with a piece of paper and write down the absolute worst case scenario. Ninety nine percent of the time, the absolute worst case scenario will be laughable when you look at it in black and white. You'll ask yourself, "What was I scared of?"
Stay Accountable
Anytime you try to accomplish anything, especially something hard, you'll have doubts. You'll also frequently have doubters. Sometimes things get tough and you wonder why you are going after your goals in the first place. These are the moments when you need an accountability partner. This is why startups seem so much more successful with at least two founders. They bring different, complementary skillsets and they keep the other person on the path when they want to quit or stray.
Find someone who is working toward the same goal, dealing with the same issues, and is a positive person looking to better themselves. It's so important to surround yourself with people who will build you up and help you toward your goals, not those who bring you down.
Doing it alone is tough. In any endeavor it's always easier to have a partner. You need someone to have your back, give encouragement in a moment of weakness, and keep you on the path toward accomplishing your goals.
What is the first thing you do when you try and accomplish a seemingly impossible goal? How do you keep yourself motivated when you're working towards a difficult goal? How do you hold yourself accountable?
Author Bio: Adam Chudy is a writer, analyst and investor living in Houston, Texas. Check out his blog at AdamChudy.com where he writes about personal finance, investing, personal improvement, and living a better life. Follow him on twitter @AdamChudy.
The following two tabs change content below.
John is the founder of Frugal Rules, a dad, husband and veteran of the financial services industry whose writing has been featured in Forbes, CNBC, Yahoo Finance and more.
Passionate about helping people learn from his mistakes, John shares financial tools and tips to help you enjoy the freedom that comes from living frugally. One of his favorite tools is Personal Capital , which he used to plan for retirement and keep track of his finances in less than 15 minutes each month.
Another one of John's passions is helping people save $80 per month by axing their expensive cable subscriptions and replacing them with more affordable ones, like Hulu with Live TV.
Latest posts by John Schmoll (see all)