Why I'm Glad I Started Doing My Own Taxes
Posted on April 8, 2016 by John Schmoll in
Taxes
This post is part of the TaxAct #DIYtaxes blog tour which empowers you to take ownership of your finances by doing your own taxes. TaxAct provides the tools and guidance to help you confidently file your taxes easy and fast. Do your own taxes today at TaxAct.com. You got this.
I was having a discussion with my youngest brother a few weeks ago. To give a bit of background he's never prepared his own taxes. Prior to our father passing away he always had our Dad's CPA do his taxes.
A bit concerned over the idea of doing his taxes on his own, he asked me where to begin. If you're like my brother and are new to doing your own taxes or have been putting it off but are ready to take over the reins of preparing your taxes, here are three reasons why I'm glad I did my own taxes for many years and why you can too.
It Saves Money When you do your own taxes
Saving money was the #1 reason I started doing my own taxes so many years ago. We have a CPA now because our business has grown in size and complexity beyond the point of our own ability to do our taxes on our own, but in most instances you can do your own taxes and often for significantly cheaper than paying someone to do it for you.
It may not seem like much, but the National Society of Accountants reports that the average cost to have a 1040 prepared (with no itemizations) was $159 in 2014. If you itemize and throw in a state return it bumps up to $273, and if you run a business it was $447. There's no reason to spend that much to get your taxes done, especially with so many online platforms in the space.
TaxAct, for example, charges a maximum of $29.99 (and in some cases is free!) so you'll easily save over $100 by going that route. Since you'll already be gathering all the documents, all you need to do is enter them into the program and it'll do most of the rest of the work for you.
It Helps You Know Your Money
A funny thing happens when you start looking at your W-2's, 1099's from your online brokerage accounts, etc.; you get to take a look at just how good, or bad, you've been at managing your money throughout the year. That can be a huge eye opener.
When I first started actively saving for retirement, doing my taxes helped me see where I was leaving money on the table. When we started a family, it helped us see what financial impact an extra mouth would have on our home. I'm sure there are many other experiences – all of which helped us manage our money a little bit better to enable us hit our financial goals.
Anyone Can Do it
I mentioned this earlier; in full disclosure we've had someone do our taxes the past three years due to the growth of our business. Our taxes got to the point where I was no longer comfortable or confident that I was catching tax saving opportunities. Hiring it out helps us maximize our return, catch overlooked tax deductions and relieves me of stress.
That being said, in nearly every instance it's possible to prepare your own taxes. There may be an overwhelming aspect if you've never done your own taxes but that quickly fades fairly soon into the process. You may feel like it's impossible to do or that you'll mess something up.
Thankfully, both cases are wrong. Most tax software platforms available today walk you right through the process; you simply answer questions and the program does the rest for you, providing you a certain peace of mind. Many programs, like TaxACT, provide a robust Q&A section, as well as audit support, so you don't have to worry about messing something up. Not only will learn something new, you'll also save some cash in the process – you can't beat that.
Beating the tax deadline doesn't have to be stressful. With TaxAct, everything you need to confidently prepare and e-file your taxes is right at your fingertips. You got this. File your simple federal and state return FREE today with TaxAct.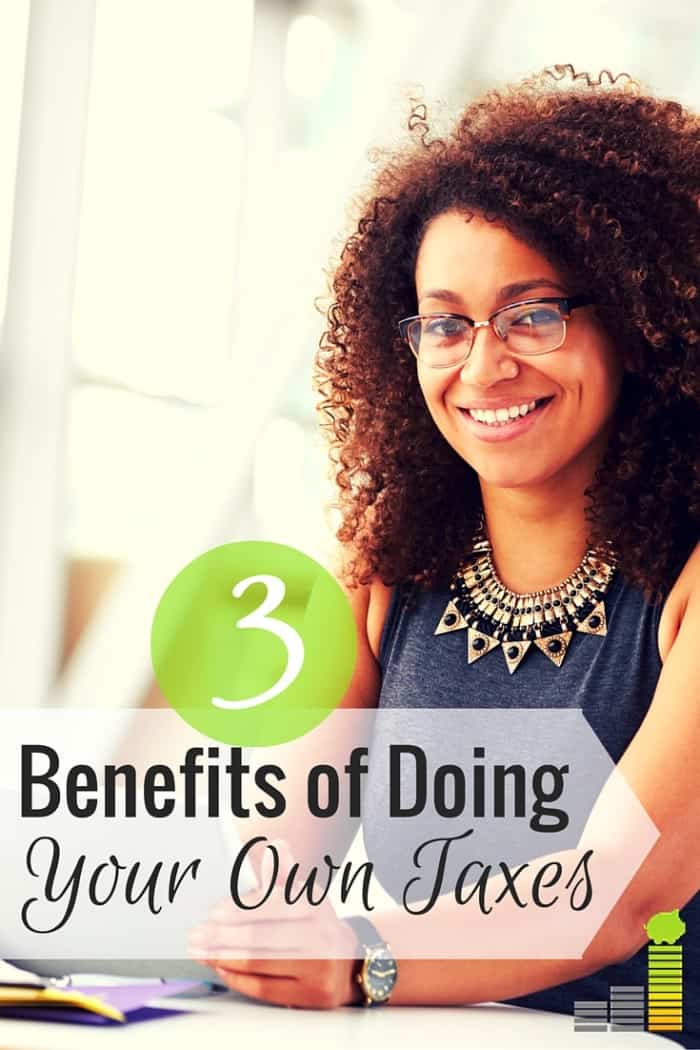 Do you prepare your own taxes, or do you hire them out? What are some other benefits to doing your own taxes? Have you prepared your taxes yet?
The following two tabs change content below.
John is the founder of Frugal Rules, a dad, husband and veteran of the financial services industry whose writing has been featured in Forbes, CNBC, Yahoo Finance and more.
Passionate about helping people learn from his mistakes, John shares financial tools and tips to help you enjoy the freedom that comes from living frugally. One of his favorite tools is Personal Capital , which he used to plan for retirement and keep track of his finances in less than 15 minutes each month.
Another one of John's passions is helping people save $80 per month by axing their expensive cable subscriptions and replacing them with more affordable ones, like Hulu with Live TV.
Latest posts by John Schmoll (see all)