Why You Shouldn't Be Afraid To Spend On Relationships
How often do you prioritize spending on your relationships? Do you make it a habit to go on a date with your significant other, even after you're married with kids? Do you get together a few times a year with friends? Do you travel to visit family?
Or are you afraid to spend on relationships?
A few months ago, I came across this post by Sophia Bera aptly titled Invest in Relationships – They Pay the Highest Dividends. Sophia takes the approach of spending time with the people we love, but sometimes, money can be the first barrier we encounter when wanting to connect with loved ones.
I'm all about being frugal, and I'm sure I'm not the only one who has been guilty of taking it a little too far, especially when it comes to relationships:
I stopped seeing my friends as much because I was trying to save money – not spend a bunch on a night out.
I considered changing my monthly visits to see my parents to every other month, because it costs a full tank of gas to see them.
Date nights? What are those?
You get the point. I let my goal of saving money and paying off my student loans get in the way of prioritizing my relationships with others. I was afraid to spend money on anything else.
We shouldn't aspire to become hermits in the name of saving money!
In reality, it's completely possible to enjoy time with people and not go overboard. We have to keep that happy medium in mind.
Here's why we shouldn't be afraid to spend on relationships, and how we can do so in a meaningful way.
spend on relationships because We Aren't Guaranteed Tomorrow
This is especially true when it comes to older family members. I specifically relocated closer to my parents to be able to see them more often.
They were a 12 hour drive away before, and now they're only 3.5 hours away.
Putting a cap on how often I see them is kind of silly in light of that. I want to make the most of the time I have left with them.
It sounds awful when put that way, but none of us are guaranteed tomorrow.
Of course, when I relocated, I left some family behind – including my grandma, with whom I'm very close. This year, I made it a priority to go back home and visit at least twice, with the promise my grandma would come and visit at least once.
Last month, I scored an awesome deal and spent $70 on a round-trip flight to spend a week and a half back home. I'll be returning in June, and my flight will be covered as I'll be on babysitting duty for my cousin. It's a win-win for everyone!
All that aside, I was perfectly fine spending around $150 on my flight back home. You can't put a price on family.
Relationships Are a Two-Way Street
There has to be give and take with relationships – you can't expect others to give, give, give, while you only take.
When we stop investing in our relationships, they eventually fizzle out. One side has had enough of putting in all the effort, and the other side can't be bothered.
Don't be the "can't be bothered" side because of money. Chances are, your friends, family, and spouse mean a lot to you. Make sure they know it.
If they're insistent on having expensive outings, why not take the initiative and organize something more economical?
Better yet, just schedule time to see them. Going back to what Sophia said in her post, you don't necessarily have to spend your money to invest in relationships – time is what matters the most.
Focus on Experiences
When I went back home last month, I saw my friends almost every day I was there. That was quite a change from how often I saw them when I actually lived there (horrible, I know).
I went into the visit expecting to spend more, because I didn't want to worry about cutting costs and pinching pennies when I was supposed to be enjoying my time there.
I'm glad to say it worked. Common advice in personal finance is often "spend on experiences, not on things," and it's something I fully agree with.
Instead of thinking about how much money you'll be spending if you go out to eat with your friends, think about the experience you'll be having instead.
This slight change in mindset has helped me enormously. Of course, I still factor cost in, and I keep it within my budget. I'm not advocating to say "Okay!" to a 5-course, $100 meal out, just to spend time with people. But $15 every few weeks isn't going to kill me.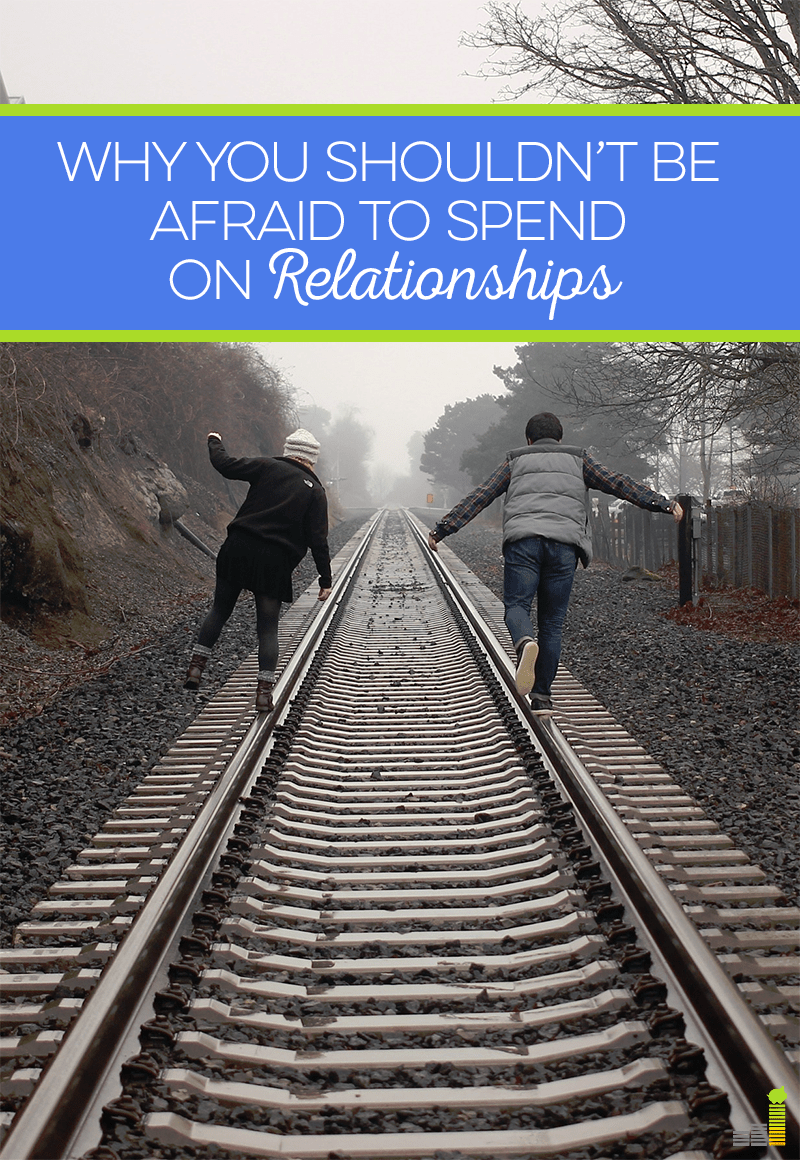 How to Invest in Relationships, Frugally
While I refrained from going out to eat or drink with my friends when I lived nearby, I always went to board game nights and potlucks. When we were still in college together, we went to every free event on campus and had fun.
Last month, John shared about 13 frugal ways to brighten your spouse's day. There's no reason for date nights to break the bank. Just focus on reconnecting, whether that's over a cheap bottle of wine, a cooked-from-scratch dinner, or a movie on Netflix.
If you're thinking it's been a while since you've seen your family, plan a frugal trip to visit them. Use travel rewards, make a road trip of it, meet halfway – do whatever you can to save on costs, but take that trip!
If you follow a spending plan, I recommend budgeting in "fun times with others," whether that be friends, family, or your spouse. Make it a priority to spend time with those you love. You'll feel less guilty for doing so when you've planned for the expense.
Don't Take Relationships for Granted
The point is, we shouldn't let our desire to be frugal get in the way of our relationships. I'd argue that walks the line of being cheap versus being frugal. There are plenty of ways to connect with the people we love without spending a fortune, and many times, it's worth the investment.
My recent trip back home put this into perspective for me. I realized what I had been missing out on by declining invitation after invitation to hang out with my friends. I had taken them for granted, and I felt horrible for it. When I look back on my life, I don't want to regret not spending as much time as I could with loved ones.
At the end of the day, if we aren't investing anything into our relationships, we're not getting anything back.
Have you been guilty of putting financial goals ahead of your relationships? How have you balanced both? What are you afraid to spend money on?  What's the best frugal date or fun time with friends you can remember?
The following two tabs change content below.
Erin M. is a personal finance freelance writer passionate about helping others take control over their financial situation. She shares her thoughts on money on her blog
Journey to Saving
.