I Admit It – I Make Mistakes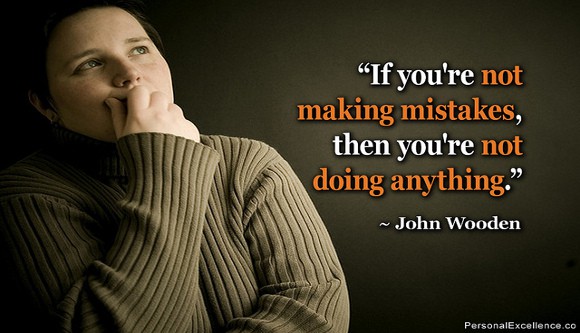 I have a confession to make. I made a mistake last month that ended up costing me a little money. It was a simple mistake, but one that I have not made before. I am kicking myself for it right now, but it shouldn't happen again. I won't let it happen again.
I forgot to pay a bill!
Yes, you just read here on Frugal Rules that a personal finance blogger didn't pay a bill. Oh, the humanity. Someone stop the madness!
OK, let me put my big boy pants back on and explain how it happened and to show you that even I make mistakes. I don't pretend to do everything right, but I get a little flustered when I make simple mistakes like this. I pride myself on paying my bills on time. It is something that I have done ever since I started paying bills. I didn't even make one late payment when I was in a mountain of debt. That was one reason why my credit score is so high.
The Missed Payment Breakdown
Truth be told, I am not sure how I have not missed a payment before. Before I paid off all of my credit card debt, I just used a whiteboard to list my bills. It was pretty standard with due dates and I would use some nice check marks when they were paid.  That system was prone to mistakes. If I didn't go into my office one day, I could have missed a payment.
After I became credit card debt free, I figured I would try something new. I have been using Manilla to keep up with my bills for a few months. It is a great service and is also free. It helps me not to make mistakes by allowing me to setup notifications about all of my bills and even pulls data from most of my providers. It is quite nice.
The case of the missed bill came about this past month. Manilla emailed me and also notified me on my phone that one of my bills was due. Just like any other month, I logged onto the provider's website and started making the payment. Unlike other months, this time was a little dicey. Their website was on the fritz. I went through my regular clicks and scrolls like I normally would. I input my bank account information and hit submit.  It took a long time to churn and then finally came up to the submit confirmation page. I had to click another button in order to submit the actual payment. I left-clicked that bad boy and we were off. I saw the page churning for some time. I got a little nervous, but I was also in a hurry to leave the house due to a party.
Once the page finally loaded, I didn't think anything of it. I thought it was the confirmation page for the successful payment. I closed my laptop and jumped in the car. Now that I look back, I realize the page was a system error page, not a confirmation page. The payment never processed. The worst part is that I usually check my bank account for the payments to go out. With our house on the market and the craziness that comes with it, I totally forgot to do it. When I woke up this past Saturday, I noticed an email with my next statement. It was double. Crap, I missed last month's payment. What a goon!
We All Make Mistakes
While I am upset now that I missed the payment, I know it will be fine. I made the payment, plus this month's payment early. This was just a simple mistake, but one that cost me a late fee. I hate late and convenience fees with a passion. I don't like them and do what I can to not pay them.  The only way to do that is to make your payments on time.  No matter if you are in debt or free of debt's shackles, we all make mistakes. They could be small or large.  It doesn't even matter.  We are all human and humans make mistakes.
The biggest thing to do is to learn from my mistake. The lesson I learned from my debt was to control my spending and understand how to use credit wisely. The lesson I learned from missing last month's bill was to slow down and make sure things are complete. I don't half-ass things at work, so I don't need to be doing it in my personal life.
Have you made any mistakes lately? Come on, don't be shy! Share it with the people…. 🙂
Photo courtesy of Celestine Chua
The following two tabs change content below.
Latest posts by Grayson Bell (see all)