Socially Responsible Investing: What Do You Consider Off Limits?
Posted on March 2, 2015 by John Schmoll in
Investing
Many of us know that we need to be investing in some form or fashion to grow our wealth. While there are a variety of ways to do that, investing in the stock market is the most common.
One of the first things you'll realize as you start investing in the stock market is that some of the companies you're considering do not hold to your beliefs or compromise your moral standards by what they promote or how they run their business. Socially responsible investing (SRI) is a term used to describe the process of investing in companies whose ethics align with your own.
In my former day job investors regularly asked me how to find and invest in socially responsible funds. Many of them were upset when they found out they had been intending to avoid a particular company or industry only to find out they were not. With that in mind, if socially conscious investing is something you care about, then today's post for you.
What is Socially Responsible Investing?
Socially responsible investing involves investing in companies that hold to the same beliefs you do and avoiding those that don't. For many investors this means avoiding "sin stocks" like:
Tobacco
Alcohol
Pornography
Guns
Not necessarily considered sin stocks, but still important to avoid for many are:
Companies that harm the environment
For-profit prisons
Firms that squelch religious freedoms
The above lists aren't meant to be exhaustive in nature and are just meant to give a brief example of the types of companies some may want to avoid supporting.
Thinking as a consumer, this makes sense as you want to vote with your wallet when it comes to being in the stock market. I know personally speaking that if I agree with something I'm going to do all I can to promote it or if something is against my conscious then I'm certainly not going to give money to a company that promotes it.
If you think you're alone as an ethical investor, think again. According to Forbes, $1 out of every $9 under professional money management falls into the socially responsible investing category. I would venture to guess that these numbers will only increase in the future which makes it even more important to know how to find those companies and funds that align with your beliefs.
Socially Responsible Investing Requires Work
Work is really where the rubber meets the road when it comes to socially responsible investing. Here's why: many mutual funds and ETFs hold a wide variety of stocks in hundreds of companies. If you don't dig down into the holdings of a fund then you're inevitably going to leave yourself open to investing in a company you ardently disagree with. That poses a problem.
Added to that, many companies today are large conglomerates and thus makes it even more difficult to determine where you should stand with relation to investing in them or not.
Take Disney for example. While I'm no fan of Disney (Frozen anyone?) I am a stockholder. But, others would disagree with me. Take a look at the some of the different companies Disney either owns or has a partial stake in:
ABC TV
ESPN
Hulu
A & E Network
Marvel Studios
Lucasfilm
Pixar
Touchstone Pictures
That list only scratches the surface and of course doesn't include all of the different Disney specific branded lines like the theme parks, cruise line, music studio, etc. The point is, they have their fingers in a lot of pies. If you don't have a problem with Disney but do with one of their subsidiaries then it poses the question of if you personally can or should invest in them.
Granted, you may not have a "problem" with Disney but I guarantee you there are many other companies out there that on the surface would appear not to conflict with your ethics but in actuality do.
Don't Make Investing Decisions Based on a Fund's Name
You also need to be aware that when it comes to socially responsible investing to not just go off the name of a given fund to think it's one that'll fit what you're looking for. In fact, the name should be secondary (at best) to the holdings within the fund.
Assuming ethical investing is something that's important to you don't take the work as something to hold you back. It is possible to find socially responsible mutual funds, you just have to do the work to find them. I would also argue that if it's important to you that the time spent will be well worth it. That said, I'm going to show you the two main ways I look for a mutual fund or ETF and how to find what companies they hold.
Use These Tools to Find Out What's in a Fund
The first option, and usually my go-to is Morningstar. Once at Morningstar you'll want to follow the steps below to get to the holdings which is also shown in the graph below:
Type in the fund symbol to get to its home page
Click on the "Portfolio" tab near the far right
Then click on the "Holdings" tab
This will show you the top 25 holdings of the fund for free. Morningstar does offer a premium subscription service that allows you to see the top 100 holdings. Below is what you'd find for the Vanguard Health Care Fund:
If Morningstar 's free search leaves you wanting more then go directly to the fund family site – which is Vanguard in this case. Go to the Vanguard site. Look up your fund; for example, the VHT or the Vanguard Healthcare Index Fund. Follow these steps to find out what's in the fund:
Type the fund's symbol (in this case "VHT") in the "Get a Quote" box in the upper right hand corner of the homepage
Click on the "Portfolio & Management" tab from the home page of the fund
Scroll about 2/3 of the way down the page and click on "Portfolio Holdings"
View the entire holdings of the fund.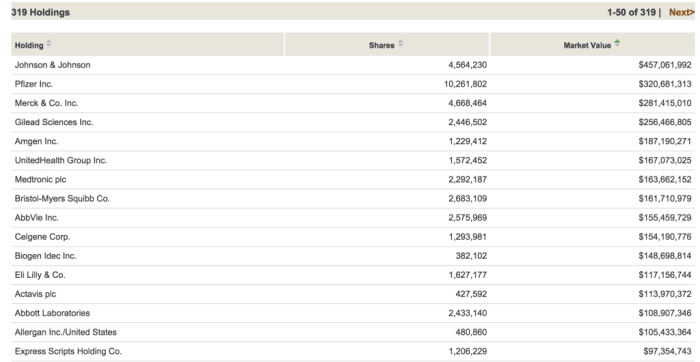 I realize that some might not use Vanguard and want more than what Morningstar provides. There are other options beyond those. Depending on the online brokerage you use they should have screener tools to help weed out particular funds or stocks. This is part of the reason why I love using Motif Investing so much as they have a pre-made motif specifically for those interested in socially responsible investing, not to mention the ability to create your own fund.
I know this might seem like a lot of work – and it very much is. It can be if you're looking at bigger funds, but the last thing you want is to be ignorant about what you're investing in and violate your conscience.
One final example with regards to work…it can be easy to lose respect, on one level, for someone because they're investing in a stock like Phillip Morris. Many hate Phillip Morris as they sell cigarettes. I get the feeling, though they're a solidly run company in the eyes of many. However, what many don't realize is a stock like Phillip Morris is a mainstay for many mutual/index funds. The result is you may be investing in them without realizing it.
If you think that might be the case for you, then I suggest you take a look at the holdings your funds have to make sure they line up with your beliefs. Assuming your 401(k) is your only investment vehicle, then take a look at what your provider offers. If they don't offer funds you like then tell your Group Benefits area you want them to add a few. It's their job to care for your needs and this certainly falls within that realm.
Vote With Your Money, But Realize it's Largely Personal
As I touched on earlier, socially responsible investing calls us to vote with our money. Yes, it does require work to find firms that line up with your beliefs but that work is well worth it if you feel strongly about a certain topic. Taken further, it is the job of Fund Managers, to a certain extent, to bring more investors into the fund – don't make their job easy by just handing over your money without doing your due diligence.
Socially responsible investing is like shopping. If I feel strongly about a certain store and want to stay as far as I can away from it then I'm not going to go in and give them my money. Investing should be no different.
We also need to realize that we all have different beliefs. It's part of what makes America unique. Some aren't going to be bothered by investing in a certain company or stock – they're solely looking for solidly run firms that offer a good potential for return. Given that, it can be easy to judge others because they invest in stocks you won't.
I get that feeling, but I challenge you to look at your own holdings to make sure you're not investing in the same company. Your money and investment choices matter; by taking the time to invest in a socially responsible way you'll likely be much happier with your portfolio.
What's your take on socially responsible investing? Do you fully research what a fund holds before you invest in it? Have you ever sold out of a holding because you found out it was investing in a particular stock you didn't want to be in?
The following two tabs change content below.
John is the founder of Frugal Rules, a dad, husband and veteran of the financial services industry whose writing has been featured in Forbes, CNBC, Yahoo Finance and more.
Passionate about helping people learn from his mistakes, John shares financial tools and tips to help you enjoy the freedom that comes from living frugally. One of his favorite tools is Personal Capital , which he used to plan for retirement and keep track of his finances in less than 15 minutes each month.
Another one of John's passions is helping people save $80 per month by axing their expensive cable subscriptions and replacing them with more affordable ones, like Hulu with Live TV.
Latest posts by John Schmoll (see all)