I'm Too Busy! Simplify Your Life in 3 Easy Steps
Posted on November 6, 2014 by Laurie in
Lifestyle
Are you too busy lately? Do you feel like you need to simplify your life? We all have those weeks, months, and sometimes years when there is simply too much to do. We work to balance our careers, our homes, our relationships and our hobbies, but somehow, there never seems to be enough hours in the day.
Between the demands of work, family and trying to carve out some time to enjoy doing things that enhance the quality of our lives – like spending time with friends, taking in local events, exploring hobbies and such, life gets full very fast. It's easy for that fullness to cross over into feeling overwhelmed, burned out and stressed.
This is where simplifying our lives comes in. We've probably all heard about this concept at least once before, but what I want to discuss in this post is how to actually go about simplifying our lives. I'm interested in exploring the process of how you can simplify your life and still do the things you love.
Determine Your Priorities
It's human nature, I think, to try and do it all, have it all and be it all. But the fact of the matter is that we just can't do everything. Therefore it's important when you are trying to simplify your life that you take some time to determine your priorities. Make a list of all that you have to do, and start putting your obligations into columns: Most important, Semi-important and Not-really important. One of the easiest ways to streamline an overcrowded life is by making sure not everything is given the same priority level.
For instance, you might like your weekly handball game with your old high school buddy, but is it up near the top of the list? If so, keep it on the schedule, but if there are ten other things that rank above it, it might be time to kick your weekly handball date to the curb. When working to simplify your life, it's vital that you determine what activities and obligations are on the top of your priority list, and consider letting the rest go, or at least scaling back the frequency of those things that aren't really that important to you.
Simplify your Stuff
Stuff, as much as we like it, takes up time; time to use it, time to maintain it and time to repair it. If you're looking to simplify your life, consider getting rid of some of your "stuff." If the hot tub you bought only gets used once every other month, is it really worth your time and expense? Or if that classic car you bought in hopes of restoring it is more of an obligation than a joy, it might be time to let it go.
The fact of the matter is that less stuff and clutter in your house means, from a psychological standpoint and from a time standpoint, less busyness and less stress. So, if you're looking to simplify life, get rid of the stuff that no longer holds value to you and your family.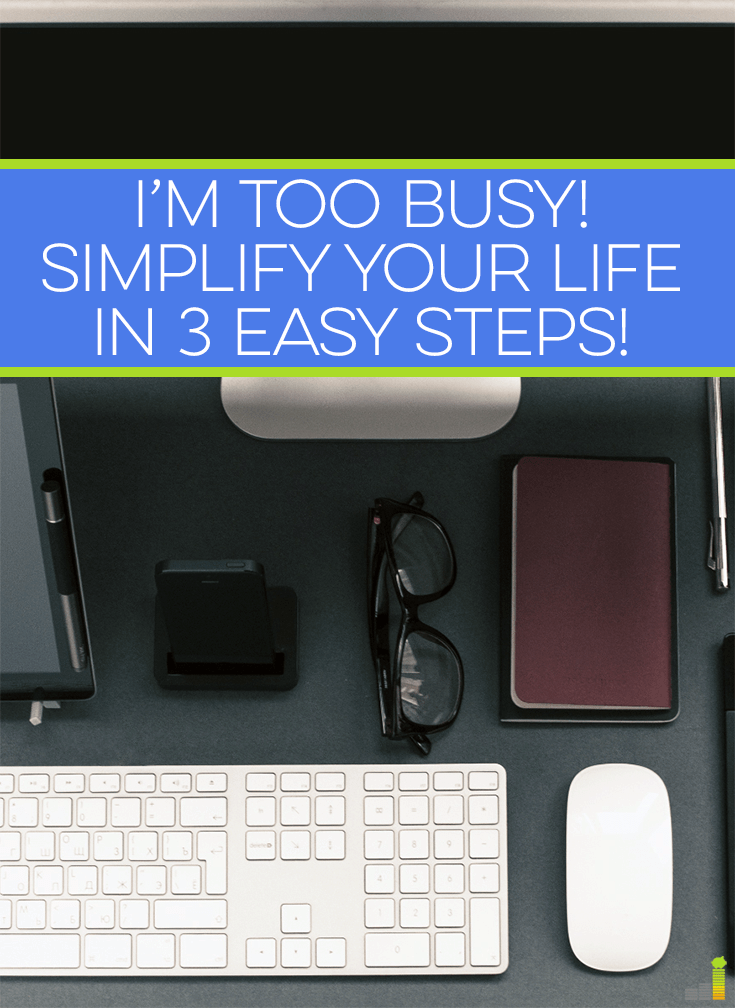 Simplify your life by Learning to Say "No"
Sometimes certain people and personality types have a tough time saying "no" to requests for help and responsibility. In order to simplify your life, though, learning to say no to things that you truly don't have time for or don't really want to do is vitally important. You only have so many hours in the day, and it's important that those hours are spent doing what's most important to you. Learning to stand strong and say "I just can't (or "don't want to") take that on right now" is okay, and it's an important step in learning to simplify your life.
Choosing to simplify your life has the ability to not only improve your happiness, but your health as well. By learning to simplify, you can reduce your stress level. Less stress often leads to eating better and taking better care of yourself. So if you're feeling overwhelmed with all there is to do in life, consider following the tips above and make a plan today to begin to simplify your life.
How big is your to-do list these days? Have you been feeling stressed or on the verge of burning out? Do you thrive on a super-busy schedule, or is it time to simplify your life?
The following two tabs change content below.
Laurie is a wife, mother to 4, and homesteader who blogs about personal finance, self-sufficiency and life in general over at
The Frugal Farmer
. Part witty, part introspective and part silly, her goal in blogging is to help others find their way to financial freedom, and to a simpler, more peaceful life.