A Screaming Idiot and Your Money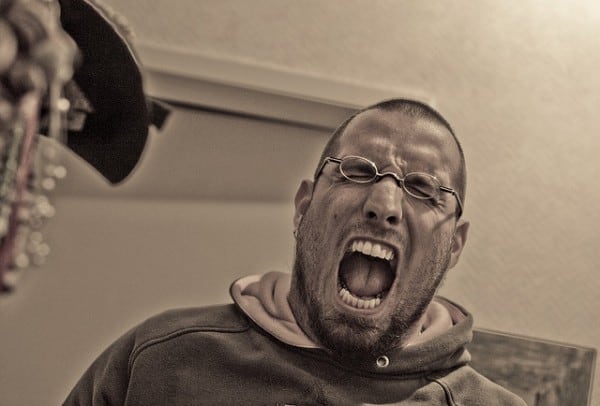 Many of my readers know that my wife and I went to Vegas for my 40th Birthday several months ago. If you've never been to Vegas before, it pays to experience it at least once in your life. Gambling aside, there are plenty of fun things to do in Vegas and one of those is people watching.
Those who have been to Vegas know the "characters" that parade up and down the Strip. Some are more colorful than others, but it can provide for countless hours of fun…as long as it's not 110 degrees outside at the time. 🙂
The downside to all this people watching is that those with something to peddle, usually either time shares or some sort of "companion" for the evening, have many people they can approach with what they have to offer. I've been to Vegas enough times to know what to do and just keep my eyes down as to not catch someone's eye. It's not foolproof, but it's what I have found that works.
Anywho, we're walking over to The Cosmopolitan one morning for brunch and, out of nowhere, this gentleman starts yelling at me. He seemed like a fine person, just that he wanted my attention and he literally grabbed me by the arm and started talking to me about some time share he was peddling. The kicker was when he informed me that Mrs. Frugal Rules and I would have to get on a bus that he claimed to own to take us to his 'office.' Suffice it to say there was no way I was getting on the bus.
I politely said no thanks and started walking away. He then, I kid you not, went on to grab Mrs. Frugal Rules' left hand and said that if I could afford a wedding ring "like that" then I could afford his time share. As an aside, the wedding ring belonged to my Grandmother, but I wasn't going to bother telling him that. 😉
Then, as nicely as I could, I told him what he could do with the time share and proceeded to walk away. The last thing he said was that if we did not get on his bus that he'd start screaming at us. I laughed him off, we walked away and he the last thing I heard was him screaming.
Being the personal finance geek I am, I think we can learn something about our finances from this screaming idiot. Let me explain…
Temptation to Spend is Everywhere
At his core, this individual wanted our money. He wanted us to buy his timeshare. I'm also assuming he was even willing to "give" us free show tickets or some free meal for taking the time to listen to his spiel. I get that. There's a reason why salespeople do things like this. It's because they're willing to spend a little to score a much better purchase from us. That's also not to mention the fact that it works…time and again.
Whether we like it or not, we're surrounded by advertising. Advertising isn't "bad" per se and it puts a roof over my head as well as food on our table. Often times it's done to communicate or educate us about something, but many times it's to convince us we "need" to buy something. We all know the screaming idiots of advertising – it's the flashy and gaudy billboard or some obnoxious TV ad. Those can be easy to turn off and not give in to. However, it's the subtle ones that work to convince us we need to have said item that can get us into trouble.
I know they work because I've seen them do so from both ends of the spectrum. I fell prey to them when I was wallowing neck deep in credit card debt and I see it work now for some of our clients.
We Must Make Informed Decisions
As advertising is obviously not going to end anytime soon, this requires us to make informed decisions. This doesn't only apply to giving in to some tempting ad, but it also applies to many other things, such as:
Knowing the terms and conditions of our credit cards
Knowing what is spelled out in our mortgage/rental agreements
Knowing how to avoid fees on our banking products
This is only a sampling of the things we need to keep ourselves informed of. The point is that there are many things out there trying to separate us from our money. Seeing as companies, banks and various other outfits are trying to part us from our money, it falls on us to make informed decisions.
Going back to the man we encountered on the Strip in Vegas, there is a time where I would've gladly given into his spiel. I'm man enough to admit that. But, in a society that preaches 'spend now, think later,' it behooves us to know the why behind our spending so we can make more informed decisions.
Have you been to Las Vegas? If so, what was your most memorable encounter on the Strip? Have you had a time share hawked at you before? If so, how did you handle it? If not, what is the one form of advertising that gets you to spend every time?
Photo courtesy of: Crosa
The following two tabs change content below.
John is the founder of Frugal Rules, a dad, husband and veteran of the financial services industry whose writing has been featured in Forbes, CNBC, Yahoo Finance and more.
Passionate about helping people learn from his mistakes, John shares financial tools and tips to help you enjoy the freedom that comes from living frugally. One of his favorite tools is Personal Capital , which he used to plan for retirement and keep track of his finances in less than 15 minutes each month.
Another one of John's passions is helping people save $80 per month by axing their expensive cable subscriptions and replacing them with more affordable ones, like Hulu with Live TV.
Latest posts by John Schmoll (see all)