Saving Money at Amusement Parks
Posted on July 16, 2013 by John Schmoll in
Saving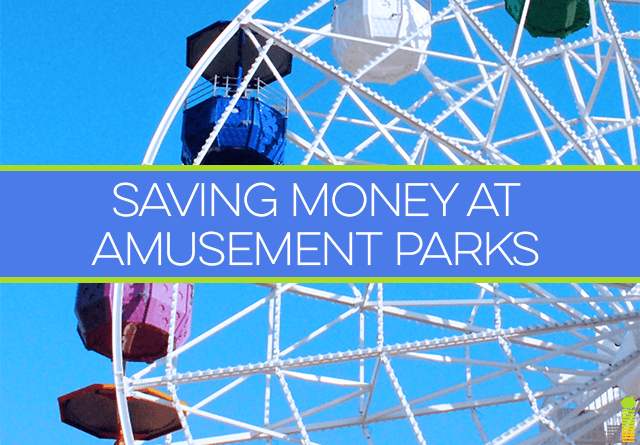 I can still remember my first trip to Disneyland. I was six years old and I had been looking forward to it for weeks. The drive to the park in Southern California seemed endless. When we arrived, I was so excited that I felt like my heart would leap out of my chest. I had seen Mickey Mouse on TV and now I was going to meet him, Donald Duck, Minnie Mouse, Goofy and the whole gang in person. (Back then I didn't realize they were just grown ups in costumes.)
The walk down Main Street seemed magical and the park ginormous. I begged my parents to take me on every ride and didn't want to leave, even after my eyes shut from exhaustion.
Local Memberships Help You Save on Amusement Parks
I grew up in Southern California and thanks to a Southern California Select membership, going to Disneyland became a once-a-month adventure. Disney did and still does today offer special, reduced price annual memberships for locals and Disneyland vacation packages for everyone that make trips to the park affordable. There were many blackout dates when your pass wouldn't get you into Disney Parks on those days but as locals, we didn't want to go battle the crowds on those days anyways, which usually included the hot summer months and holidays.
Today I live too far away from Disneyland to buy an annual pass but I still dream from time to time of how much fun I think it would be if my family and I lived close enough to make monthly trips up to Disneyland. Thanks to visits to see Grandparents, our kids have been able to visit both Disneyland in Anaheim and Disney World in Orlando. My in-laws are retired military and were able to get us reduced-price passes to Walt Disney World Resort that included an extra day's admission to any Disney park for free. When we visited our family in Southern California a year later, we used the remaining free day to get into Disneyland at no additional charge. It was a very frugal way to enjoy an amazing amusement park.
Save Money with Discounts and Deals
The ways I've been able to save money at Disney parks apply to other amusement parks as well. As Mr. Frugal Rules and I have been dreaming up summer vacation ideas, I keep urging him not to cross amusement parks off our list (admittedly, he doesn't enjoy roller coasters as much as I do). We've been able to enjoy regional parks on a budget by taking advantage of limited-volume discounts and last minute vacation deals through Expedia.
I subscribe to a few daily deal sites like Groupon and Amazon Local and sometimes they include discounts to amusement parks. I've also checked Craigslist as people sometimes sell tickets or passes they've purchased that are transferrable but they are no longer able to use. Especially if the passes are about to expire, the owners are often willing to sell them for up to 40 percent less than what they paid for them.
Amusement Parks offer multi-day discounts or deals to military members, veterans, seniors, children and AAA members. I've also been able to save money and gain free parking by purchasing admission tickets at grocery stores as opposed to at the parks themselves. In fact, one of the easiest ways I've found to save at parks is to simply buy tickets ahead of time, online or from a third-party reseller as opposed to waiting until I arrive.
Dining Offers Opportunities to Save
The last time I visited a Disney Park, we ended up buying a pizza for everyone to share and spent in their neighborhood of $50 for five of us to enjoy two slices and a drink. I made a promise to myself that day that the next time I visited a theme park, Disney or otherwise, I would plan my meals better so that I wouldn't have to spend so much. Almost all amusement parks allow re-entry.
By packing a lunch or bringing a cooler and keeping it in my car, I can spend a lot less on food. Then, by eating at a nearby restaurant for dinner, I spend less than if I'd stayed in the park to eat. I save on drinks by carrying in empty water bottles and filling them with free water throughout the day. I love churros but I've been able to resist the urge to spend $8.50 on one of them at amusement parks by sticking a pack of gum in my pocket and chewing a piece whenever I smell churros. This little habit saves me money and calories (and let me tell you, after four kids in five years, I need to cut calories wherever I can :-)).
Resist the Urge to Purchase Souvenirs
I love t-shirts. One of my favorite things to do is to buy a t-shirt from places I visit as a way to remember them by. If I am going someplace very special, or I have an especially fun time, I will budget about $20 to buy myself one t-shirt from that place.
When we went to DisneyWorld, I snagged a Dory t-shirt because it was absolutely perfect for me. Mr. Frugal Rules calls me Dory (the congenial, helpful and very forgetful Blue Tang from Disney Pixar's Finding Nemo) because we are so alike. * Mr. Frugal Rules here – the nickname is spot on. 😉 I found a shirt there that had a big picture of Dory and said, "I think I forgot where I got this tee." So, I bought it and years later, I have no regrets.
Other than t-shirts though, I resist the urge to splurge on souvenirs as they can really bloat my vacation budget. If you fall prey to the same weakness, try what I try – leave your credit cards, checks, check cards and other cash someplace safe so that when you're tempted to buy something you haven't budgeted for (like another t-shirt), you don't have the means to act on that temptation.
My final piece of advice is to have fun! Trips to amusement parks can turn into treasured memories that you and your family or friends will carry with you for the rest of your life; some of my happiest, funniest memories occurred at amusement parks. (Like the time I was arrested by the Disneyland police for spitting out of the Skyferri; a "cop" named Joe "detained" me in the Disneyland Police Department and then had me and my friends escorted out of the Park.)
Just because amusement parks can be expensive, doesn't mean they have to be. Plan carefully, buy ahead of time, take advantage of discounts, bring your meals and limit your purchases and you can enjoy amusement parks frugally. Just don't get yourself arrested – unless you're up for a real adventure.
Are you trying to plan cheap vacations? What amusement parks are you interested in visiting? What's one of your favorite amusement park memories?
The following two tabs change content below.
John is the founder of Frugal Rules, a dad, husband and veteran of the financial services industry whose writing has been featured in Forbes, CNBC, Yahoo Finance and more.
Passionate about helping people learn from his mistakes, John shares financial tools and tips to help you enjoy the freedom that comes from living frugally. One of his favorite tools is Personal Capital , which he used to plan for retirement and keep track of his finances in less than 15 minutes each month.
Another one of John's passions is helping people save $80 per month by axing their expensive cable subscriptions and replacing them with more affordable ones, like Hulu with Live TV.
Latest posts by John Schmoll (see all)