How to Save Money and Not Spend $300K Raising a Child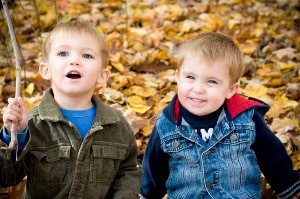 I would be the first to say that raising kids is an expensive endeavor. They're constantly growing, needing new things and add to the overall cost of running a home. If you have multiple children, then those costs can be substantial. This can make it difficult to save money in your home. As a father of three young children, I am terribly mindful of the fact that kids cost money.
An annual study backs up this fact that raising children from birth to the age of 17 will cost $300,000 (not including college tuition) if inflation is included. That number is simply staggering and can be overwhelming at first. The fact is though, that raising children doesn't have to cost as much as the "experts" think. When thought through frugally, there are many ways to save money raising kids.
Saving Money on Brands
We live in a consumer driven society, and the desire to keep up with the Joneses can be a strong one. This desire infects children as well, especially when they go to school. They'll want to be in the same clothes as their friends and wear popular brands.
*Related: Need to buy your child a cell phone? Read our guide on the best cell phone plans for kids and teens that won't break the budget.*
This starts at infancy when parents feel the irresistible urge to put their babies in Ralph Lauren onesies and Nike soft shoes. An easy way to save money though is to be mindful of spending on clothing. The study mentioned previously is assuming that you'll buy new clothes on a regular basis like at the beginning of the school year. This cost can be cut in a variety of ways, such as:
Buying clothes at a consignment sale
Using hand-me downs
Shopping at Goodwills
You can often find good looking brand name clothing at places other than the department store at a fraction of the cost. This allows you to save money while also letting your children wear brands they like. There might be some embarrassment associated with some of the options I suggested, but why be embarrassed about saving money on quality clothing?
Save Money on Groceries
I've written before about frugal ways to grocery shop. This can be exceedingly difficult with children in the home. As they get older, their appetites will grow as well as their desires for things they see in the store.
Grocery stores know this and will market to your children and bank on the fact that many parents can't say no to their kids when they ask for something. Regardless of this, there are ways to save money on groceries with children, such as:
Find ways to make things they're asking for at the store, like homemade popsicles
Have a meal plan
Have a parent stay at home with your children while the other parent shops
Small reward for not asking for stuff at the store
Saving money on groceries can be difficult as children grow, but with a little creative and frugal thinking you can manage to keep a lid on your grocery spending.
Healthy Living Habits
Looking at the major categories of the study, there were only two areas that have seen an increase since 1960 (when the study first began). The one that stuck out to me was healthcare for children, as it has doubled while nearly every other category has declined.
*Related: Looking for something fun to do tonight? Read our exhaustive guide of fun things to do with kids that don't cost a lot of money.*
There can be a myriad of ways to save money in regards to health care costs. They all boil down to teaching your children to live a healthy, active lifestyle. Included in this is having them play outside, teaching healthy eating habits and simply encouraging activity.
An easy way to encourage some of these things is by having your child help you manage a simple garden. This has a twofold effect as it can help you save money on produce at the store while at the same time getting them excited to eat fruits and vegetables.
Childhood obesity rates have tripled in the last few decades and by teaching healthy living habits you can help avoid the increased medical costs that come with childhood obesity.
Frugal Lessons Can be Taught
Children are sponges, especially in their young and formative years. This can be a great time to begin teaching your children the basics of saving money and how to budget. It can be as easy as having your child think of ways they can use what money they have.
If they get money from a grandparent for a birthday gift, or receive an allowance that can be a perfect way to teach them the value of being frugal and saving money.
Give them a goal to shoot for and help them along the way. Lessons learned through such exercises can be invaluable as they grow and help set them up for success when they're older. You can also show them how you do this yourself through saving on monthly bills.
Take cable for example. You can show them the power of saving money by using a cord cutting option, like the Amazon Fire Stick, to save you $100 per month. Show them how you put that money to better use and still get the TV programs you want to watch.
Without doubt, raising kids can be costly. Don't let the desire to be like the Joneses keep you from saving money and sticking to your budget.
There can be many ways to save money in raising children, what are some things you do to save money?
Photo courtesy of: Jason Nelson
The following two tabs change content below.
John is the founder of Frugal Rules, a dad, husband and veteran of the financial services industry whose writing has been featured in Forbes, CNBC, Yahoo Finance and more.
Passionate about helping people learn from his mistakes, John shares financial tools and tips to help you enjoy the freedom that comes from living frugally. One of his favorite tools is Personal Capital , which he used to plan for retirement and keep track of his finances in less than 15 minutes each month.
Another one of John's passions is helping people save $80 per month by axing their expensive cable subscriptions and replacing them with more affordable ones, like Hulu with Live TV.
Latest posts by John Schmoll (see all)