7 Simple Ways to Save Money on Summer Vacation and Still Have Fun
As the weather turns warmer many start to have one thing in mind – traveling. Regardless of if you have a large family or are strapped for cash, you want to save money on summer vacation. I've read varying numbers on the "average" cost of summer travel and they range upwards of $1,500+ per person. That can be a staggering number and can be cost-prohibitive to your summer vacation ideas.
We travel hack for many of our trips as a family, but that doesn't always cover the entire cost of a trip. As a result, we're often looking for ways to slash costs to stretch our money even further. The end result is that we have just as much fun without spending a ton of money.
If you're looking to save money on summer vacation, but aren't certain where to start, a few of these tips should help.
Ditch the Hotel on Your Summer Vacation
We commonly use travel rewards cards when going on a trip to cover the cost, but when we don't, we skip the hotel. Why is that? It's because you can spend a fraction of the cost by renting a house or condo. There are a variety of ways to do this, but we've used VRBO with a lot of success.
For example, we're going to Denver for a week in August. Most hotels were at least $200 per night or required way too many points. Instead, we booked a house 10 minutes outside the city for less than half the cost. If you'd still like to take advantage of rewards credit cards to help lower the cost of travel, here are some of the best ones available.
Take Your Own Food
We've all heard that taking your own food is a great way to save money on summer vacation, yet do you actually do it? If not, it really does work. 🙂 All you need is a small to medium sized cooler and you can take lunches, snacks, fruit, etc. and avoid spending money on the road. Doing this alone saves us easily several hundred dollars per trip.
Depending on where your summer vacation destination, you can even do the same thing in your arrival city. If you rent a house or stay in a hotel with a kitchen, plan to make your dinner. We usually allow for at least several dinners out while on vacation as it's a nice treat for the kids and we get to try something we don't normally at home.
Avoid the Hotspots
Tourist attractions can be a lot of fun, though your wallet may not necessarily agree with you. Not only can they be expensive, but you're also likely to run into a ton of crowds.
Not every tourist destination is this way, but I'd venture to guess that in the majority of the cases, they are. Instead, look at a summer vacation that's closer or a little less well-known to save some money. We use both Expedia and Hotels.com to help us find places that are cheaper and away from the tourist attractions.
Set A Family Budget
We already like to budget and we live that out when going on summer vacation. By setting a budget we have more freedom to spend what we want and save it for something meaningful as opposed to some random trinket.
Each person in our family gets an allotted amount to spend on something they want. This helps our kids learn to manage money and place a value on something they might really want.
Enjoy Free Entertainment
If you're going to a big enough destination I can pretty much guarantee there is some form of free or very cheap entertainment options there. Some of them may not be your kind of thing, but there is almost always numerous options to consider.
The easiest way to find such things is to do a simple Internet search and type in "Free things to do in…" and then type in the city. We do this with nearly every summer vacation we take as it results in more money in our pocket as opposed to going to some tourist trap.
Don't Stay in the Big City
Who doesn't like visiting a big city on vacation? The problem is many times they can be very expensive. Take Chicago for example. We went there last fall. I lived there for five years and grew up visiting multiple times a year as my entire family is from there.
The problem? If you want to stay in downtown Chicago, it can cost upwards of $300 per night for a middle of the road hotel. We refuse to pay that. However, if you go 20 minutes outside the city and stay in one of the suburbs you can get a relatively decent hotel for less than half the cost.
Guess which one we did? We still had the Chicago experience without leaving broke at the end of the trip. You can do the same thing in many other larger cities.
In fact, sites like Expedia and Hotels.com make it easy to search by area of the city and will list general price ranges. Those are our go-tos when looking to save money on lodging.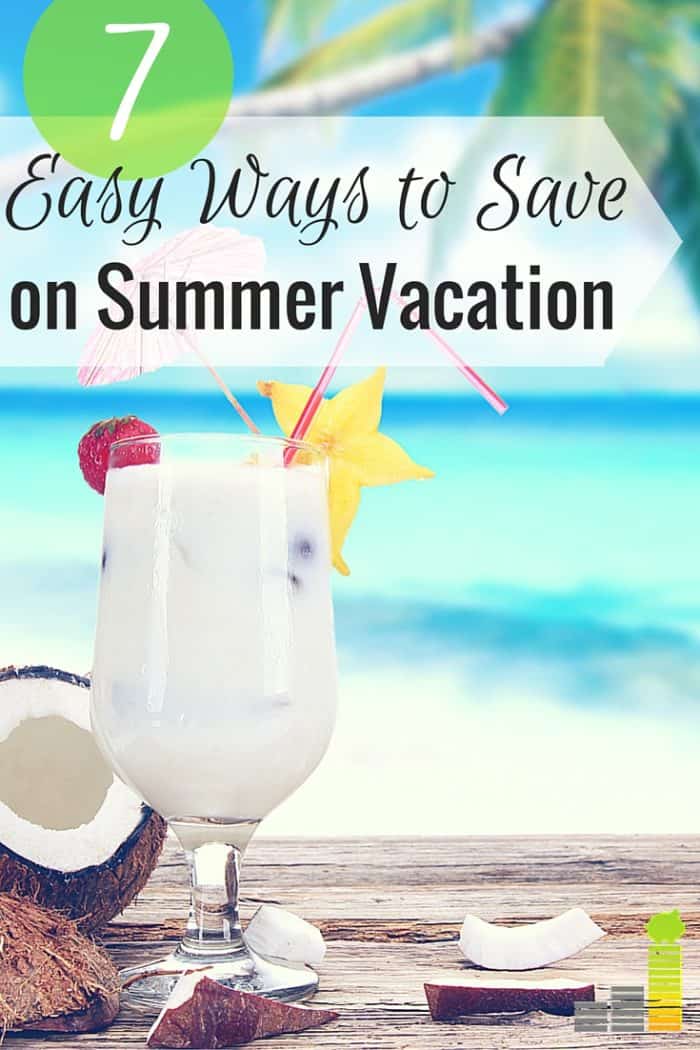 Know the Transportation Options
Transportation costs are another key thing to keep in mind when trying to save money on summer vacation. This won't work in every location, but if your destination has great public transportation – think New York, Chicago, Boston, or San Francisco then you very well may not need a rental car.
In fact, not only will it cost you more money to have one but it likely won't be worth the hassle. If you're staying in relatively the same area, or even if you'll be out exploring, using public transportation can save you several hundred dollars.
I know saving money on summer vacation might seem like you won't enjoy yourself. It doesn't have to be that way. Some of our best summer vacations have been those that cost the least. After all, it should be about the experience and not spending all sorts of money to create it.
What are some other ways you save money on summer vacation? Where are you traveling this summer? Do you set a spending budget on vacation?
Save
The following two tabs change content below.
I'm the founder of Frugal Rules, a Dad, husband and veteran of the financial services industry. I'm passionate about helping people learn from my mistakes so that they can enjoy the freedom that comes from living frugally. I'm also a
freelance writer
, and regularly contribute to GoBankingRates, Investopedia, Lending Tree and more.
Latest posts by John Schmoll (see all)