How to Save For Retirement: 5 Must Follow Tips
Posted on March 21, 2018 by John Schmoll in
Investing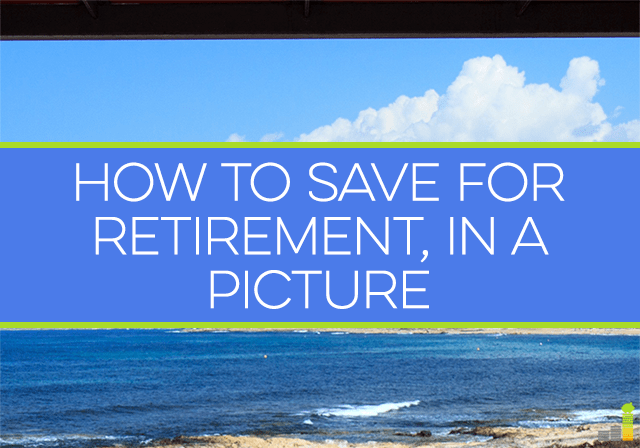 If you want to know how to save for retirement but don't know where to start it can be overwhelming. I know saving for retirement is a challenge when it's 3-4 decades away, you have little money to invest or you simply don't know how to invest in the stock market.
I saw people deal with all of those issues when I was a stockbroker. I've also dealt with them myself in a previous life. Whatever the situation is, don't allow them to hold you back from saving for retirement. If you want to know how to save for retirement, this post will arm you with the information you need to start saving for retirement.
Start With Your Job
The best way to save for retirement is through your current employer – assuming they offer you a 401(k) plan. There are two simple reasons for this:
The money comes directly out of your paycheck so you don't "feel" the money coming out
The potential for a 401(k) match – which is free money
I don't know about you, but life is busy. This makes it easy to forget to do certain things and saving/investing is at the top of that list. A 401(k) plan is a great way to put saving for retirement on autopilot. You simply set it up to have a certain percentage out of each paycheck and they put it into your investments of choice.
You don't have to think about it, the automation does everything for you. Here's how to set up your first 401(k) if you've never used one before and don't know where to start.
I love automation, but what I love even more is free money. Many employers will give you a 401(k) match for money you set aside for retirement. In many cases, it goes like this – you set aside six percent of your paycheck and they give you, for free, another three percent. Your plan may be a little different, but you get the point. Your employer gives you money, for free, to save for retirement.
If you leave your job, don't worry. You can take the money you've contributed into your 401(k) plan and move it to your new employer. You can also leave it with your old employer or move it to an online brokerage for an IRA. In some instances you may even be able to take the money your employer put in your account.
Do you currently have a 401(k), but feel you might be able to do better? Blooom is a service that will analyze your plan to see if you're overlooking lower cost or better performing funds within the plan.
Blooom will give you a free analysis of the investments in your plan to lower fees so more of your money will work for you. Blooom does charge $10 per month, but offers a 30-day free trial to help get your 401(k) plan in shape.
How to Save for Retirement Without a 401(k) Plan
You know you need to save for retirement but what if your employer doesn't offer a 401(k) plan? While over 80 percent of employers offer 401(k) plans, not everyone does. You may also have access to a 401(k) but the plan may not be very good.
Both are unfortunate as I believe a 401(k) is one of the best tools available to help grow your money. Don't fret as you still have retirement planning options. Here's how to save for retirement without a 401(k) plan:
You open an IRA through a major online brokerage
It's really that simple. If you don't have a 401(k) plan you need to find a way to save for retirement and that can be done through an online broker when you open an Individual Retirement Account (IRA).
An online broker allows you to invest in virtually anything you want – stocks, mutual funds, Exchange-Traded Funds (ETFs) and more. Even if you don't know how to invest in the stock market you can still do quite well through an online broker.
There are many online brokerages available. I've reviewed some of the best online brokerages here though that can still be overwhelming. Below are some of the best brokers to use for your retirement planning:
Betterment: Betterment is a robo-advisor, which means they manage the entire investing process for you. You answer a few simple questions and they custom make a portfolio for you. The best part – Betterment has no minimum balance requirement. You can open an account with as little as you want.
Ally Invest: Ally Invest is for more self-directed investors. Ally Invest has been around for years and offers many tools to help you save for retirement from over 8,000 mutual funds, an industry-low $4.95 per stock trade and a variety of other tools thanks to being a part of Ally Bank. You can open an IRA with Ally Invest with no minimum balance requirement.
Saving for retirement without a 401(k) plan can be difficult though it's certainly not impossible. If you do choose to open an IRA you can save up to $5,500 each year for your future retirement needs.
Know Your Goals
I've been asked how to save for retirement many times. Regardless of where you're at in your investing knowledge I commonly ask about goals. Your goals will dictate how you save for retirement. They will guide your decisions, your investments and much more.
Let's face it, we're all different. You may want to pursue a traditional retirement. You may want to retire early. You may want to start a business in retirement. All of those will impact how and what you should invest in.
If you don't currently make enough to invest to make those goals possible, you want to find a way to make extra money. There are many ways to do that, from monetizing a skill to monetizing your down time.
You can drive for Postmates in your free time to deliver meals and groceries to people. You can set your own schedule with Postmates and work whenever you wish. The app claims you can make up to $25 per hour, and they pay weekly.
You can also monetize your down time, or make money while watching TV.
The best way to do this is by taking surveys online. You won't get rich quick, but they can be a great way to pad your savings account a little each month. Here are some of our favorite survey sites:
Survey Junkie – Survey Junkie is our favorite survey site as they pay you cash straight to PayPal, or let you redeem rewards for Amazon gift cards
Pinecone Research: They pay $3 per survey and they pay by Amazon Gift Card or virtual Mastercard. However, if you've joined Pinecone in the last 30 days, your first redemption must be by bank transfer to verify your rewards account. They also pay to do product testing
Opinion Outpost: One of the top survey sites in the space and they have quarterly $10,000 prize drawings
InboxDollars: Earn money for taking surveys, watching TV or making purchases online. Get $5 just for signing up
Avoid Debt
I know debt seems odd in a talk of how to save for retirement. It's really not and that's for one simple reason – the more debt you have the less you'll be able to save and invest. Debt obligates you to someone/something else and restricts your freedom.
*Related: Do you want to invest in real estate but have limited funds? Check out our guide of the best crowdfunding real estate sites that let you invest with little money.*
Too often, and I've been guilty of this myself in the past, I've seen people unable to save much for retirement and it almost always came down to one thing – they had too much debt.
If you have a lot of debt, or simply need ways to save money on regular expenses (so you can invest), check out some of the following ways to help yourself out:
Get rid of your cable bill. Cutting the cord is one of the best ways to save money. You can try a no-contract option like Hulu with Live TV and save $50+ per month.
Lower your debt payments. If you have a lot of consumer debt or student loans you can consolidate or refinance it to save money. There are many options available though Lightstream is great for consumer debt and Credible is great for student loans – the average Credible user saves almost $19,000 when they refinance their loans.
Don't eat out as much. The average person spends $225 per month eating out. If you cut that in half, you'll have $1,350 to save for retirement in a year.
There are many other simple ways to save money every month, but this should help you start saving money that can immediately be used for retirement planning.
Use Time to Your Advantage
When many ask how to save for retirement they don't realize how important time is in that question. We think it's impossible to invest in the stock market with little money and choose not to start. Don't give into the myth you need a lot of money to start saving for retirement. You don't, you simply need to start.
The reason is simple – time is your best friend when investing in the stock market. Even if it's $50 or $100 a month, time will grow that money and cause it to make more money. It just builds on itself from there, but if you wait you lose out on all of that growth.
Time also does something else with your retirement planning. As the stock market goes up and down some of your investments will do great and others not so great. You want to check in on your investments regularly. It doesn't have to be on a specific interval, but you do want to check in on your investments.
Many experts suggest to check in on your investments at least once per year. I usually recommend at least twice per year. Find what works for you and run with it.
We're not done with time and investing. The final aspect is your knowledge level. Education breeds confidence. That confidence gives birth to comfort. This will help your retirement planning efforts. You may not know much about investing in the stock market, and that's ok.
Don't think you can't or shouldn't invest as a result. There are many ways to learn how to invest – from resources available online to free classes offered through an online broker. You don't need to be an expert to invest, you simply need to have a little knowledge and a willingness to start sooner rather than later.
When did you start saving for retirement? Why is it so important to know how to save for retirement? How often do you check in on your investments?
The following two tabs change content below.
John is the founder of Frugal Rules, a dad, husband and veteran of the financial services industry whose writing has been featured in Forbes, CNBC, Yahoo Finance and more.
Passionate about helping people learn from his mistakes, John shares financial tools and tips to help you enjoy the freedom that comes from living frugally. One of his favorite tools is Personal Capital , which he used to plan for retirement and keep track of his finances in less than 15 minutes each month.
Another one of John's passions is helping people save $80 per month by axing their expensive cable subscriptions and replacing them with more affordable ones, like Hulu with Live TV.
Latest posts by John Schmoll (see all)