Taking The Plunge: The Single Most Important Thing in Running A Business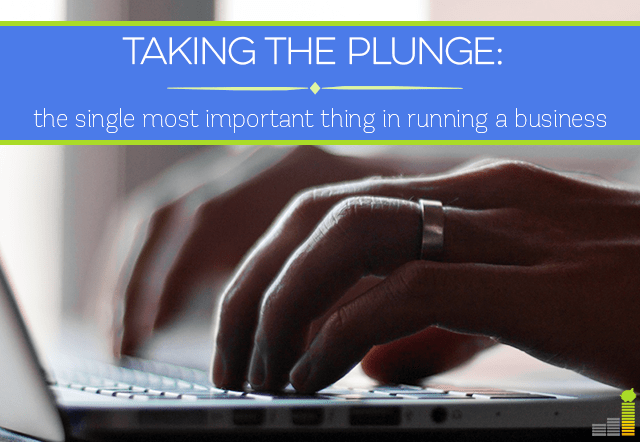 As many of you already know, my wife and I enjoy running our own business. It had been a dream of mine for years, but truthfully I never thought it would be possible. Even once we started, I secretly thought we wouldn't be a success. Thankfully it appears that I was wrong. These days, I often wonder why I waited so long to take the leap. That's behind us though and we are choosing to focus solely on the future.
I've learned in running our own business that I have become more introspective than I have been in the past. Part of this might be thanks to my OCD tendencies or the fact that everything is on us in terms of income, but I have come to one realization over the past year or so in running our business – there's one thing no one tells you.
What They Don't Tell You
If you've heard or seen a late-night infomercial that talks about working for yourself all sound eerily similar.
They say you'll be rolling in cash
They make it sound easy
They tell you that you'll be jet-setting every few weeks to some exotic island where drinks with little umbrellas are brought at your whim
If you didn't know this already, it's not true…of course! If it were that easy then there'd be far more than the estimated 10 million self-employed people here in the States and each one of them would be sleeping on beds made out of cash. But, as reality has it working for yourself requires a ton of hard work and effort. A little luck doesn't hurt either, though a lot of it comes down to hard work in my opinion.
That begs a question though as to what you need to do if you want to take your business from something you're simply doing on your own to something that can grow into something bigger.
You Need To Spend Money
So, the single most important thing in running a business (at least from a small business perspective), in my opinion, is spending money. Well, it's not as basic as spending money but it's knowing when to hire out help.
I hate losing money – my wife will tell you as much. I know it doesn't really make me unique, but I will find ways to not lose money. Anyway, as we've grown our business into something that is doing things we only ever imagined we've come to see one very salient point – we can't do it all. Shocker, I know, but we can't do it all.
This goes beyond the usual work-life balance issue and hits more at the fact that we're not all-knowing. For example, I don't know the first thing about graphic design. Mrs. Frugal Rules can design something if she has to but suffice it to say it's not a skill set either one of us has. This brings us to a crossroads. We could effectively lose out on clients altogether by not offering services they need or we could hire out some of those skills we don't have to gain and retain clients.
While hiring out means we lose out on a portion of the overall income, I'd much rather have 75 or 80 percent of 100 than 100 percent of nothing. Make sense? It sort of goes against the grain in the PF community, and in many cases that's warranted, but we've found that hiring individuals has helped us grow our business substantially.
It Doesn't Stop There
I'm not saying, of course, that we're just out there willy-nilly hiring people and giving up on income as that's not something I believe you should really do. Rather, it means to act in lockstep with your vision for your business. Ask yourself where you would like to see it go and then think through what's required to get it there. This is not a one-time thing question by the way and is one that you have to ask yourself periodically.
That being said, once you determine your vision, you can combine it with what kind of help you need to hire out. I did this to a certain extent when I hired a virtual assistant for the blog but it goes beyond that with our business. Personally speaking, we've determined that we don't want to be just writers. While there is certainly nothing wrong with writing, (believe me, we do a lot of it) we have a vision of taking our business to a level where we're doing less of the writing and more of the planning and attracting of clients.
That all requires the ability to bring on others who share our talent for writing and have skill sets we don't (like graphic and web design or media buying) to more effectively grow our business. All of that action though starts with a vision for what we want our business to become. Having that vision and being willing to spend the money to execute it, is what I've learned now that I wish someone had told me years ago when we opened the doors of our business.
What are some of the more important things to remember when running a small business, in your opinion? Are you willing to lose out on money to get ahead in the long run? What's one skill you'd like to grow in so that you wouldn't need to seek outside help?
The following two tabs change content below.
John is the founder of Frugal Rules, a dad, husband and veteran of the financial services industry whose writing has been featured in Forbes, CNBC, Yahoo Finance and more.
Passionate about helping people learn from his mistakes, John shares financial tools and tips to help you enjoy the freedom that comes from living frugally. One of his favorite tools is Personal Capital , which he used to plan for retirement and keep track of his finances in less than 15 minutes each month.
Another one of John's passions is helping people save $80 per month by axing their expensive cable subscriptions and replacing them with more affordable ones, like Hulu with Live TV.
Latest posts by John Schmoll (see all)