When is the Right Time to Buy a House for Millennials?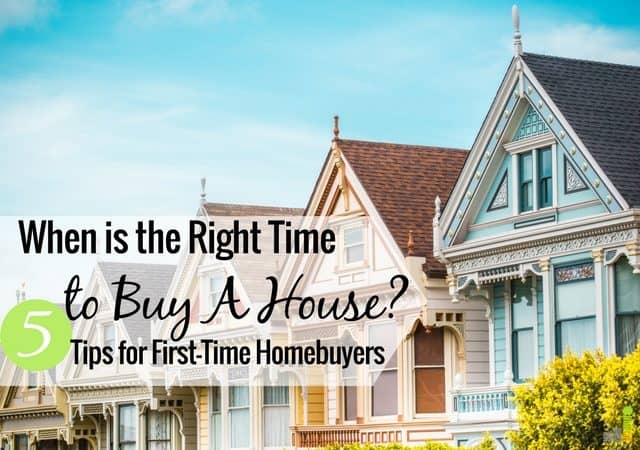 I'll be honest; I didn't feel like it was the right time to buy a house last year; I didn't feel ready. My husband did, but I liked the safety net of renting. I knew we'd only live in Michigan for four years during his residency so I was worried it wasn't the right time to buy.
Furthermore, with his job as a busy resident physician, I worried about handling house emergencies while he was at work. What would I do if the toilet overflowed or something caught on fire?
I knew his work hours meant I'd have to take on other chores that were usually his too, like cutting the grass and taking out the trash. Needless to say, I wasn't really on board but I agreed to look. That search started with a look at what interest rates were being offered, in general, so that we could see if it was a good time, from a market perspective, to buy. Online sites like LendingTree made that search for mortgage interest rates easy.
Once we saw that rates were still favorable, and I thought through some additional factors, I finally felt comfortable moving forward with a decision to buy our first home. Below are a few reasons why I eventually decided to give home ownership a try.
Location, Location, Location
As mentioned, one of my biggest concerns was our home value. The last thing I wanted to do was buy a house and then lose money when selling it.
I was pretty sure I wasn't going to live in Michigan forever when buying the house, but after my first winter here, I can absolutely confirm that.
We saw a lot of very inexpensive houses right by the hospital where my husband works. However, after studying home price trajectories in our area, we opted to buy a house about 30 minutes away.
We still bought an affordable house that's only 1,000 sq. ft. but it's in a very hot market. In fact, we were one of five bids on our house (the adorable picture of my family and a nice note I sent in with our offer apparently helped us get the house.)
According to our realtor, our city is growing too, which is good news for us when we're ready to sell in a few years.
Consider These Two Things Before Buying
So, there are two important considerations for Millennials when deciding the right time to buy a house. The first is knowing how long you're going to be in the area. Millennials are notorious for job hopping so make sure you like where you are before setting down serious roots.
The second is thinking about location. You want to make sure that when you buy something as important as a house you choose a good, solid area that has a proven track record of growth.
Getting Your Finances in Order
My husband and I have a lot of student loan debt. Being a personal finance writer, I knew that there was more to buying a house than just comparing the rent payment to the mortgage payment.
Now that we're homeowners, we have to take care of repairs, taxes, insurance, random sidewalk improvement taxes and more.
Not only that, but during the first week we moved in, the dishwasher broke, the electricity went out and the hot water heater stopped working. It was a very strange first week of home ownership! Everything is good now, but I worried that we made a big mistake after that first week in our house.
One important step to getting your finances in order is to determine if your credit is ready to buy a house. We were fine, but not everyone has that benefit. If that describes you, it's important to focus on credit utilization and payment history. Using a credit card wisely can help you patch up both of these areas and increase your credit score as a result.
If you're not a fan of using credit cards but need to build your credit, you may want to pursue a credit builder loan from a bank.
Credit Strong is one possible option. Credit Strong is a division of Austin Capital Bank, and is one of the lowest fee options in the space. By making regular monthly payments your efforts get reported to the credit reporting agencies and help improve your credit. Check out our guide on is Credit Strong legit to learn more about the platform and how they can help you meet your goals.
Fast-forward to today and I can offer some advice to other Millennials considering home ownership, which I've included below.
3 Main Tips to help you decide when to Buy
1. Avoid private mortgage insurance (PMI). If you don't have 20 percent to put down on your home, you will likely have to pay PMI. This is a way for the bank to feel comfortable loaning you money for your house because if you can't make a payment, the mortgage insurance will cover their losses.
Paying private mortgage insurance is another bill you have to pay on top of your mortgage payment. I'm glad that we don't have it because I've heard that some people's PMI payments can be $100 or more.
That's a lot of money to pay just to help your bank out. If you want to save money on your mortgage, wait until you've saved up a big enough down payment so that you don't have to worry about this extra payment.
2. Have a 3-month emergency fund. After we closed on our house and moved all of our things in, my cash savings definitely took a hit. I really only had one month of an emergency fund established.
Once we had to take care of a few repairs, I had a lot of anxiety about running out of money. If you think you're ready to buy a house, make sure you have 3-6 months cash in an emergency fund ready to go. If you don't already have one and are looking to get one started, make sure you look for savings account options that offer a relatively decent interest rate and the ability to access your cash whenever you need it.
There are a number of decent online banks like CIT Bank that provide both of those features.
3. Don't go too expensive. This is your first house, so it doesn't need to be a mansion. Of course, we all want to live in a home with a beautiful master bathroom and wood floors and all the fixings.
Trust me; I get it, especially after sharing a bathroom with my twin toddlers for the past year. However, just know that this probably won't be your forever house. It's a starter home, so don't feel like it has to look like the Pinterest house of your dreams.
Ultimately, the decision to buy a house is a personal one, but in the end, I'm glad we made the decision to go for it when we determined it was the right time to buy.
However, because it's a massive purchase, it's important for Millennials to really research and strongly consider every option. If you have your finances in shape, an emergency fund, and find a house in a great area, then I say go for it.
However, if you don't like your job, want to move someday, and haven't been the best with money in the past, renting might be the best option for now.
How did you know you were ready to buy a house? What advice would you give to a first-time homebuyer who is also a millennial?
The following two tabs change content below.
Catherine Alford is the go to personal finance expert for parents who want to better their finances and take on a more active financial role in their families.