Are Rich People Really That Different From the Rest of us?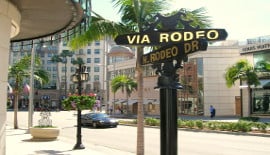 Last week Jason over at Frugal Habits wrote a nice post on The Frugal Habits of the Rich and Famous, which got me thinking about rich people and what it means to be rich. I then read this interesting article on Yahoo Finance and thought it dovetailed nicely with Jason's post. The article discusses points that Steven Siebold, author of How Rich People Think, discovered in his profiling and interviewing of numerous rich people. While I don't necessarily agree with all of the points, some are very true.
You can be rich in love or many other things, but what I am talking about is rollin' in the dough. I am also intrigued by rich people because my hometown, little old nondescript Omaha, Nebraska is home to the highest number of millionaires, per capita in America and is the home of the Oracle of Omaha…Warren Buffett. In fact, Mr. Buffett lives about 15 minutes away. Maybe I should pop on over for a visit sometime, what do you think?
You Don't Become Rich By Being Frugal
Say what? I thought this was a blog committed to living frugally! It is, but trying to be frugal will only take you so far. I never met anyone who became rich because they ended their morning coffee habit, cut their own hair, bought second hand clothes, or used coupons. While those things are great, and I do many of them, they'll only carry you so far. I know what you're thinking…well rich people are frugal too. You're right, but rich people did not become rich solely from frugality. They also saw the power of earning more money and chased that without abandon. To me, it's the difference between having a dream that you keep in your head and taking action to turn your vision into reality. It is that search to earn more that makes them rich and the act of living frugally is only a small part of their lives.
Rich People Live Below Their Means
One of the tenets of getting ahead financially is spending less than you earn. I know, it's simple math but many of us can still get tripped up by it. I did in the past, and am glad that I have learned from my mistakes. You might be saying that for rich people it's easy to live below their means. I cede that point, but I also know, or have heard of, many well off people who make bank only to throw it away. They do so to the point where they're swimming in debt with no real way of getting out.
Rich People Are Smart With Risk
Fear can be a powerful thing. It can cause us to make poor decisions, or hold us back from realizing something spectacular. Risk is no different. Rich people, in general, see risk and are wise with it and use it to their advantage. They're more apt to use leverage for their benefit. Sure, it might come back to bite them from time to time, but in the long run they're ahead because of it. Ultimately, rich people will use that leverage and act when others are less apt to and see it as an opportunity to benefit themselves.
People Become Rich Through Logic and Following Their Passion
For many of us money is an emotional issue. It can be a very difficult thing to separate money and your emotions. Rich people become rich because they're not emotionally tied to money. They remove emotions from the equation and look at money logically and are able to discern their available opportunities. They also find what they're passionate about and chase it down. They find what they love and look for a way to get paid for it.
So, to answer my initial question, rich people really aren't that different from the rest of us. While relatively few people are born into wealth, we all have things we're passionate about. We all have dreams. The difference is how we pursue them. Do you dream about running your own business? As one speaking from recent experience of making the petrifying plunge into the world of taking action on my dream (and the possibility of unlimited, yet inconsistent income that comes with it) I can say that I'm not rich yet but I know I never would have had the chance if I'd kept my dreams in my head. The key is taking action on our dreams and relentlessly chasing them down until they become reality.
What are your thoughts on rich people? Maybe you're rich and we don't know it? Do you think we're really that different?
Photo courtesy of: Brian Nunnery
The following two tabs change content below.
John is the founder of Frugal Rules, a dad, husband and veteran of the financial services industry whose writing has been featured in Forbes, CNBC, Yahoo Finance and more.
Passionate about helping people learn from his mistakes, John shares financial tools and tips to help you enjoy the freedom that comes from living frugally. One of his favorite tools is Personal Capital , which he used to plan for retirement and keep track of his finances in less than 15 minutes each month.
Another one of John's passions is helping people save $80 per month by axing their expensive cable subscriptions and replacing them with more affordable ones, like Hulu with Live TV.
Latest posts by John Schmoll (see all)