What Does Rich Mean to You?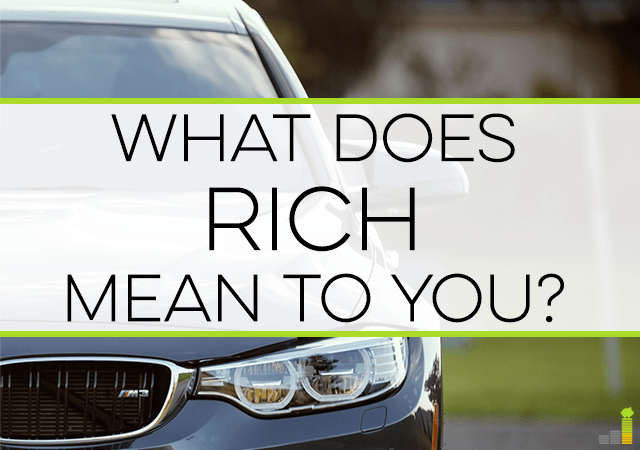 Christmas is almost here and so many of us will wake up on Christmas morning to a pile of exciting, unopened presents. Some may even end up with a shiny new car in the driveway. There was definitely a time when I thought that owning a large home, a fancy new car and interesting gadgets meant you were rich. Now I see that 'rich' is a relative term, especially in comparison to how people live in the rest of the world.
The more I embrace frugality, the more I realize that spending money on things just to impress others (which is what we're doing), doesn't make us rich, it only makes us that much more poor.
What I Used to Think Was Rich
When I was finishing up college, I wanted so many things. The ultimate "I've made it" factor to me at the time was a new BMW in the garage, a house with a library and a teacup yorkie. The next year I thought I needed a new car (I didn't, but I financed one anyway) and I thought I wanted a boat (and got that, too.)
I graduated college with no debt and only as much stuff as I could fit into my compact car, but fast forward a couple of years and my lifestyle was getting out of control with too much stuff and the debt that goes along with it. I never got into credit card debt, but I did finance $38,000 between a car and a boat.
What I learned from those purchases is that spending money I don't have on new things does not make me happy, and those things didn't make me feel rich at all. Instead, they made me feel financially insecure because I was living paycheck to paycheck. It wasn't a great feeling.
What Does It Mean To Be Rich?
We often think that a wallet stuffed full of money and lots of things in our houses will make us feel rich, but we all know people who have those things and are still miserable. Money may make us feel rich in terms of our bank accounts, but it doesn't make us happy in the long run.
So what will it take to finally make us feel like we're rich? Do we need big houses and luxury cars to feel rich, or will a comfortable and secure family life full of great experiences and copious amounts of time with our loved ones finally make us feel like we've made it?
Changing Our Perspective On What It Means to Be Rich
Perhaps some of us need to simply change our perspectives on what it means to be rich. Debt definitely doesn't make us feel rich, but money doesn't necessarily make us happy either. We need to take a step back, look at our lives and all the wonderful things in them and decide what actually makes us happy. Those things probably don't have a lot to do with money. Once I realized that I needed to get rid of the stuff that was keeping me in debt and unhappy, my perspective changed.
Today, the boat is (thankfully) long gone, I still live in my "starter home" which is now paid off and will probably be my forever home, and we have two used, but paid-for cars in the garage that aren't shiny or new. A lot of people would define that as a not very rich existence, but I see it a little differently.
I may not have any of what a lot of people would consider "riches," at least when it comes to fancy items to show off, but I do feel rich because I am able to pursue a career that I love unbound by debt, and I can spend as much time with my family as I want.
The money we have can (and should) be used as a tool to give us that kind of freedom. We need to be good stewards of the money we earn so that we can feel secure and, in turn, rich. That means aggressively paying off all our debts, not getting into anymore debt and minimizing our financial needs for the future so that we aren't chained to jobs we dislike.
What Rich Means to Me Now
To me today, rich means having options. It means having the time to do what I want to do when I want to do it. It means working less and pursuing a career I love from the comfort of my couch, which is exactly where I'm sitting as I write this.
It means enjoying more time with my preschooler so that I can play with her when she wants to play, craft when she wants to craft and be silly when she wants to be silly. It means freedom from worrying about money all the time, even though I'm not a millionaire. I've found my sweet spot of not too much and not too little, but just the right amount to feel comfortable, secure, happy, and, yes, rich.
What does rich mean to you? Do you feel rich? If not, what would make you feel rich? Do you think money makes people happy?
The following two tabs change content below.
Robin McDaniel
Robin is a freelance writer who chronicles her financial missteps and victories on her blog www.TheThriftyPeach.com.
Latest posts by Robin McDaniel (see all)