Retirement Planning and Saving For College: Can They Co-exist?
Look at that picture at the top of the post and you'll see three of the most important people in my life after Mrs. Frugal Rules. Cute, aren't they? I'll die for them, I'll kill for them and I'll do pretty much anything in between for them. If you have the privilege of being a parent, then I am sure you can relate. Most of it comes easy, some does not, but you do what you do because you love them. There are times though where things are not so black and white and one of those instances is the issue of retirement planning versus saving for college.
Before you throw cyber stones at me, please know that I want the best for my kids, which includes wanting them to start out their lives free from the burden of massive student loan debt. Unfortunately, when you're trying to figure out how to save for your kids' college education and plan for retirement, it can easily become a juggling act that leads you to wonder whether or not the two can co-exist. It is my belief that they can, though not always as well as I would like.
The Urgency Behind Retirement Planning
Retirement and retirement planning are popular topics to discuss, especially if you're a follower of personal finance blogs or mainstream media. You have those who want to retire early and those who see themselves working into their 80's.
I don't really take issue with either and would stress that balance is essential on whichever path you choose. Maintaining that balance can feel like walking a tightrope at times and once you throw saving for college on top of it the balance becomes even more delicate to handle.
That said, I have always encouraged investors to take a vigilant approach towards their own retirement planning. At the very least, they should be looking to take advantage of any available 401k match their company might offer and contribute enough to receive the maximum matching amount. Beyond that, I would also encourage you to consider maxing out your 401k contribution, especially as you get closer to retirement.
I also think it's a good idea to contribute as much as you can toward funding an IRA, whether it is a Roth or Traditional IRA. Saving for retirement, in general, takes decades to accomplish and you want to take advantage of the important aspect of time.
I have seen too many people put it off and delay retirement planning only to find themselves a few years from the typical retirement age with no idea what they're going to do. My heart goes out to parents who have managed to save a healthy chunk of money for their children's college education and yet find themselves with little or no retirement savings.
Saving for College is Not an 'All or Nothing' Proposition
I look back at my personal college experience and I am assuming it was similar to what many experienced. We were a "normal" middle class family and we did well, but there was little talk about saving for college. It was basically expected that I would go to college when the time came but I really did not know how that would come to fruition financially.
Looking back, it was a patchwork of different sources. My parents provided a small amount, there was a small inheritance I had from one of my grandparents, I worked while in college and the remainder came from student loans – to the tune of at least 50% of my costs.
When I walked the stage I had just north of $15,000 of student loan debt but after some poor choices in deferring them they were well over $20,000 once I started paying them down. That was also on top of the near $25,000 I had sitting on my credit cards.
That patchwork is something I think we as parents and would-be parents need to keep in our minds. It does not have to be ALL saving by the parents, nor does it ALL have to be student loans.
While I may desire to provide all of it to our children, that may not always gel with our retirement planning and ultimately may not be realistic. On top of that, and more importantly, I look at the bigger picture of how we want to raise our children. We want to raise them to make wise financial decisions and to realize that nearly everything in life comes with some kind of cost.
That does not mean we push off on saving for college, but it means we look at the options available to us. Those options can come in the form of starting out at a community college, working while in school, financial aid, grants/scholarships, 529 plans, custodial accounts and so forth.
The other option that some parents may even look at is working an extra year or two in order to save additional money for their child's college tuition. At the end, this all plays into the bigger picture of helping our children determine if college really is for them, and if so, advising them toward a major that suits them well and which provides the ability to earn a decent income.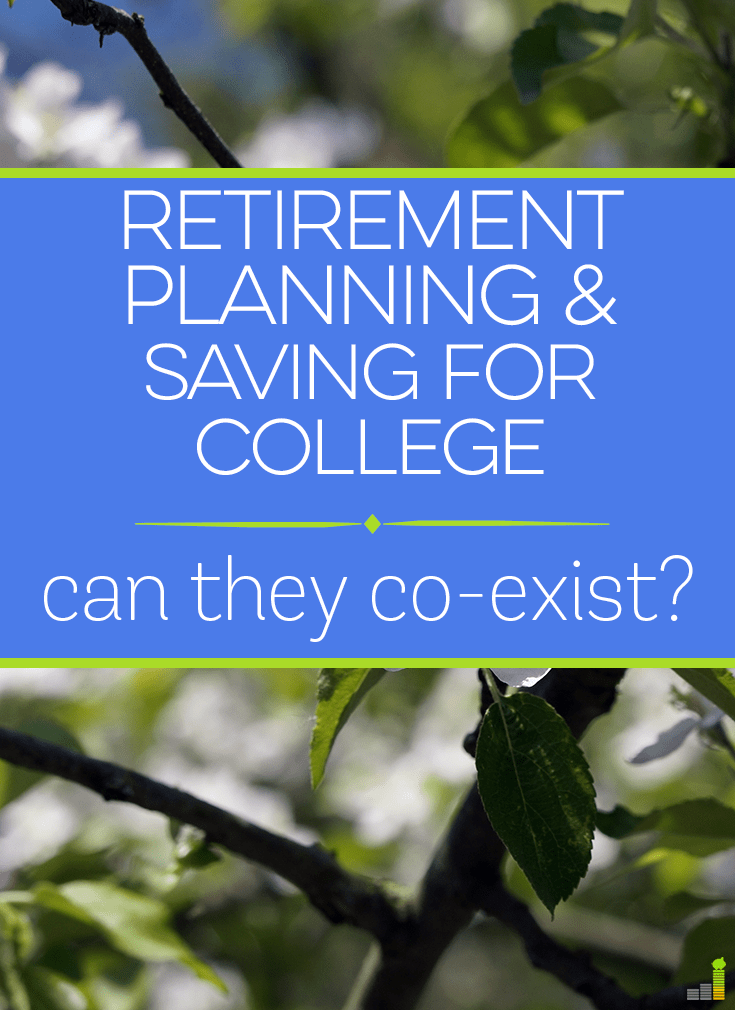 Learning to Walk a Tightrope While Juggling
Now that half of you are ready to pick up those cyber stones, please hear me out. I believe that both retirement planning and saving for college can live together. It may not always look the nicest or prettiest, but I believe they can co-exist. You can either go on one extreme and invest like a boss which would result in great retirement planning, or you could do little investing for retirement and provide a top notch education for your children.
I do not like either of those extremes and would like to find ourselves somewhere in the middle, working to accomplish both a good retirement picture AND a decent college savings. The key in all of that is to involve our children, as appropriate, in both of those plans.
I want to teach them the basics and importance behind retirement planning, but I also want to teach them the importance of deciding on a college and career so they can learn the role money plays in their lives so they can manage it wisely once they do get out on their own.
If Mrs. Frugal Rules and I can do that effectively and successfully, then I will be a happy parent and one that can accomplish both of these major undertakings. The last thing I want though is to create a burden for them once they do graduate because they have massive student loan debt, but I also do not want to have to burden them in our golden years because we put them through college but did nothing for our own retirement planning.
What are your thoughts? Can retirement planning and saving for college co-exist?
The following two tabs change content below.
John is the founder of Frugal Rules, a dad, husband and veteran of the financial services industry whose writing has been featured in Forbes, CNBC, Yahoo Finance and more.
Passionate about helping people learn from his mistakes, John shares financial tools and tips to help you enjoy the freedom that comes from living frugally. One of his favorite tools is Personal Capital , which he used to plan for retirement and keep track of his finances in less than 15 minutes each month.
Another one of John's passions is helping people save $80 per month by axing their expensive cable subscriptions and replacing them with more affordable ones, like Hulu with Live TV.
Latest posts by John Schmoll (see all)