Are We Resigned To Being In Debt?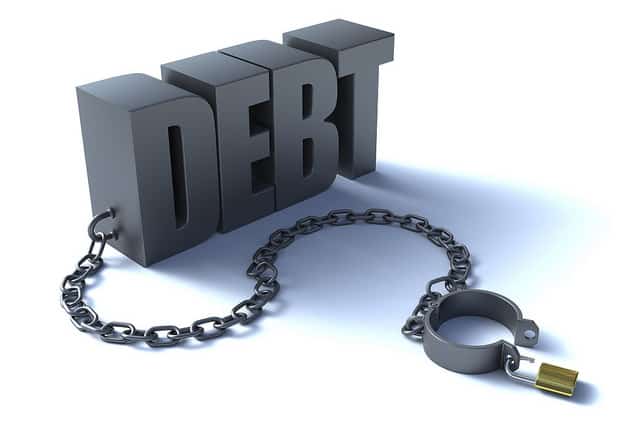 If you've ever been near or around a tornado, or any natural disaster really, you know how destructive they can be. They can tear apart homes, destroy roads and level buildings in the blink of an eye. When left to its own devices, debt can leave a wake of destruction in its path similar to that of a tornado. This is especially true when you're resigned to being in debt.
I've been there myself in the past and have friends and family there currently. Consumer debt is bad enough on its own, but resignation to that debt can sadly lead to a self-fulfilling prophecy if left unchecked. Recent numbers tell us that more people are feeling resigned to debt and the crazy thing is that it doesn't have to be that way.
More Are Saying They'll Die In Debt
If you've not seen the aforementioned survey, more people are believing they will carry debt to their graves. How many more? Of those polled, 18 percent believe they will die in debt which is up from 9 percent from the previous poll done a little over a year ago. Like our friends I've shared about, they plan on spending their golden years and taking their last breath in debt. It's sad.
To be clear, the survey pointed out that this debt encompassed things like credit cards, mortgages, student loans, car loans and more. That said, the survey went on to show that nearly 10 percent of those polled wouldn't become debt free until at least 71. So, when they should be enjoying the fruits of their hard work doing those things they've always wanted to do, they'll be dealing with repaying debt.
Higher Income Doesn't Make You Free From being in Debt
It would be an easy assumption to think that those making less would be dealing with more debt and never paying it off. The survey, however, revealed differently. The survey broke down income levels from those making less than $30,000 to those making over $75,000 per year.
The difference in debt among those groups…only 2 percent! The crazy thing is those making over $75,000, according to the survey, were more likely to take on holiday debt from Christmas shopping last month.
When race was factored in, it revealed results that might surprise some people. According to Business Insider, the median income for African-American families (as of 2012) is $33,321 and $39,005 for Hispanic families. The median income for non-Hispanic white families however was $57,009.
The point? You'd expect that those making less would struggle with paying off debt more. Again, that's not the case as 15 percent of non-Hispanic whites polled saw themselves dying in debt vs. 9 percent and 8 percent for African-American and Hispanics respectively.
A Change In Mindset Is Needed To Kill Debt
As anyone who has dealt with debt knows a certain mindset is needed to kill it once and for all. In fact, I believe this is the key to success to paying off debt. At the risk of sounding like Dave Ramsey, you have to want it. You have to attack debt with an intensity like none other as it can be financially cancerous when left unchecked.
Mrs. Frugal Rules and I are marketers. Specifically, we write and place ads selling products and services. It's our job to get consumers to buy what our clients are selling. We know how much our culture promotes living beyond a budget and in perpetual debt and if you don't realize that reality, you should.
Understand that in every mall, commercial, billboard, print ad and social media campaign, you are being persuaded to spend, regardless of whether or not that spending puts you in a place of perpetual debt. Developing a mindset that debt must be attacked in order to be killed is difficult to start and maintain, but it's vitally important. However, knowledge isn't enough to create change; action is required.
That is what concerns me when I read reports like this. It's the belief that it will never change, that it will be decades, if that, until people become debt free. I know there may be extenuating circumstances in some instances, but the idea of being resigned to dying in debt baffles me. The point that can get missed in the resignation is that by staying in that feeling of resignation nothing will ever change. Just like if you're not tracking your spending you won't know how/what to change, so too will resignation drive you to never seeing a given situation changing.
There Is A Sign of Hope
The survey wasn't all doom and gloom and it's important to point that out. While it might seem or look unrealistic, 57 percent of those aged 18-29 who currently have debt believe they will be debt free by 30 and just 6 percent believe they'll carry debt to the grave. Some may write this off as unrealistic for one reason or another but I love the attitude, especially given the amount of student loan debt they're carrying in general!
I think part of it goes back to seeing parents and society as a whole dealing with debt/poor financial decision making and not wanting it to be a part of their lives. Regardless of what it is, it's one small thing I think that can be taken out of the gloomy report.
Like cancer, debt (particularly consumer debt) is only going to eat away at your financial health. It no doubt takes time to pay off debt, and can be one of the most difficult things you may ever do, but being resigned to never becoming debt free is rarely, if ever, the solution.
Do you know someone who is resigned to being in debt? Are you in debt yourself, and if so, when is your expected payoff date? Do you think there is anything encouraging to take away from this survey?
*This post is part of the Debt Is Not Forever movement that Jackie is running over at Debt Myth this month. There are a variety of reasons why I paid off my debt though mainly so I could have financial freedom.
Photo courtesy of: Stock Monkeys
The following two tabs change content below.
John is the founder of Frugal Rules, a dad, husband and veteran of the financial services industry whose writing has been featured in Forbes, CNBC, Yahoo Finance and more.
Passionate about helping people learn from his mistakes, John shares financial tools and tips to help you enjoy the freedom that comes from living frugally. One of his favorite tools is Personal Capital , which he used to plan for retirement and keep track of his finances in less than 15 minutes each month.
Another one of John's passions is helping people save $80 per month by axing their expensive cable subscriptions and replacing them with more affordable ones, like Hulu with Live TV.
Latest posts by John Schmoll (see all)