How to Reduce Your Stress Level During the Holidays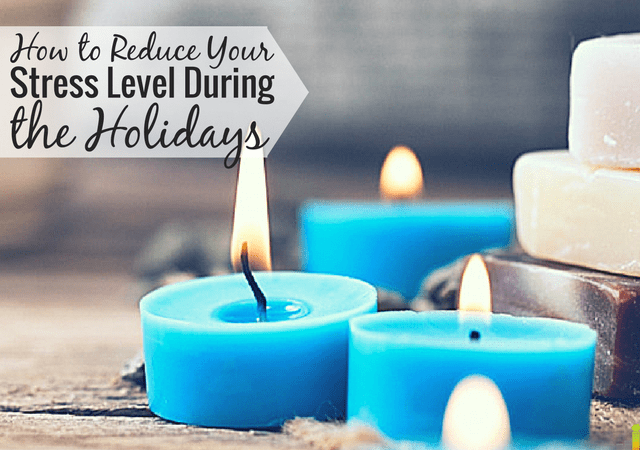 As much as I love the Christmas/holiday season, I think most people would admit there is a good bit of stress involved in these "jolly" days.  The gift-giving season used to result in me incurring more stress than usual, for a variety of reasons.
There's the whole gift-giving "expedition," which for some people lasts months, and for others, is a jam-packed week of shopping hell. There's the juggling of all of the gatherings and events you "really should" be at. Finally, there's the scattered, goofball co-workers, family members and acquaintances you may or may not have to restrain yourself from pummeling, telling off or giving a good swift kick out the door to before something really messy happens. :-).   So how do you get through these "joyous" times with your sanity still intact?  Here are some thoughts on how to reduce your stress level during these hectic times.
Get a Handle on the Money Part of it
I think, at least for us, the most stressful part of the holidays, BB that is (before budget 🙂 ) was definitely the money that we spent.  Since we had no real holiday budget and weren't at all making an attempt to manage our money, the extra cash we spent at Christmas was always a huge weight on the psyche.  Enter, the blessed budget. All of our stress regarding gift-giving changed once we did four things:
1. Set a spending limit for each person on our list.
2. Set the money needed aside each year, in monthly increments.
3. Stuck to our list/budget (this means no spur-of-the-moment flat screen television purchases just because it's a "great deal").
4. Put away the Barclaycard Arrival World Mastercard and started paying cash.
We now have little to no money worries during the Christmas season, unless you throw a wrench into our budget like having to get a new refrigerator.  Then we might stress out a little. 🙂
Reduce Your Stress Level By Saying "No"
Contrary to popular opinion, you don't have to attend every single event you're invited to go to.  People by and large understand that the Christmas season is a hectic time with lots of commitments, and they're usually okay if every single person invited doesn't show up to an event.
When deciding which events you'll choose and which you won't, talk it over with your partner and/or family and put the invitations in order of least to most important.  Then, if need be, start crossing stuff off the list. The holiday season and the gatherings that come with it are meant to be festive occasions for celebrating with others, not a mini-version of The Amazing Race, so feel free to choose thoughtfully.
Brush it off
This can be the most difficult part of navigating through the holiday season: interacting with the people in your lives you'd rather not see at all, especially at something that's supposed to be as joyous and as loving as Christmas time. Maybe it's Uncle Fred, who just has to get wasted every year at Christmas Eve dinner, or Aunt Betty, whose constant well-meaning comments go over like a bull in a china shop. Maybe there are relationships with long-unresolved hurts and wrongdoings that still grate at your nerves every time you're together with that person. Whatever it is, those Christmas get-togethers tend to magnify those strained relationships, don't they?
How do you reduce your stress level in these situations? My best suggestion is a difficult one.  Forgive them, and brush them off as much as possible. Their reasons for being "the way they are" are probably complicated and messy, and it's likely they've got their own issues anyway.  Leave them to play in their mess by themselves if no other avenues work.
Is the wrong they committed too big to forgive and move on? You might need to decide that this is a family/friend gathering you need to skip, for the sake of your own well-being. As important as family relationships are, taking the time to reduce your stress level and keep your sanity intact are just as important. Putting your well-being at or near the top of the list is okay, and it's the right thing to do. After all, how can you care for and manage all the people and things in your life properly if you're not at your best?
How do you cope with the stresses of the holiday season?
The following two tabs change content below.
Laurie is a wife, mother to 4, and homesteader who blogs about personal finance, self-sufficiency and life in general over at
The Frugal Farmer
. Part witty, part introspective and part silly, her goal in blogging is to help others find their way to financial freedom, and to a simpler, more peaceful life.