Rant Alert: What Riles You Up?!
Posted on June 11, 2013 by John Schmoll in
Rant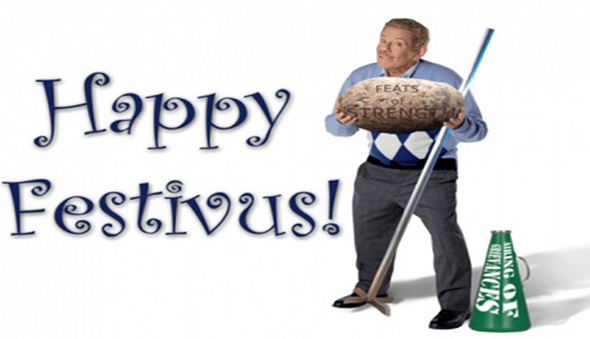 Happy Tuesday everyone! It has been a crazy couple of weeks in the Frugal Rules home and I completely spaced on writing a post for today. In light of that, I looked back at the archives and saw that I've not had a good rant lately, so to bring a little levity to your usual Tuesday reading, I thought that I would share some of the things that get me riled up and make me wonder what on earth some people are thinking or why some things are done a certain way. Please also keep in mind that many of these are said somewhat tongue in cheek. So, like George's father airing his grievances for Festivus, let's get on with the show.
Why, when you're in a crowded place, do people completely space seeing a double freaking stroller being pushed? I mean, it's the size of a Subaru people, how ON EARTH can you miss it? Oh yeah, me nicking your heel after you nearly took out my 3 year-old is just me telling you to start paying attention…and I saw that glare of annoyance you shot at me.
Why some people insist on going through the self check-out lane at the grocery store with a cart and a half of crap – can't they read? Worse yet, why do the checkers allow them to come through? It really should not take 20 minutes to buy a bag of flour because you have 50 frozen dinners to check out.
In late spring in the Midwest, why on earth do the local stations insist on taking up half the screen with warnings about the weather, isn't the streamer at the bottom of the screen enough?! (I know, first world problems.)
Why our three year-old races out of the bathtub butt naked to run around the house and stand in front of the big bay window in our living room? This really does not rile me up to be fair, just more so makes me shake my head and hope that someone from child protective services isn't driving by our house.
How difficult can it be to park in a parking spot? It's two big yellow (I might give you a pass on the white ones) lines that demarcate where you are to put your vehicle. Is it REALLY that difficult to put your car between them? If you're that blind then I hope you do not drive that way!
If you're looking to buy a house, don't buy a corner lot. We made that mistake and people seem to think it means we're the neighborhood dump. I mean, seriously people, you couldn't wait the two blocks to your house to unload that lovely BK bag in my front yard?
Back on the topic of having a corner lot, why is it that we're a magnet for every lawn care, security system, and food delivery truck salesperson known to man? I know that we may be easier to get to, but don't you have a list that shows how many times we have shot your company down and why on earth can't you take no for an answer when I say that I am not interested as we're in the middle of dinner? I guess the big "No Soliciting" sign is too difficult to read and is there for merely decorative purposes.
Why on earth does our 16 month-old insist that his head is a weapon to be used at any and all times? Again, not a complaint, more of an occupational hazard, but that thing can do some serious damage. He nearly broke my nose a few months ago, Lol!
If you're going to tail me on the highway and then pass me at least have the decency to go faster than I am. I know that driving can be a bit monotonous, especially on long road trips, but I am in no mood for the pass and slow down game. It's called cruise control and if you don't have it, learn how to not fluctuate your speed by 25 mph at the drop of a hat.
I like to multitask with the best of them, you can even ask Mrs. Frugal Rules that as she hates it when I multitask while we're trying to have a conversation. But, must you really talk on your cell phone while on the can? I know time is short, but for the love of Pete, I really don't care to listen to your conversation while I am doing my business.
I am a straight shooter. I say what I mean and I mean what I say. Life is too short for games and I can't stand it when I feel like someone is playing games with me. If you have something to say to me, just say it. Don't blow smoke up my skirt. ( I haven't worn one since college anyway…and that is a VERY different story for a different day) 😉
This last one is for the lovely Mrs. Frugal Rules…when is she going to learn that our five year-old has no concept of time? I know that having her bestie (I NEVER thought I'd be using bestie on Frugal Rules by the way) over for a sleepover is fun and exciting, but do I REALLY want to hear about it nonstop every day for the next three weeks?
Ok guys, I turn it over to you. What riles you up or what just downright ticks you off?
Photo courtesy of: Efrain Lugo
The following two tabs change content below.
John is the founder of Frugal Rules, a dad, husband and veteran of the financial services industry whose writing has been featured in Forbes, CNBC, Yahoo Finance and more.
Passionate about helping people learn from his mistakes, John shares financial tools and tips to help you enjoy the freedom that comes from living frugally. One of his favorite tools is Personal Capital , which he used to plan for retirement and keep track of his finances in less than 15 minutes each month.
Another one of John's passions is helping people save $80 per month by axing their expensive cable subscriptions and replacing them with more affordable ones, like Hulu with Live TV.
Latest posts by John Schmoll (see all)