Radius Bank Hybrid Checking Account Review: Checking Made Easier
Posted on October 25, 2015 by Kayla Sloan in
Reviews
This article written by me with support from Radius Bank in conjunction with Kasai Media. All opinions are my own.
It can be extremely difficult to find a bank or account that solves all of your banking needs. For instance, I want to earn as much interest as I possibly can on my money at the bank, but I don't necessarily want to keep it in a regular savings account even though interest rates on savings accounts are usually higher than on checking accounts. Keeping all of my "extra" money in a savings account in order to earn interest has really come back to bite me a few times.
In fact, just a few weeks ago I got my first overdraft fee in over two years because I forgot to transfer money from my savings account to my checking account to cover a large expense.
I try to limit my transfers between accounts as much as possible too because savings accounts are usually subject to Regulation D (FRB). This regulation places a limit of six withdrawals outgoing transfers per month from savings or money market accounts across different methods.
I don't know about you, but I hate that rule because I believe I should be able to access my money when I need it.
Luckily there's a new kid on the block in the form of Radius Bank's new Hybrid Checking account.
The new Hybrid Checking account is a great option for those who want unlimited access to their funds while also earning a fair amount of interest too. It is exactly as its name implies – a hybrid between a checking and a savings account.
With this new hybrid option, you'll no longer have the headache of transferring your money back and forth between accounts in order to take advantage of the benefits of both a savings account and a checking account.
As if that isn't enough of a reason to consider this new product, the Hybrid Checking account has some other awesome benefits too.
Benefits and Features of a Radius Bank Hybrid Checking Account
Free Checks and Debit Card – When you sign up for a Radius Hybrid Checking account you'll get your first set of checks for free. They also provide you with a free debit card for the account.
No ATM Fees – There are no ATM fees when you use your Radius Hybrid Checking account's debit card to withdraw cash from in-network ATMs. Radius also offers unlimited ATM fee rebates when you use ATMs outside of their network (see site for details).
No Monthly Maintenance Fees – There are no pesky monthly fees to keep your account open every month.
Online and Mobile Banking – Online and mobile banking allows you to check in on your accounts anytime and anywhere. This is a must for today's customers.
No Minimum Balance – You must deposit at least $10 to open the account, but after that there is no minimum balance. But balances under $2,500 will not earn interest.
Interest Rate – Account holders can earn up to 1.00% APY on balances above $2,500. Any balance under that amount will not be eligible to earn any interest. Anything over that balance will earn rates based on tiers up to a maximum of 1.00%.
Overdraft Policy – Rather than an opt-in or opt-out policy like most banks offer, Radius Bank offers an overdraft protection line of credit for approved customers, or linked account overdraft protection. In the even that you overdraft your account, money will be transferred from your external account to cover the overdraft. There is no fee for this transfer.
The Hybrid Checking Account Encourages Saving
Because Hybrid Checking account balances under $2,500 don't earn interest, Radius Bank is encouraging its customers to be in the habit of saving money and having a cushion in their checking account. Earning interest is a big deal to customers, so most will likely try to have over $2,500 in their account at all times.
The Hybrid Checking Account is a Great Budgeting Tool
One way to utilize the Hybrid Checking account is as a secondary checking account for irregular purchases. You can use it cover things that you only have to pay for annually or at odd times throughout the year.
For example, you could stash money in there for things like property taxes, Christmas shopping, or for your next vacation. Then when you are ready to make a purchase, you can simply pay for it with your Radius Bank checks or debit card. This will save you from having to transfer the money from a specialized savings account into your checking account before paying your bill.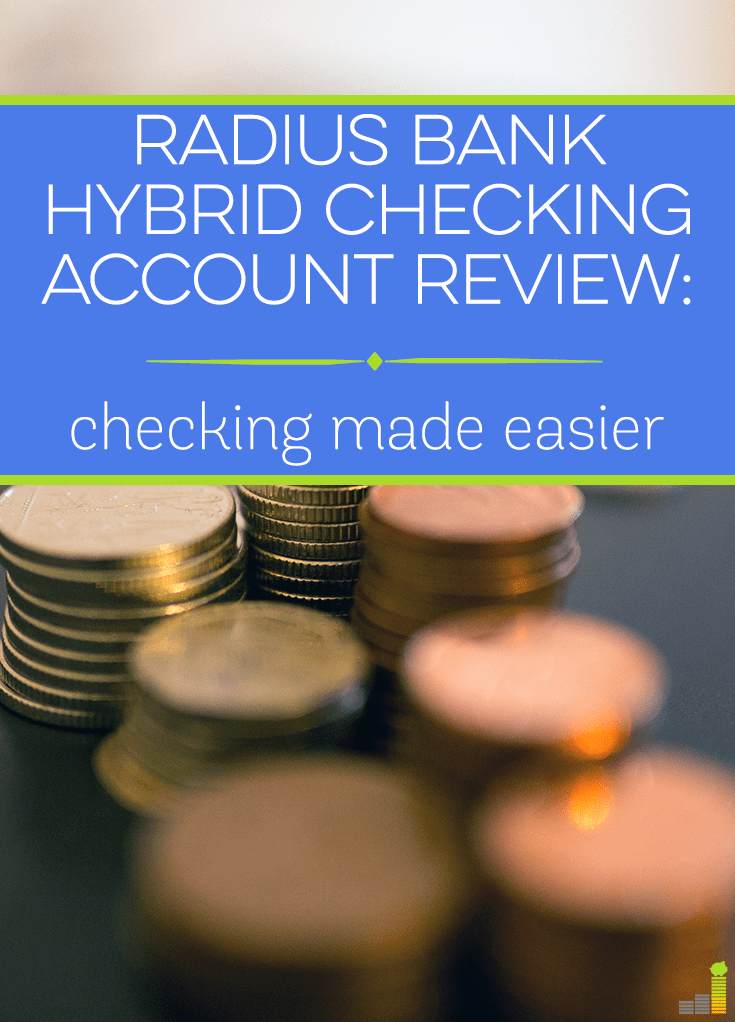 The Bottom Line
With the new Hybrid Checking account from Radius Bank you'll be able to take advantage of all the best features from both a savings account and a checking account. Plus you'll never have to worry about Regulation D again. You'll have access to your money whenever and however often you need it. Plus you'll be able to earn interest on your balance too.
It's worth looking into this account if you are constantly running into Regulation D or are annoyed by the hassle of having to transfer money back and forth between your checking and savings accounts.
The following two tabs change content below.
Kayla is an online business expert who helps entrepreneurs who feel chained by your finances bet on yourselves. At KaylaSloan.com, it's all about making your work life something you truly, truly love. Kayla is also the founder of $10K VA, her flagship program where she teaches you how to make a consistent $10,000 per month as a virtual assistant!
Latest posts by Kayla Sloan (see all)