Are We in a Race to the Bottom?
Posted on March 4, 2015 by Grayson Bell in
Saving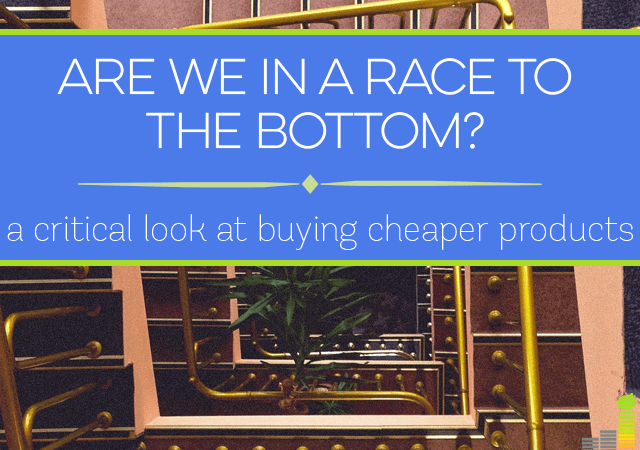 I'm starting to notice a trend. This trend has been exacerbated by the latest snafu with Lumber Liquidators. If you haven't heard, there was a 60-minute piece about the flooring company selling products (specifically laminate flooring) that were labeled as CARB2 compliant.
This is a standard in California dealing with toxicity levels, particularly formaldehyde. Now, I don't know if this information is specifically true or not, but what it does show is that companies might be willing to pull out all the stops to increase their profit margin and cut costs.
A Race to the Bottom?
If you haven't heard this phrase before, it's really around how many of us are looking for cheaper and cheaper products in order to save money. In turn, companies and manufacturers have to cut corners to make products cheaper. This is probably the case with Lumber Liquidators. I mean, they do have "Liquidators" in their name. What does that mean to you?
Now, a race to the bottom is really a socio-economic trend where companies slowly lose regulations, which allows them to reduce wages, lower working conditions, and many other things. If you look at the grand scheme of it all, this can all be attributed to our desire for the cheapest products. I wrote about how our quest for lower prices could be hurting us. This is what I mean.
When we demand items at the lowest price, we are asking for items to be made cheap. We get what we pay for! This has a side effect of turning us into a 'throw-away' culture. We don't expect things to last as long as we used to and perhaps don't see that it is at least in part connected to the fact that we don't make things the way we used to. One of our problems as a culture is that we not only want to pay very little for items, but we also want them to be of high quality.
Unfortunately, this is not how things work. You can't have it both ways my friends. You either get high quality or low price. There is a happy medium, but most people want the best price. They want a lot, but want to pay a little. I see it everyday.
Who Wins the Race to the Bottom?
If you think about it, no one truly wins. But if you had to declare a winner, it wouldn't be the consumers. We are slowly forcing companies to push their prices lower or get less demand. In order to keep pace with our desire for low prices, more and more companies are off-shoring their manufacturing and creating inferior products. Those products come right back to us and we gladly pay for them.
What we forget is those prices are cheaper for a reason. Many times the ingredients used are sub-standard or the process of making them is done by cheap labor. We've all seen it happen and have heard the stories.
In the end, the winners are the companies that are providing products to the consumers. They are figuring out how to cut corners to lower their cost. They then can sell their products at a lower price than their competitors. This typically results in more sales.
Running a business off of low priced products is all about demand. If you have a heavy demand, then you can make money. Low prices and low demand are ingredients for instant failure.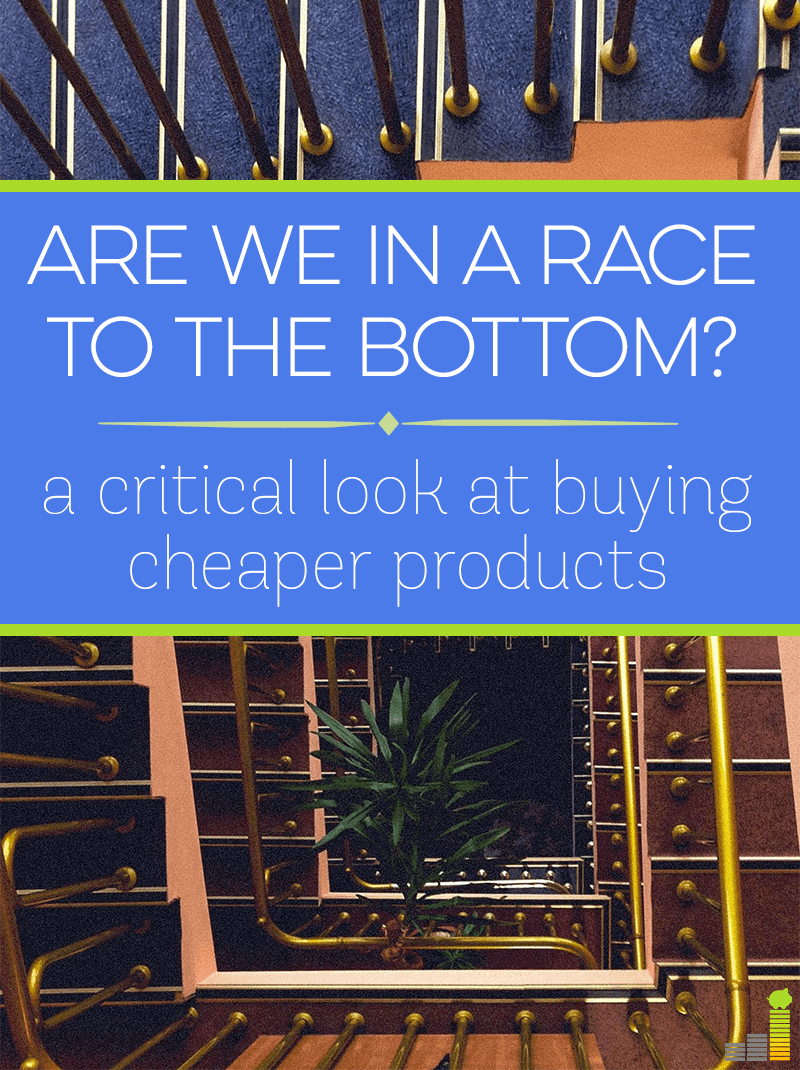 I wish I had a solution to this problem. Unfortunately, the only thing I can do is change my spending habits. Instead of focusing just on price, I have to focus on affordability and quality. If I want something made in the US, I have to be willing to pay more for it. I can't have both in this economy and business environment, at least not very often.
I've learned over the last few months that I have to stop focusing on the upfront cost. Most of the time I end up paying much more over time because I have to replace a bad product. In my quest to save money, I have overlooked the overall cost of ownership. I have just tried to keep my wallet fat and my money mind at ease.
Have you noticed if you have been in a race to the bottom? Have you seen the quality of products drop as we look for cheaper and cheaper products? Are you willing to pay more for a high quality product, made right that will outlast its lower-priced competitors?
The following two tabs change content below.
Latest posts by Grayson Bell (see all)