4 Things I Will Always Put on a Credit Card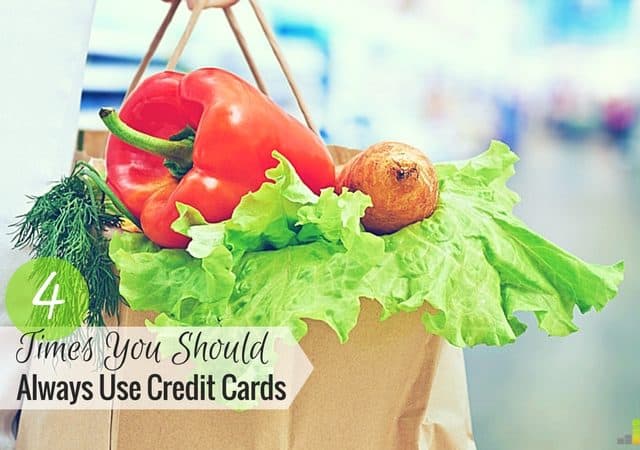 I used to be afraid to use credit cards. This was mainly because I knew quite a few people with credit card debt and I didn't really understand how to use credit cards wisely so I simply steered clear of them.
This worked for a while, but I realized it was harder (but not impossible) to build my credit without using any credit cards. Plus, some of the benefits of using credit cards seemed very tempting. A few years ago, I educated myself about how to use credit cards properly, and I signed up for my first card and never looked back. Now, I use them all the time and even though I have debt, I've never had credit card debt.
In fact, I don't even consider making certain purchases if I can't put them on one of my credit cards. Here are four things I always put on a credit card and why.
1. Groceries
Groceries are a necessity in any household. Since I am committed to eating most of my meals at home and bringing my lunch to work it's very important that there be good food in the house at all times.
We tend to go grocery shopping twice a month and I always use a credit card to pay for the food we buy because it's an easy way to receive rewards or cash back. A lot of credit cards offer generous reward points and/or cash back for purchases made at grocery stores.
Credit card rewards points can be very handy since you can cash them in for gift cards around the holidays or for special events, and you can apply your points to travel expenses if you want to save money on a flight or lodging. In terms of cash back, it's always nice to earn a little money back on the purchases you make and have some accessible cash that you can redeem for any expense.
Since buying groceries is something either my husband or I would do every month anyway, we aren't really going out of our way by choosing a different card to purchase our items with so we can consistently rack up reward points.
Using a credit card to pay for groceries does prompt the temptation of overspending in the store, but we have a very firm mindset in terms of sticking to our budget and treating each trip to the grocery store like we are paying with cash because that's what we do ultimately. We pay off the credit card in full each month to avoid carrying a balance and having to pay interest on the food we bought.
2. Gas
Gas for my car is another expense I usually put on a credit card because like with groceries, some banks offer generous rewards and cash back offers when you use your credit card to fill up your gas tank.
Again, this is another expense I must pay each month if I want to drive around. Plus, it's safer to use a credit card at the pump anyway. Chip technology aside, swiping your credit card is much safer than swiping any other card because there are safeguards put in place to help avoid any fraud. The federal law puts lower limits on consumer liability for fraudulent credit card purchases as well.
In other words, if you made a claim about fraudulent charges on your credit card because your information was stolen somehow (lets say from your local gas station), your card issuer would probably temporarily remove the charges from your from your statement and conduct an investigation, then cancel your card and mail you a new one in the meantime.
If you paid at the pump with a debit card, this might not be the case since your liability for fraudulent debit card purchases is extremely time sensitive. If it takes you two business days to realize someone stole your card information and made unauthorized purchases, you may be liable for some of those charges you didn't even make.
3. Travel Expenses
On a lighter note, traveling is something I enjoy and I always make sure I pay for travel expenses with a credit card because it's a savvy way to get more bang for my buck. Since I casually accumulate credit card reward points throughout the year, I make sure I use my travel rewards credit cards to cover any additional travel-related expenses I have to pay.
Whether I'm going on vacation, to a conference or to visit someone out of town, I use one of my travel credit cards to pay for my flight, hotel stay and other expenses so I can earn even more points and rewards to help me generate more savings in the future.
Paying for travel expenses with a credit card also comes with other perks like travel insurance, auto rental coverage, zero-fraud liability and being able to make purchases outside of the country with ease just to name a few.
4. Big Ticket Items Like Appliances and Electronics
Whenever I need to purchase a big ticket item like a laptop, furniture or an appliance, I usually consider putting it on a credit card. I make sure I can pay off the item before the end of my next billing cycle but I use a credit card if it offers benefits like extended product warranties, price protection and purchase protection.
For example, if you buy a new refrigerator and it breaks a month later, you may be able to tap into your extended warranty and get free repairs. Or if you purchase a computer, that happens goes on sale two weeks later, you might be able to get some money back.
Of course, these benefits will vary with each credit card. It's important to read the fine print and ask questions about buyer protection benefits so you know exactly which perks you can utilize.
Fees and Interest Cancel Out Any Rewards or Benefits
While it's great to use credit cards for the four types of purchases I mentioned in most cases, I understand that not everyone would like to implement that strategy. If you have credit card debt, don't care to earn rewards or have trouble managing your spending, you might not want to use credit cards for any of these purchases and that's fine.
Ultimately, dealing with the drawbacks of using credit cards like paying high fees and interest rates along with getting deep into debt will outweigh the benefits any day in my opinion.
If you use credit cards, it's important to use them as a tool meaning you should earn your benefits and rewards but still pay your balance off in full each month. This will not only optimize the perks you receive but it will also do wonders for your credit score as well.
Do you ever put any of these expenses on a credit card? What other items do you always put on a credit card? Do you prefer to get cash back, or do you travel hack?
The following two tabs change content below.
Choncé is a freelance writer who's obsessed with frugality and passionate about helping others increase their savings rate, eliminate debt, and work toward financial stability. She chronicles her journey with balancing motherhood, work, and finances on her blog, MyDebt Epiphany.com