What's the First Thing You Should Do When Paying Off Debt?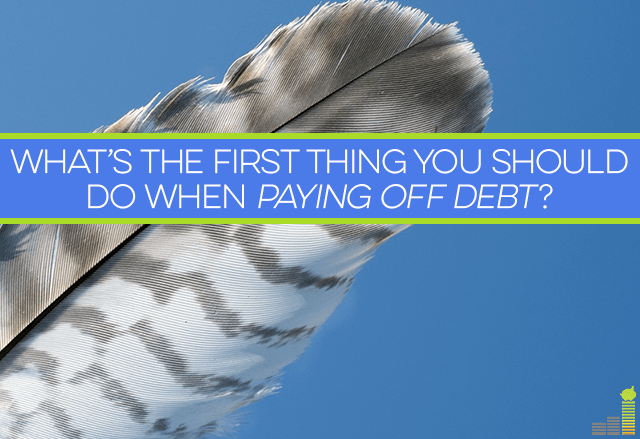 We've had the opportunity to help a number of friends and acquaintances lately with their finances. I guess being a personal finance blogger that really isn't unique as I do talk or write about money nearly every day. 🙂 It is situations like these discussions though that energize me to continue to blog as I know there are many out there looking for help.
While each situation has been unique, there remains a common thread with all of them – paying off debt.
This debt has come in different forms or fashions with some being poor decision making to simply something they've had little control over. Regardless of the how behind the debt, the common theme was that they're questioning what exactly the first step is that they need to take to attack their debt and see success.
This isn't really getting at the method of paying off debt like the debt avalanche or the debt snowball, but what you need to do before even considering those. Essentially, what is the first step to take in order to begin killing your debt once and for all?
Paying Off Debt Requires Breaking the Cycle
Debt, especially consumer debt, usually results from getting trapped in some sort of cycle. Whether that cycle is the belief you "deserve" to purchase whatever the item is in question or simply viewing credit cards in an inappropriate light, they represent a cycle that needs to be broken.
This begs the question of what's needed to break that cycle. In my opinion the thing that can break that cycle best comes in one form – an emergency fund.
I know emergency funds aren't sexy; they're something that people often disagree on. I get that. However, that doesn't negate their importance especially with regards to slaying the debt beast. This might fly in the face of paying off debt as quick as possible as when you're in the middle of it the last thing you want to do is hold back good money each month.
I understand that feeling and it makes sense on a number of levels, but the issue we should be concerned about should be breaking that cycle of debt. We should be concerned with viewing the credit card as the fail safe in the event something goes wrong with your car or if an emergency arises or if you suddenly need to get your heater fixed and so forth.
We need something to fall back on for those times because they WILL happen whether we like it or not. Of course, you should also do things like determine how much debt you have, pay at least the minimums on your debt and so forth but those can only take you so far if you have nothing to fall back on.
The Method You Use Doesn't Matter
We tend to argue within the personal finance community as to what is the best method to pay off debt. I believe I've had posts on the site promoting both the debt snowball and the debt avalanche as the best ways to pay off debt.
If you do a quick internet search you'll see the same exact argument taking place on a variety of other sites. At the end of the day though the method you use doesn't matter.
Yes, I know that you save money over the long run by using the debt avalanche and I know the debt snowball can provide greater emotional victories but I could care less which method you use – the point is to kill your debt and not the method you use to do it.
Personally speaking, I used both when paying off debt and leaned on the debt avalanche for the most part. The method though amounts to a hill of beans in comparison to breaking the debt cycle and thus why an emergency fund is so vital to that.
One thing to keep in mind when looking at starting an emergency fund is that it doesn't have to be massive amounts of money. Yes, most experts will say your emergency fund should be three to six months worth of expenses but to someone paying off debt that is going to be insurmountable.
With that in mind, I believe it's best to shoot for an emergency fund goal of $500 to $1,000 as that will cover the large majority of potential emergencies you can expect to experience.
If that amount is too much to start out with then start with $250 or $300 and build from there.
It doesn't have to be put away all at once either. If that's your case then start out with putting away $25 or $50 or some other amount each month to help build that cushion. If you can automate this then even better.
You Need to Make it Work For You
While debt is horrible, each situation is going to be different, which is why it's so vital to personalize your debt payoff plan. Heck, you might even find it necessary to look at unsecured loans as an option to consolidate debt, but that may not necessarily work for the next person.
If you choose that route, Fiona by Even Financial is a great option to attempt to reduce your interest rates Fiona allows you to compare up to 17 lenders in under two minutes.
After completing a brief application, they provide you with quotes for the best matching lenders.
If you try what worked for someone else you're likely going to face frustration as your situation is unique as was theirs. Thus, you need to make your debt payoff plan personal.
While there are some universal things like the aforementioned tracking of expenses, determining how much debt you have and so forth you need to make it work for you. Key in that is breaking the cycle of debt, which is what putting some money aside is meant to do – to help pave that road that will bring you victory in paying off debt and give you a foundation to continue to grow your wealth after.
What do you think is the first thing you should do when paying off debt? How long did you wait to start an emergency fund when you were paying off debt? What else do you think helps breed success in killing debt?
The following two tabs change content below.
John is the founder of Frugal Rules, a dad, husband and veteran of the financial services industry whose writing has been featured in Forbes, CNBC, Yahoo Finance and more.
Passionate about helping people learn from his mistakes, John shares financial tools and tips to help you enjoy the freedom that comes from living frugally. One of his favorite tools is Personal Capital , which he used to plan for retirement and keep track of his finances in less than 15 minutes each month.
Another one of John's passions is helping people save $80 per month by axing their expensive cable subscriptions and replacing them with more affordable ones, like Hulu with Live TV.
Latest posts by John Schmoll (see all)