How Has Paying Off Debt Changed You?
Posted on February 24, 2014 by John Schmoll in
Debt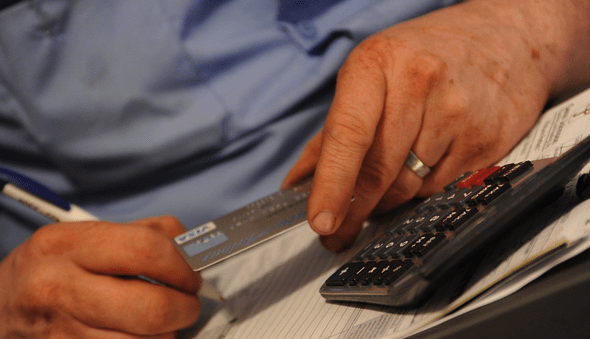 Mrs. Frugal Rules and I have a reoccurring conversation over many of our larger purchases that goes a little something like this:
Mrs. Frugal Rules – "But, we can 'afford' it. We've saved for it, have the money and either want or need X item"
Me – "I know we have the money for it, but I'm just not comfortable spending that kind of money."
Taking a step back, we're basically on the same page financially speaking and really never fight about money. However, my lovely wife pointed out something to me years ago that we still see today and that's how paying off debt has changed me. Even though I've been debt free for over a decade the emotions and attitudes that rose to the surface during my debt payoff journey still linger with me today.
Attitude is Everything is Paying Off Debt
As I've shared in the past, paying off debt requires a certain attitude. Not a puppies and lollipops type of attitude, but I'm going to kill this thing come hell or high water kind of attitude.
It is said that it takes 21 consecutive days to form a new habit and if you've got a considerable amount of debt then you'll certainly be at it for much longer. My personal journey to debt freedom took nearly five years and what happened along the way was that attitude became a lifestyle.
Gone were the days of going out to eat or even simple pleasures like having my favorite beer in the apartment and certainly not any honest to goodness expensive luxuries.
As I entered credit counseling and started paying off debt, a switch flipped in my mind. Everything had changed and I was afraid to go back out of fear that I would backslide into the same foolish habits.
Looking back at it now, I see that I swung to the other end of the spectrum – from a "Sure, why not" kind of spender to not spending anything and throwing everything I had at the debt. This is understandable at one level and expected, but it helped establish the attitude I needed to be successful at paying off debt.
I don't know that it's the same case with everyone moving towards debt freedom, but I do know that many would agree that a certain attitude is needed during your debt payoff journey.
As With Anything Important, Balance is Key
Now that I'm a little older, I've learned that balance is incredibly vital to enjoying life. Mrs. Frugal Rules and I try to find balance in many areas of life:
Work (difficult when you're self-employed)
Saving for retirement
Diet
Family
Left unwatched, it can be quite easy for these, or any other areas, to become unbalanced. For me it's likely the first one that I'm most guilty of as it can be difficult to balance working from home and taking time to spend with the family.
Another area of life I can tend to become unbalanced in is spending (thanks to my experience in paying off debt). When I started my debt management plan I basically went cold turkey on many things and didn't look back.
Fast-forward 15 years and my wife is right, some of those same habits still pop up like second nature, even when I'm not thinking about it. Sometimes I can be too frugal (gasp! I know, I said it). Thankfully, Mrs. Frugal Rules helps me balance this out by reminding me that it's okay to spend the money I've received for birthdays and Christmas from relatives on things that I enjoy.
Taking a step back, I'm not saying you should spend willy-nilly, but I believe there can be a balance with spending and living life – you just have to work at it. It's that working through things that has caused me to see that you need to be mindful of what you're doing.
Mindful of the decisions you're making with spending, saving, investing etc. as it largely reveals what our motives are and what we truly value. This, of course, needs to be taken in light of living life and enjoying it responsibly.
I wish this was always easy for me to do, but I see now how I have to fight against being a scrooge and not wanting to spend money on myself for anything. If I don't watch it, it's incredibly easy to get in to that rut of being miserly and throwing off that balance that's needed in life.
Be Thankful for the Lessons
I've shared in the past that while debt sucks, I'm thankful for what the debt payoff journey taught me. Even though I tend to struggle at times with spending money on myself, or on larger purchases in general, I'm incredibly thankful for lessons I've learned through paying off debt and how those lessons changed me.
I realize that if you're in the middle of paying off debt now it can be difficult to be thankful for the lessons, but I encourage you to soak up this time for what it's worth. Reaching debt freedom does change you and I encourage you to catalogue in your mind the ways you're maturing and how you can use that for your benefit now and in your debt free future.
In fact, I encourage you to start looking at ways you can slowly implement the longer term changes now so once you are done paying off debt you don't encounter shock but are naturally able to switch gears.
In my situation, I began to see the need to grow in various areas of financial literacy so I could make true changes that would allow me to grow over time. Of course, I do still struggle with that felt need to be miserly, but it also means that I'm much more purposeful about my spending so it benefits us as a family and gets us one step closer to our goals – which is really what it should be about.
How has paying off debt changed you? What lessons are you thankful for? Do you struggle with being miserly because of it?
Photo courtesy of: Wonderlane
The following two tabs change content below.
John is the founder of Frugal Rules, a dad, husband and veteran of the financial services industry whose writing has been featured in Forbes, CNBC, Yahoo Finance and more.
Passionate about helping people learn from his mistakes, John shares financial tools and tips to help you enjoy the freedom that comes from living frugally. One of his favorite tools is Personal Capital , which he used to plan for retirement and keep track of his finances in less than 15 minutes each month.
Another one of John's passions is helping people save $80 per month by axing their expensive cable subscriptions and replacing them with more affordable ones, like Hulu with Live TV.
Latest posts by John Schmoll (see all)