Why I'm Saving More and Paying Off Less Debt This Year
Posted on July 27, 2016 by Chonce in
Debt
Prioritize paying off debt, or save more? This age old question affects a lot of us who are in debt. It's a constant struggle once you become financially aware, of figuring out how much money to throw at your debt and how much money to sock away for your future.
There are different schools of thought on how to sort it all out and in the end, it often comes down to making the decision that's best for you – and accepting that what's right for you may not be what's right for someone else. Personally, once I realized how much my debt was holding me back from doing what I wanted to do with my life, I set out on a mission to eliminate it ASAP. I threw everything I had to my debt last year and it felt great.
Unfortunately, I neglected my savings account. This year I'm doing things differently. Let me tell you why.
I Felt a Little Trapped
I had a really bad day at work last year. I felt even worse when I realized I couldn't even take a day off from work or freelancing even if I wanted to because I couldn't afford it. I had a very small emergency fund at the time, and 'not being in the mood' didn't really qualify as a formal emergency.
Needless to say, I felt pretty trapped even though I was consistently working toward debt freedom.
Having extra money saved up offers lots of peace of mind and a nice financial cushion for you to fall back on whenever there's an emergency, if you need to correct a budget failure, or dare I say it – if you just feel weak and need a break. If you're afraid to take a break because you're not sure if you can afford it, tracking your expenses and saving through a free financial tool like Personal Capital will help you know how your day off will affect your finances and make a decision with confidence.
I'm a hard worker and tend to just power through most days if I'm not feeling up to it or even if I feel a little sick. But tiptoeing around day after day being afraid to take a day off was no way for me to live even though I was in debt so I set out to build up a cash buffer and increase my emergency savings this year.
$1,000 in Savings Isn't Enough For Me
Some financial experts including Dave Ramsey recommend saving at least $1,000 in an emergency fund, then attacking your debt in order to become debt free. This method works for a lot of people but doesn't work for me.
I've always known that $1,000 in savings was not enough for my family and I to feel comfortable if we ever did encounter a real emergency.
My fears turned into reality when my husband got laid off this past spring right in the middle of our wedding planning process. It was a scary time for us in terms of finances because we were just starting to build our emergency fund and we had lots of bills and wedding vendors to pay.
Luckily, he secured another position at the company weeks after getting laid off and has since moved on to an even better job. I knew that if it would have taken him a few months to secure another job, we probably wouldn't have had enough savings to cover the income loss during that time which is scary.
No matter what you do or where you work, your job is not always 100 percent secure so it's important to have enough savings to cover a job loss and a have a backup plan even if you are in debt.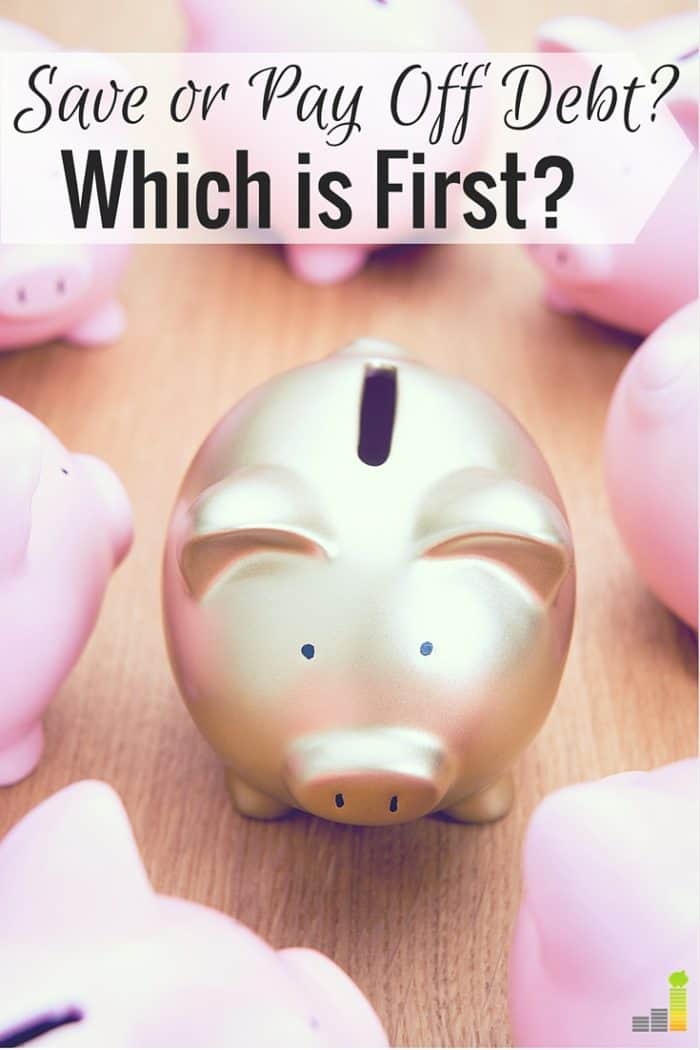 I Realized I Could save and pay off debt
Saving and attacking debt are both very important to me so this year, I decided to split the extra money I was putting toward my debt and put half of it into savings each month. At first, I thought I would hate this because I'm all about paying off debt. I worried that paying off less debt this year could feel like a big blow. I realize I could have practically paid the remainder of my student loans off this year if I neglected savings like I did last year but I'm just not willing to take that risk.
I've worked hard to increase my income and lower my expenses so I can afford to do both. I still manage to make extra payments on my debt which helps motivate me to pay it off, and I also continue to save a suitable portion of my income which gives me peace of mind and provides more opportunity. It's really the best of both worlds.
Yes, I'll have to keep paying off my debt for a little longer than I originally planned, but I don't have to stay up at night wondering how I would cover our next emergency and avoid accumulating more debt due to a lack of savings.
It's definitely a balancing act, but I'm pleased with my choice for now.
What do you think about paying off debt over saving or vice versa? Do you feel like you should save up an amount you feel comfortable with, then plow through your debt? How much do you think is important to keep in an emergency fund?
The following two tabs change content below.
Chonce is a freelance writer who's obsessed with frugality and passionate about helping others increase their savings rate, eliminate debt, and work toward financial stability. She chronicles her journey with balancing motherhood, work, and finances on her blog, MyDebt Epiphany.com