11 Passive Income Ideas That Let You Make Money While You Sleep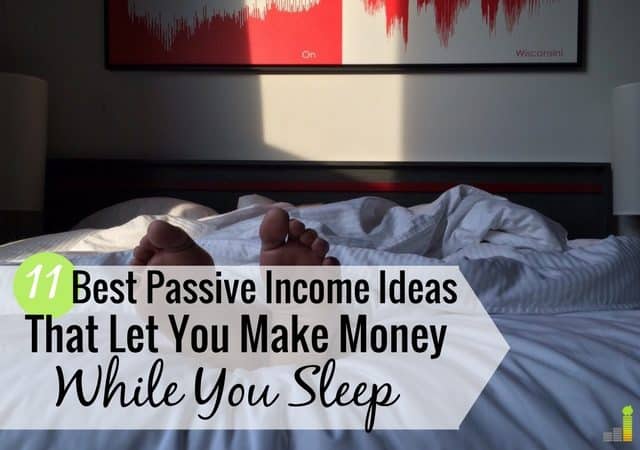 In all my years working in the financial service industry, I never felt like I was earning as much as I wanted to be. Then, someone told me about passive income – the idea of making money while you're doing other things — like while you're eating, working at your day job, watching TV or even sleeping.
This list of passive income ideas changed my life and they can change yours too. Try one today to start making you extra money while you're traveling, out to lunch with a friend, watching Netflix with your family or even in your bed asleep.
1. Invest in dividend paying Stocks
This is a popular way to earn passive income because many dividend paying stocks pay out on a quarterly basis. You will need to use an online broker to create a stream of dividend income.
Ally Invest is a great option as they have many tools to help with your investing and have the lowest trade price in the industry – as low as $3.95 per trade.
If you'd rather have the investing managed for you, Betterment is a great option. Betterment is a robo-advisor, so they manage your investments for you and have no minimum balance requirement.
2. Crowdfunded Real Estate
Real estate crowdfunding allows you to invest in real estate by putting your money into a pool with other investors.
Fundrise offers a great way to take advantage of this passive income idea. You can start investing for as little as $500 with Fundrise and you can invest in residential or commercial properties.
RealtyMogul is another good option to invest in real estate. You need to have $1,000 to start, but has lower fees than Fundrise.
3. Peer-to-Peer Lending
Peer-to-peer lending sites like LendingClub allow you to loan money to others and collect interest as they pay back the loan.
In fact, many P2P lenders allow you to earn 6-10 percent return on your investment.
4. Affiliate Marketing
Affiliate marketing is a great way to earn passive income if you have a blog or online influence. If there's a product or service you like, you can refer your audience to try it with your own custom trackable affiliate link. If someone clicks on your link and signs up, you earn a commission.
The key to making this great passive income idea work for you is having a blog.
You can start a blog with Bluehost for $2.95 per month and they install your site in one-click, letting you start your passive income strategy right away.
5. Paying Off Debt
One of the most unexpected passive income ideas is to pay off your debt faster. By lowering your interest rate, more of your payment goes directly toward your debt balance.
Lenders like Avant help you slash your rates by half, or more, letting you pay off debt quicker.
If you have student loans, you can do the same thing by refinancing your student loans with Credible.
6. Rent Out a Room In Your Home
Thanks to sites like Airbnb, you can make extra money renting out your home or a spare bedroom to travelers. After checking with your landlord or homeowner's association, all you need to do is fix up the space and list it on Airbnb.
You may need to do some light cleaning and maintenance after each guest departs, but you can also hire a cleaner to take care of that for you.
7. earn credit card rewards
Okay, so using credit cards isn't exactly an income source. However, earning rewards points on purchases you make provides great value for something you're already doing.
We've personally used credit card rewards to earn free hotel stays and flights that greatly reduce the cost of going on vacation. Travel isn't the only type of reward you can earn from credit cards. You can also get cards that allow you to earn cash back, statement credits or redeem for gift cards.
Compare our favorite credit cards here!
8. Get Paid to buy groceries & SHOP ONLINE
Rebate sites are a popular way to save and make money. You won't make a lot of money with these, but can still be a great way to add more cash to your budget.
Ibotta is one such option. They offer rebates to thousands of stores, including grocery stores, they give out random bonuses for using their app and you can earn cash back for referring your friends.
Ibotta also pays a $10 bonus when you sign up to use their service.
You can do the same thing with Swagbucks and they also give you cash back when you use their shopping portal to make purchases at hundreds of online stores.
9. Put Money in a high yield Savings Account
The cash in your savings account earns interest, building your savings while you sleep. You start with as little as you want. The trick is to find a bank that pays a decent interest rate on the money in your savings account.
CIT Bank pays 1.55 percent, (currently 22x the national average) when you start with a minimum balance of $100.
10. rent your car
If you own your car outright and don't drive it often, you can rent it out to others with a service like Turo.
Just make sure your insurance allows for this kind of arrangement. 🙂
11. Pet sit
Yes, it does require some activity in caring for the pet, however much of it is passive, while you sleep or doing something else around the house – especially if you're watching the person's house while they're on vacation.
You can set up a profile on Care.com allowing prospective clients to view your profile, read your reviews and decide whether or not they'd like to hire you.
If you want to diversify your income and stress less about money, these legit passive income ideas are a perfect place to start.
The following two tabs change content below.
John is the founder of Frugal Rules, a dad, husband and veteran of the financial services industry whose writing has been featured in Forbes, CNBC, Yahoo Finance and more.
Passionate about helping people learn from his mistakes, John shares financial tools and tips to help you enjoy the freedom that comes from living frugally. One of his favorite tools is Personal Capital , which he used to plan for retirement and keep track of his finances in less than 15 minutes each month.
Another one of John's passions is helping people save $80 per month by axing their expensive cable subscriptions and replacing them with more affordable ones, like Hulu with Live TV.
Latest posts by John Schmoll (see all)