How I Paid Off $7,000 Of Debt In One Month
Posted on July 8, 2016 by Cat in
Debt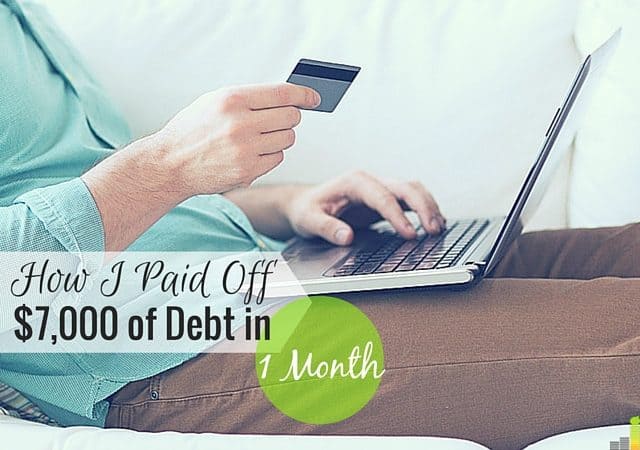 Last month, in June, I destroyed some serious debt. All in all, I paid off just over $7,000 of debt in one month, and it felt great. As anyone who is paying off debt can attest, when you are able to take a whack at your debt to an extent that is more than you're normally able to throw at it, such an occasion is a cause for rejoicing. Of course, that's a ton of money and potentially could be outside the norm of what people are able, even on a stretch goal, to throw at debt in a month, so I'll explain how I did it. Hopefully you can apply a few of the principles to your life and eradicate more of your debt as well!
1. I Took Advantage of Not Having a Mortgage
My husband and I recently bought our first house in Michigan. However, our seller requested to rent the house back from us for 60 days so she could get married and go on her honeymoon without worrying about packing up a house.
We agreed to this, as it was a very intense housing market with very little wiggle room when it came to negotiation. Unfortunately, that meant we had to find someplace else to live after moving out of our New Jersey apartment at the end of April.
When I looked all around Michigan at short-term housing, everything was super expensive. There just didn't seem a way to reasonably move up there with the whole family and the dog and find a place to stay for less than $2,000/month furnished.
I didn't want to move all of our furniture and junk twice and plus, my husband was on night shift so staying in a hotel for two months seemed like a terrible idea with our twin toddlers running around.
So, we decided that my husband would move to Michigan first and rent a room from another doctor while he starts his residency program, and I would go to Louisiana with our kids and our dog to spend time with the grandparents.
The negatives of this situation were that Louisiana is quite unpleasant in the summertime and of course, we're apart as a family. However, the benefit is that I'm staying with my in-laws for free. Plus, I'm getting a rent check from the seller of my house, and I didn't have to pay the $1,900 rent that I paid for my New Jersey apartment the past two years. So, you can see how the debt payoff ball got rolling pretty quickly.
Now, I realize that not many people will find themselves in a situation where they are living rent free for a little while, but I still think it's a good lesson to show how much housing costs drastically affect budgets and cash flow.
There are many people who live in a house that far exceeds their needs, so if you're deep in debt strongly consider downsizing or moving to a less expensive neighborhood. When you start to think outside the box about how you can change your situation, you can really start moving large amounts of cash to attack your debt.
2. I Reduced the Amount of Childcare I Had
For the last two years, I had a nanny come to my house and watch my kids three times a week so I could work. I realized over time that I just work best at night. She'd come over early in the morning to watch the kids, and I found that my work went very slowly. Then, around 9:00 p.m. once everyone in my house was asleep, I got tons of work done and was super productive.
So, now that we're moving, I decided to take back some hours of childcare and watch my little beans myself. I'm in a transition phase since I'm at my in-laws house and they obviously love watching their grandchildren, but I'm practicing what it will be like to not have a babysitter or a nanny at all for when I move to Michigan.
Granted, I will likely put my kids in a preschool a few days a week since they are almost two and a half, but because I didn't pay the $1,500 to our nanny that I paid every month this month, I threw it at the debt instead.
Again, some people need childcare 40+ hours a week so they can work, but there are many different childcare options available. I'm a strong proponent of giving kids the best education in the best environment possible, but more expensive doesn't always mean better. So, if you want to pay off debt, assess your childcare costs and run some comparisons. You might be surprised at what you find.
3. I Let Go of Some of My Emergency Fund
Dave Ramsey is a strong proponent of keeping a $1,000 emergency fund and that's it. In his Total Money Makeover book, though, he says that if it will take you a while to pay off your debt, you can pad the emergency fund more.
Well, since we're working our way through my husband's six figure medical school loans, I had a few thousand dollars in my emergency fund. I also had a lot more padding than I needed in my checking account, just because I get scared when my balance gets too low.
I got so mad at my debt, though, that I decided to liquidate a portion of my emergency fund and drop it down to a $2,000 emergency fund. I threw all the rest of my emergency fund, which was a few thousand dollars, towards the debt.
I admit that I got a little overzealous and had to text my husband to tell him not to buy anything for about two days while I repopulated our checking account with some of my writing income, but I don't regret it one bit.
All in all, not having a mortgage, not having childcare and letting go of some of my cash cushion allowed me to throw $7,000+ towards our debt, and I'm very excited about that.
We still have a very long way to go in our debt repayment journey, and it will likely take us years to annihilate it completely, but last month was our first month of very aggressive debt repayment so we're off to a good start.
What have you done to pay off large amounts of debt at once? How do you stay motivated when paying off debt? What's one thing you think many overlook when trying to pay off debt?
The following two tabs change content below.
Catherine Alford is the go to personal finance expert for parents who want to better their finances and take on a more active financial role in their families.