Is Owning a New Home Worth It?
Posted on November 11, 2015 by Robin McDaniel in
Lifestyle
An acquaintance of mine recently moved from a huge, well-appointed home, complete with granite and all the best upgrades, to an older home with a more lived-in feel. When I asked him how he was enjoying it, he said he was almost relieved because he wasn't worried so much about "breaking it" like he was his last house.
He told me that because his current home was already well lived-in and broken in, he wasn't as worried about the kids spilling a drink or the dog scratching the floors. He could let his kids be kids and he was more relaxed because of it.
That had me wondering why many people today have become so obsessed with owning huge homes with the latest and greatest in home finishes and gadgetry. New homes are expensive and the larger they are, the more upkeep they require. Is owning a new home really worth it?
New Homes Are Too Big
Today, our homes are over-mortgaged, over-stuffed, over-furnished, and just about ridiculous in size compared to how the rest of the world lives. We know that bigger isn't always better, but we can't seem to stop ourselves from over-consuming and buying bigger and (supposedly) better things, including homes. But are we just trying to impress others when we buy a big, fancy new home?
New Homes Are Typically More Expensive
In the real estate market today, new homes are typically the most sought after, which also means that they are more expensive. Everyone wants to put their own stamp on a new home, but they all come with the same basic builder-beige-colored walls, granite counter tops, and stainless steel appliances.
There's nothing unique about them, and I believe that in a couple of decades, stainless steel and granite are going to become the harvest gold of the 1970s. In other words, it will look dated.
New Homes Have Too Much Storage
When shopping for a new home, storage and closet space is typically a "must-have" on every homeowner's list. However, there is such a thing as too much storage space. The more rooms and storage areas that your home has, the more stuff you are likely to keep. If you have the empty space, you are bound to fill it up with something, which can only lead to one thing: clutter.
Older homes typically have small closets, only one bathroom, and less counter space in the kitchen. Less storage in an older house just means one thing: you should get rid of more stuff. Single-door closets rather than walk-ins mean you should try out a capsule wardrobe. Less counter space in the kitchen means you should keep your counters clear of all that fancy gadgetry to make room for actual cooking. Do you really need that cappuccino maker anyway?
New Homes Aren't As Sturdy
If you walk into a newly built home today, you can tell that they aren't built as soundly as homes of the past. So many builders today rush to build entire neighborhoods, which can result in poorer quality homes. Although my old vintage bungalow had slanted hardwood floors (which I referred to as charming), the house itself was rock solid. It was built on a hillside and made out of brick and stone in the 1920s, so it had definitely weathered its fair share of storms. It wasn't going anywhere.
Even though I love the home I live in today, I do not feel the same way about it. Our current home is only 14 years old, and I sometimes feel like one of those little pigs sitting inside, waiting on the wolf to blow it down. It pops, creaks, and groans on a regular basis, and I have a laundry list of places where I can see the builder clearly scrimped on building this home. It's simply not nearly as sturdy, well-built, or charming as our last home.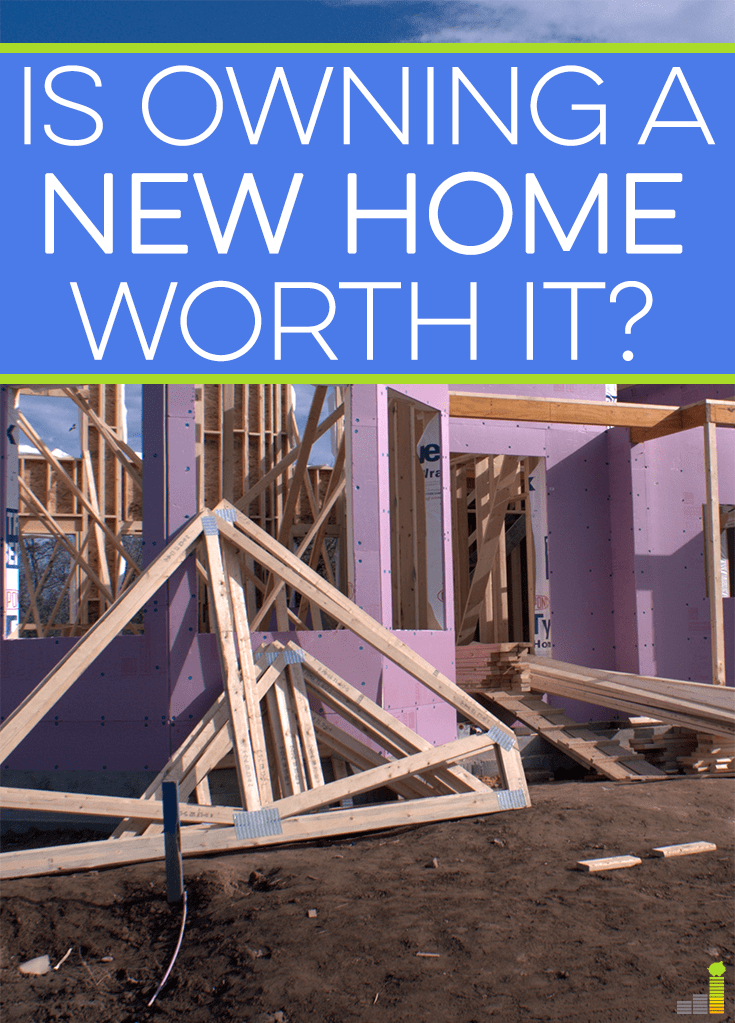 A House Is Just a House
At the end of the day, no one needs a big, fancy house. You don't need more bathrooms than you have people living in the home or a separate bedroom for each child, and no one is going to die without a 2 car garage or finished basement.
We simply need shelter – a roof over our heads for our families. After all, a house is still just a house, and no amount of extra storage or crown molding is going to make you any happier. Your family is what makes it feel like home.
Do you favor big houses or small houses, older or newer homes? Do you sometimes wish you had more storage space? If you're shopping for a home right now, or getting ready to, what are you looking for in your next home?
The following two tabs change content below.
Robin McDaniel
Robin is a freelance writer who chronicles her financial missteps and victories on her blog www.TheThriftyPeach.com.
Latest posts by Robin McDaniel (see all)