4 Ways to Overcome Burnout With Work and Your Finances
Posted on March 29, 2017 by Choncé in
Lifestyle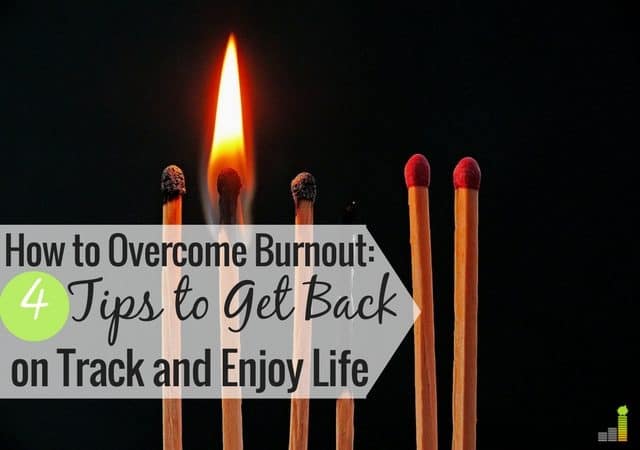 We all deal with job stress and financial stress from time to time. Left unchecked, that stress can become burnout. When you're working hard to make ends meet and reach your financial goals, it's easy to give up. Today, we're going to share some strategies to help you overcome burnout so you can reach success in work and in your wallet.
Start Taking Better Care of Yourself
At first, you may have felt excited about work and inspired by the progress you made in terms of paying off debt, increasing your income via a side hustle and being able to save more money.
Then, you may have started to feel detached and unfulfilled. Before long, you may have found yourself no longer excited to get up and work. You may have even begun to resent dedicating so much time, money and energy toward meeting your financial goals. This is a clear sign of burnout.
Burnout is a state of pure exhaustion when you reach a point of being emotionally and physically drained and stressed out.
If you're one those people who neglect themselves for the sake of being able to get more work done and/or earn more money, that method is not going to last long. Once you start feeling burnt out, pushing yourself to do more will only make things worse.
You need to overcome burnout by taking care of yourself. I used to be really bad at this. Throughout my debt repayment journey, I became slightly obsessed with working and earning more money so I could put it toward my debt. I loved watching my balance go down each month but realized I was putting myself and my health on the back burner as a result.
Once I realized that I'd put off scheduling a doctor's appointment for weeks just so I could continue to work each day uninterrupted, I knew something had to change. I began scheduling time off to relax, run important errands and focus on taking care of myself. I identified which daily activities were wasting my time so I could replace them with much-needed self-care.
Taking care of yourself means something different to everyone, but you know exactly what you need to do for your situation. Try scheduling in mandatory breaks and moments of your day where you don't prioritize work or your financial goals. When you think about it, it only takes a few minutes to get into the habit of taking good care of yourself, and you'll feel much more motivated and energized as a result.
Revive Your Social Life
What do you do to relieve stress and the pressure you feel each day to meet certain standards? For many people, having a social life can do wonders in terms of allowing them to comfortably manage it all and obtain more balance.
Sometimes, it helps just to talk and laugh with other people. If you've been neglecting friends and family because you've been too busy working or just don't have the money for outings, resort to free and affordable ways to embrace your social life instead.
You can invite people over, go to a free event, camp outdoors for a weekend nearby or use discount websites to score deals on outings. At a minimum, popping in a movie and busting out a few board games in will not completely derail you from meeting your financial goals.
In fact, having that down time to relax and spend with others will help you feel more refreshed and energized to keep pushing forward. It's important to communicate with others and have positive relationships with family and friends. This can improve your mood and lower your stress levels, which can carry over to your work life and go a long way in helping you overcome burnout.
Get Used to Saying No
I feel that saying yes to everything is expected and is considered polite. However, every time you say yes to something, you're saying no to something else, so it's best to prioritize your tasks at the end of the day.
While you probably can't flat out say no when your employer asks you to do something you're not really in the mood to do, you can say no to other things. It's important not to become a "yes man" or "yes woman" because it can result in you getting absolutely nothing accomplished.
If you're working and are asked to do something that you know you can't possibly do, try speaking out about it in a respectful way or seeing if you can get help from someone else to ease your workload.
If you work on side projects, you can say no to taking on extra tasks that may eliminate any free time you have and add to your stress level. You can say no when you're invited to go to dinner at a pricey restaurant and need to save instead.
No is not the worst thing in the world to say to someone and the more you say it, the more comfortable you'll become with it.
Ask For New Job Responsibilities
You may be feeling burnt out at work because you're tired of doing the same thing day in and day out. No matter where you work, you should be able to develop new skills over time and be faced with challenges that allow you to use your talents to the fullest.
If your job is becoming too boring and uninspiring, ask for new responsibilities; see if you can switch to another area of the company; or ask about opportunities for a promotion.
If the job itself just doesn't seem like a good fit or is not allowing you to earn enough to meet your goals, you may have to get another job or try working in a different field that interests you more.
Fixing your finances can seem hard in the beginning but when you combine the pressure to improve your situation with workplace burnout, it can be easy to contemplate giving up. Instead, take a deep breath, have a real break away from all the stress, and try doing some of these things to regroup and bounce back from burnout.
Have you ever experienced burnout at work, with your financial goals, or both? How did you handle it? How do you prioritize your needs and self-care? What ways have you been able to make a boring or repetitive work job more interesting and engaging?
The following two tabs change content below.
Choncé is a freelance writer who's obsessed with frugality and passionate about helping others increase their savings rate, eliminate debt, and work toward financial stability. She chronicles her journey with balancing motherhood, work, and finances on her blog, MyDebt Epiphany.com