Grandparents Gone Wild: How to Handle Over-gifting
Posted on December 7, 2015 by John Schmoll in
Holidays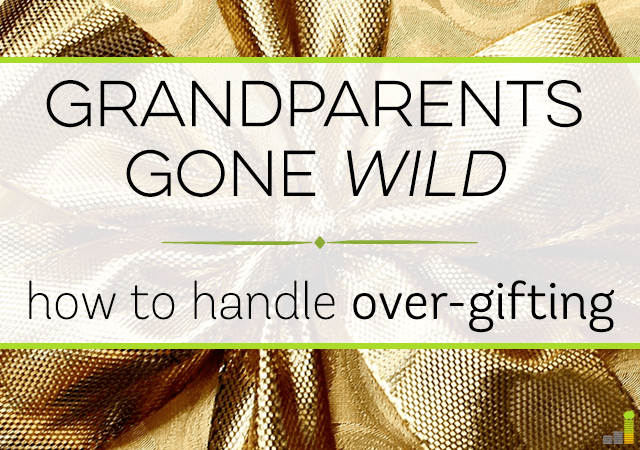 The following is a contribution from Kalie at Pretend to Be Poor.
Christmas can be a time of celebration filled with family, food and thoughtful gifts. Or it can become a stressful nightmare when kids unwrap one behemoth, battery-operated plastic plaything after the next. One young mom referred to this problem of over-gifting as "grandparents gone wild."
Indeed, sometimes generous grandparents, extended family or friends may unwittingly undermine lifestyle or parenting goals with well-intentioned but overblown gifts. Over-gifting is a messy topic for all involved, but there are practical and proactive steps you can take to promote cheerful giving and receiving.
Grandparents vs. The Grinch?
Wanting a say in the gifts your children receive doesn't make you a Grinch. Some families may not have the storage space or the battery budget for certain toys, or may feel that the volume of presents doesn't fit with their simple lifestyle. Whatever the reason for wishing to limit their children's gifts, parents don't have to remain entirely at the mercy of well-meaning over-gifters.
Your attitude will speak louder than words when communicating with loved ones about limits. Strive to start from a place of gratitude for others' generosity when dealing with this touchy topic. And recognize that you can make your requests known, and do with gifts as you wish, but cannot control others' choices. With this outlook in mind, let's look at some ideas for handling over-gifting.
How to Handle Over-Gifting
1. Discuss holiday gifting traditions
Instead of being blindsided by baby's first over-consumption Christmas, chat with your spouse about what gifting looked like in your family. Did you wake up to mounds of presents from Santa, or receive a few treasured items? Were the gifts typically fancy or simple? Did Santa consult your wish list or surprise you? The answers may alert you to diverse traditions.
If one spouse comes from a family where gifting was highly valued or extravagant, you might need to be especially proactive in setting limits with that side of the family. The spouse from that side of the family may have the most success with this conversation. Whoever initiates this talk, both spouses should be in agreement about the tone and main points. It's not worth dividing your marriage over toys—even if they have a gazillion pieces or require batteries sizes you can't find at the grocery store.
2. Describe your family's lifestyle
This type of conversation can begin before the holiday season. Without being judgmental, explain some of your lifestyle choices to family members. For example, you might mention that you've planned to limit the number of Christmas gifts you give each child.
If you identify with an approach such as simple living or minimalism, describe what this means to you, why you've chosen it and the benefits you believe it holds for your children.
3. Prepare wish lists or suggestions
Family dynamics vary when it comes to shopping season requests. If relatives usually ask for ideas, consider creating wish lists for your children (with their help). Retailers such as Amazon allow customers to create online wish lists. It isn't greedy to provide suggestions to those who ask; I enjoy shopping for gifts I know someone will use and enjoy.
If you or your family isn't interested in online wish lists, be ready with a couple of ideas when people ask. For example, you might talk about how much you value classic, stimulating items like books, puzzles, and blocks. If you know a family member who likes to shop for clothing, you could let her know what items your child needs, and in what size.
4. Suggest shopping secondhand
If you don't mind pre-owned items, let givers know you'd love to minimize waste by receiving used goods. Kids don't care if something is new—they care if it's fun! There are so many secondhand and thrift stores that sell good quality, gently used kids' clothing and toys.
We've suggested this to our families, and my mom has found like-new shoes, clothing, jackets, boots, and sports equipment that my children love.
5. Ask for a class or experience
If your kids don't need more toys, consider asking for contributions to one of the following:
A class, such as music or swimming.
A membership, such as a zoo or children's museum.
Tickets to a movie or live performance.
A magazine subscription.
Your child's college fund.
The college fund is truly the gift that keeps on giving and grows with the child as interest compounds. For interested givers, emphasize how the fund will result in real, lifelong value for the child, unlike more toys and trinkets. Point out that contributions are tax deductible for the giver, and provide the form they need so they can contribute directly to the fund.
6. Set boundaries
Share your wishes for limiting the size, number or type of gifts. For example, one mom requested no large toys when their home did not have a garage or basement. Or you might suggest that one or two gifts per child would be plenty.
What to Do With Extra Gifts?
If you're still met with excess after trying the ideas above, you'll have to decide what to do with the gifts. Here are some options:
Ask the gift-giver to store it at their house.
Return the gifts if they are unassembled and you have a gift receipt.
Sell the gift on CraigsList, eBay or a children's secondhand store.
Save it to re-gift at a later date, such as a birthday party.
Donate the gift to a children's charity.
Remember to handle this sensitive situation with tact. If you are asking the giver to keep the present at their house, explain your reasons, such as not having room to store it. Be firm but kind, and avoid arguing. Ultimately, a recipient is free to do what they like with a gift.
At the same time, keep the value of the relationship in the balance and be willing to compromise if appropriate.
Of course, the older children get, the more difficult it will be to sell, donate or return gifts after they have been opened. This makes it all the more important to describe your requests and limits in advance. For gifts that you sell or return, considering letting the child decide what to do with the money (within reason for their age).
Heartfelt Thanks
Express gratitude for all generosity, and reinforce appropriate gifting by going out of your way to thank the person after the holidays. Send a thank you note describing the child's ongoing interest in the item. Have the child write or draw a card to accompany your note. Include a picture of your kids playing with their gifts, or send one digitally.
I once received a 30 second thank you video message for a child's gift, which I found thoughtful and fun.
In the end, how you navigate over-gifting will depend on the dynamics of your family relationships. Focusing on the deeper meaning your family places on the holidays may help alleviate some of the angst surrounding this issue. Love, peace and joy can transcend even the loudest and largest of toys, as parents already know from experience.
What are your tips for handling over-gifting? Do you specify to family members what kind of gifts would work best for your family? How do you handle family members who want to give above and beyond what you'd really like?
Kalie blogs at Pretend to Be Poor about the adventure, humor and generosity that can result from a financially flexible lifestyle. When she isn't blogging, she's busy raising two young children.
The following two tabs change content below.
John is the founder of Frugal Rules, a dad, husband and veteran of the financial services industry whose writing has been featured in Forbes, CNBC, Yahoo Finance and more.
Passionate about helping people learn from his mistakes, John shares financial tools and tips to help you enjoy the freedom that comes from living frugally. One of his favorite tools is Personal Capital , which he used to plan for retirement and keep track of his finances in less than 15 minutes each month.
Another one of John's passions is helping people save $80 per month by axing their expensive cable subscriptions and replacing them with more affordable ones, like Hulu with Live TV.
Latest posts by John Schmoll (see all)