Scottrade Review: Get Up To $2,000 Cash Back!
My wife and I have used Scottrade for our investing for years and thought a Scottrade review would be helpful to go over our experience with their platform. I also dealt with Scottrade extensively during my years in the brokerage industry and have always impressed with their offerings and service.
Scottrade is one of the best online brokerages to deal with as they offer various tools for new and seasoned investors alike. This review of Scottrade will go over some of the features that have stood out to me over my years of using them.
I worked for five years in the online brokerage industry and have seen first hand how investors are hindered when they end up with a brokerage that doesn't meet their investing needs. It's my desire with this Scottrade review to help you see if they, or some other brokerage, might be the right fit for you. If you'd like to check out some of my other brokerage reviews, I've listed a few of them below:
If you do a quick search for online brokerages you'll see there are dozens to choose from. You have cheaper brokerages that offer little service and are only a means to place stock trades on one end and you have larger brokerages on the other end that offer a full range of services including possible advisory services.
Scottrade is in the middle of those two extremes and provides a solid trading platform at an excellent value. Scottrade first started in 1980 and has since grown into a branch network of over 500 branches nationwide. They are well known for their $6.95 flat unlimited trades and are commonly recognized by J.D. Power as one of the best online brokerages to do business with. With that in mind, let's get on with the Scottrade review to see how they measure up against other online brokerages.
Scottrade Features
The trading platform: The Scottrade platform is intuitive and user friendly. If you want to place stock trades they charge a flat $6.95 whether you place the trade online or use their phone app. If you place the trade through a broker the commission is a flat $32. If you look at the spectrum of major online brokerages out there, the commission at Scottrade is definitely on the more competitive end and a good value.
Streaming Quotes: Many online brokerages charge for access to streaming quotes; that is not the case with Scottrade. Streaming quotes are free the day you open a Scottrade account and fill out a few short forms. Some brokerages either charge for this service or require that you do a certain number of trades per quarter or year to receive it. This isn't a huge benefit, as I expect to have it, but it is a nice feature to have.
ScottradeElite: This is a service offered if you fund your account with more than $25,000. ScottradeElite provides users access to increased charting, trading functions and trading tools. This may not be of benefit if you're a buy and hold type of investor, but is great for more active traders.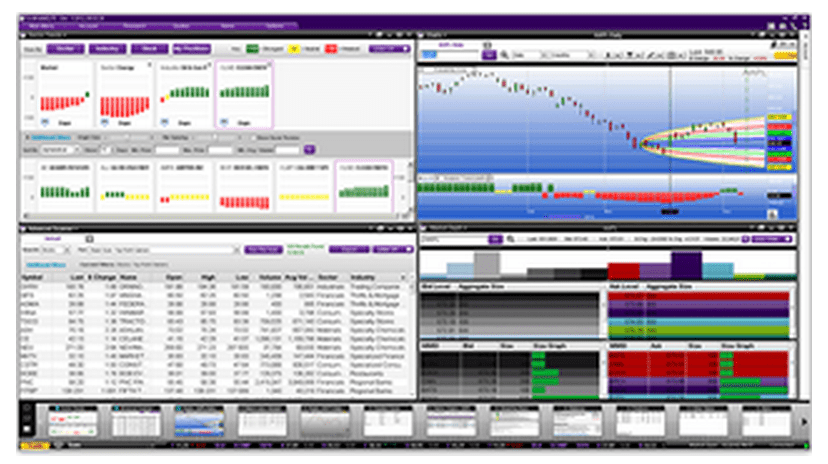 OptionsFirst: This is Scottrade's answer to investors who like to do more advanced options trading. While not for everyone, options can be a great tool to diversify your investing strategy. I have not used this service, as I don't trade much options, though I have heard great things about it. Please do keep in mind that you do generally pay more for an options trade, and with Scottrade you add an additional $.70 per contract on top of the flat $6.95 stock commission.
Advantages of Scottrade
Minimal Fees: Beyond the $6.95 flat trade price for stocks there are no other fees. There are no hidden fees, which I am a huge fan of and the account opening requirement is a reasonable $2,500 for non-retirement accounts and a minimum opening balance of $500 for retirement accounts. The commission price is very competitive in light of other brokerages, especially when you take the value you receive into consideration.
Customer Service: My experience with Scottrade has been good overall. They have over 500 branches and the times I have visited our local branch the staff has been very helpful. On top of this they offer an instant chat feature on their website that not all online brokerages do. I have used this feature numerous times and has been a great way to get my questions answered without needing to call in to their call center.
Many Investment Options: In addition to being able to invest in stocks, Scottrade offers many other options including fixed income, mutual funds, banking products, Treasuries and more. They offer more than 14,500 mutual fund options of which over 3,000 do not carry a transaction fee – which is more than any other online brokerage. Many who invest in mutual funds do so with the given fund family out of necessity. That does not have to be the case if you invest with Scottrade as they have access to a majority of the fund families in the space.
Research and Trading Tools: If you want to take a free online course or would like to use a stock screener they have solid offerings. I have used most of Scottrade's trading and research tools and they compare well with what I've seen from other brokerages. Comparing their screener tools to others I have used in the past, the screeners at Scottrade win hands down in terms of ease of use.
Disadvantages of Scottrade
No Dividend Reinvestment Program: Many investors that have dividend paying stocks like to have them reinvested to buy additional shares of stock. For some reason Scottrade does not offer this, though there are rumors they might in the future. If you do want to reinvest the dividends you then need to pay a commission to buy the additional shares.
***Update as of June 25, 2013 – Scottrade has introduced a unique Flexible Reinvestment Program. This does not allow you to reinvest into partial shares, but pools cash from dividends to buy additional shares of up to five eligible securities at a time. There is no commission charge for this at all. They allow you to pick specific stocks to have dividends reinvested towards, which I think is a great feature. I love that they have added this as I invest in several high dividend paying stocks through Scottrade and it allows me to add more to the given holdings as opposed to having the cash sit there doing nothing. Having taken part in the FRIP over the past two years now, it has been a great addition to their offerings.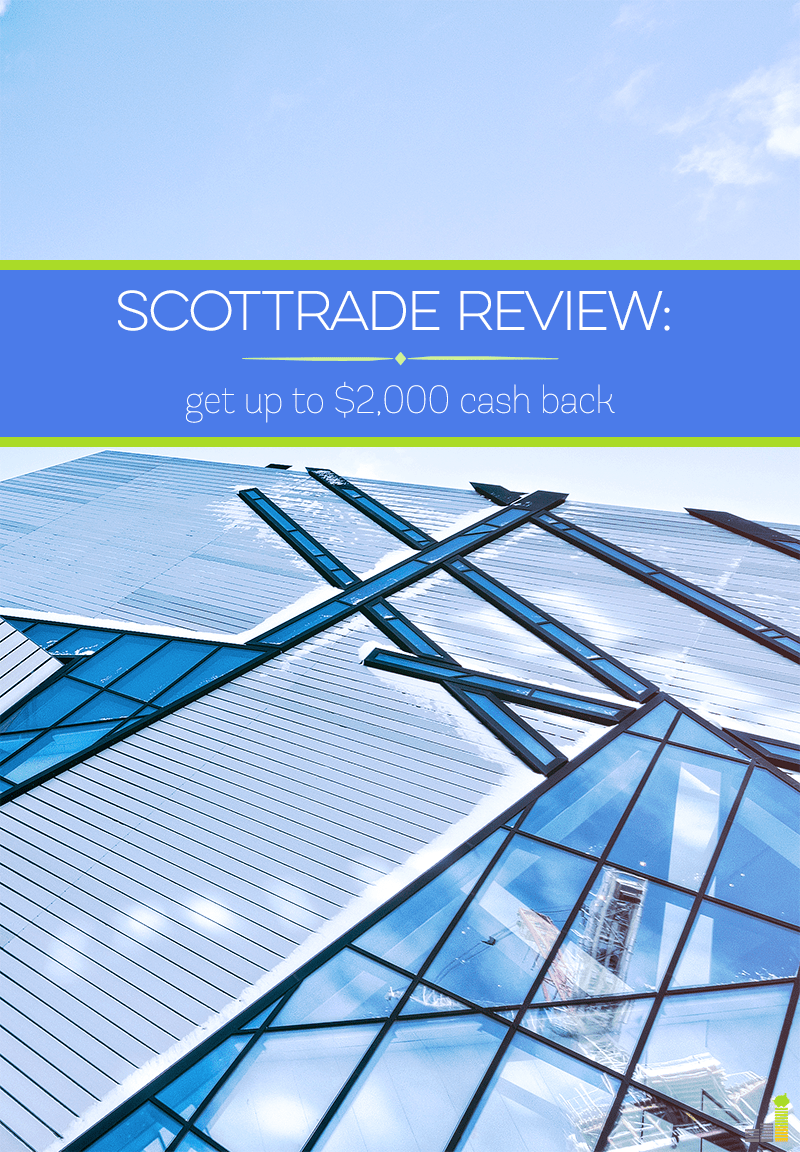 Scottrade review – my take
I believe for the right person, Scottrade can be a great fit for their investing needs as they offer value, great customer service and solid investing tools. As I pointed out in the beginning, there are a lot of online brokerages to consider and believe that Scottrade holds their own against the best. I'm not a fan of the higher balances needed for non-retirement accounts, but the minimum needed for a retirement account comes in at a very reasonable $500 – which is among the best considering other brokerage options.
I like Scottrade because they're a brokerage that you can manage virtually all of your investing needs with as they have so many offerings. If you do choose to open a Scottrade account, keep an eye out for promotions as they have several to consider. Their standby promotion is refunding up to $100 in transfer fees, with the current favorite being up to $2,500 or 700 free trades for consolidating outside brokerage accounts and bringing them to Scottrade.
Summary
Reviewer
John Schmoll
Review Date
Reviewed Item
Scottrade
Author Rating
The following two tabs change content below.
I'm the founder of Frugal Rules, a Dad, husband and veteran of the financial services industry. I'm passionate about helping people learn from my mistakes so that they can enjoy the freedom that comes from living frugally. I'm also a
freelance writer
, and regularly contribute to GoBankingRates, Investopedia, Lending Tree and more.
Latest posts by John Schmoll (see all)