E*TRADE Review: Get Up To $600 Cash Back!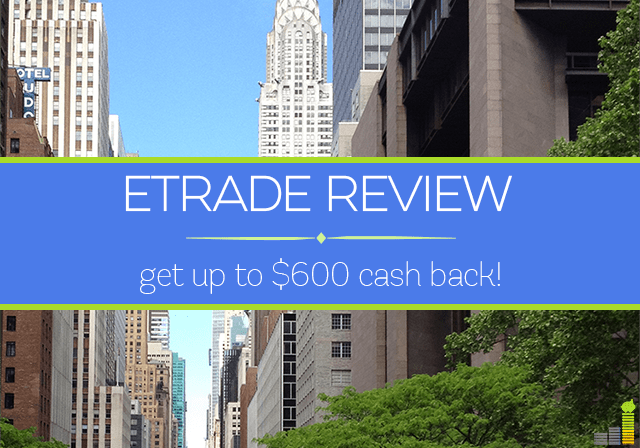 E*TRADE is one of the most well-known online brokers in the industry. This E*TRADE review will help you determine if their products and services are ones that can help meet your investing goals and needs.
Due to my experience as a stockbroker, I've been able to deal with many of the major brokerages out there. E*TRADE is one I have extensive experience working with and dealing with their platform.
There are many online brokerages to choose from and they all have offerings that set them apart from the next. Many claim to be among the best online brokerages though some do not measure up when you take a closer look. If you simply need a place to invest in the stock market then it often comes down to price and tools they offer to determine which brokerage is best for you.
With that out of the way, let's get on with the review of E*TRADE and how they might be able to help with your investment needs.
E*trade Features
The Trading Platform: The trading platform at E*TRADE as one of the best platforms available in the brokerage space. It is intuitive and user friendly when it comes to placing trades and finding the information you need. At $6.95 per stock trade and $6.95 plus $.75 per options contract, their prices are competitive within the online brokerage space. They just recently lowered their price from $9.99 per trade, so it's good to see movement to a lower price point.
Free Streaming Quotes: Like other brokerages, E*TRADE's streaming quotes are free. Once you open an account and fill out the necessary paperwork you can access free real-time quotes. This is a great feature to have if price movement is something you like to watch. Since I like to watch the stock market, I will generally not invest with a broker who charges for streaming quotes.
Forex/Futures Trading: This is a nice feature that is not offered at every online brokerage. I will caution that Forex and Futures trading is not for everyone and does have its own unique set of risks associated with it. However, it's a great feature that helps set E*TRADE apart from some of the other brokerages in the industry.
Advantages of E*trade
Powerful Trading Tools: Not only is E*TRADE's trading platform user friendly, but they also offer a lot of research and tools that can help you with retirement planning. Their free educational offerings can help you better assess what kind of strategies to put in place in order to better manage your investing needs. E*TRADE has also been recognized by publications like Kiplinger's for having some of the best tools and education available in the industry.
Solid Offering of Mutual Funds: If you want to invest in mutual funds, you will be happy with E*TRADE. They're very competitive in regards to mutual fund offerings as they offer over 8,000 mutual funds, of which, 1,300 are no load, no transaction fee funds. If your mutual fund of choice does have a commission associated with it then it's competitively priced at $19.99 instead of $50, which is what you'll find at other major brokerages. I will also point out that if you need help determining which funds to invest in, Personal Capital offers a free tool that allows you to find the lowest fee funds available. I love and use it myself. Beyond mutual funds, E*TRADE also offers roughly 110 commission-free ETFs to choose from.
Customer Service: Having worked in customer service for years I recognize good customer service when I see it. Every time I have interacted with someone from E*TRADE I've had a great experience. They're also open 24 hours a day, which is not all that common and have a nice chat feature. E*TRADE also has a branch network of several dozen branches throughout the country that are open to help you with your account problems or investing needs.
Low Initial Minimums: E*TRADE is among the best in regards to the minimum amount needed to open an account. If you open a standard account the minimum is $500 or $2,000 if you want to open a margin-enabled account. This is among one of the lowest minimums needed to open an account there in the industry. That being said, if you open a retirement account with E*TRADE they have no minimum balance requirement.
Access to Foreign Markets: Along with the aforementioned Forex/Future trading this also really helps set E*TRADE apart. They have access to stock trading in Canada, France, Germany, Hong Kong, Japan and the UK. I'm not certain how competitive their pricing is in relation to that, but it is a great feature to have if that's something you're looking for.
Disadvantages of E*trade
Commissions: The only issue I have with E*TRADE is their commission structure, as it relates to stock trades. Like I said earlier, $6.95 is definitely competitive, but there are others in the online brokerage space that are cheaper. I will point out there is always the option to try and negotiate the commission. They do offer a lower commission structure at $4.95 per trade, but you have to place a certain number of trades each quarter to qualify for that. With that in mind, I always like to look at the value being delivered and in the case of E*TRADE there is value for that price.
You Need to be an Active Trader to get their best Platform: Their most robust platform, E*TRADE Pro, requires you to place at least 30 stock or options trades per quarter. That may not be an issue for many, but if you don't trade often enough then it won't be an option for you. Again, if you don't trade often this should not be a concern, but if you're wanting to not deal with that minimum trade level, you can look at platforms like Ally Invest as a justifiable alternative.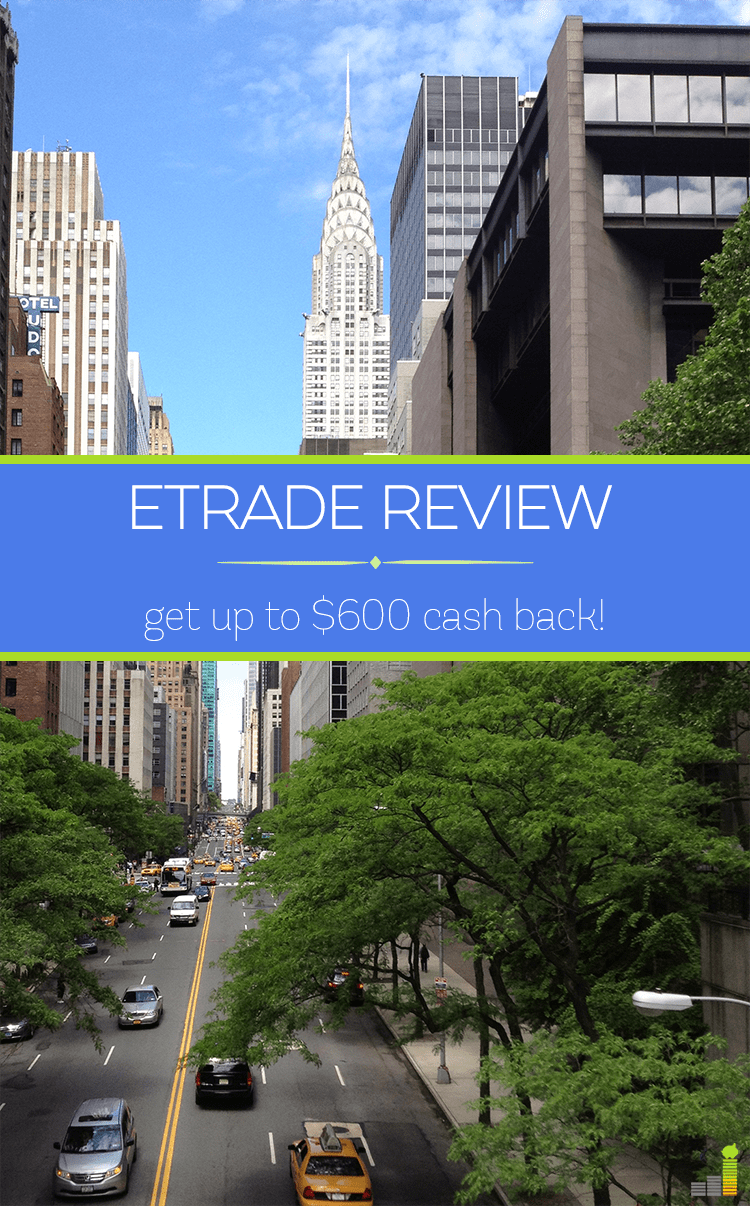 e*trade review – my take
I think for many, E*TRADE is a good option to consider if you're looking for a place to manage your investments. They do have a solid amount of offerings and have high quality tools to use. E*TRADE offers a good number of mutual funds and 110+ commission-free ETFs. The other thing I like about E*TRADE is their maturity allows them to offer a number of different things you won't be able to find at most other brokerages.
If you need a good online brokerage that has solid offerings, then E*TRADE may be for you and you can usually have your account opened online within 10-15 minutes. One nice thing to keep in mind is that E*TRADE does offer promotions for opening a new account such as free trades at account opening or even a cash bonus if you start with different deposit amounts.
Who do you invest with? What do you typically look for when deciding on a broker?
The following two tabs change content below.
John is the founder of Frugal Rules, a dad, husband and veteran of the financial services industry whose writing has been featured in Forbes, CNBC, Yahoo Finance and more.
Passionate about helping people learn from his mistakes, John shares financial tools and tips to help you enjoy the freedom that comes from living frugally. One of his favorite tools is Personal Capital , which he used to plan for retirement and keep track of his finances in less than 15 minutes each month.
Another one of John's passions is helping people save $80 per month by axing their expensive cable subscriptions and replacing them with more affordable ones, like Hulu with Live TV.
Latest posts by John Schmoll (see all)
Summary
Reviewer
John Schmoll
Review Date
Reviewed Item
E-trade
Author Rating