When Is It Okay to Splurge?
Frugality blogs are, for obvious reasons, always aimed at saving money. Endless tips, suggestions, and stories are offered up about how to pinch pennies here and scrimp money there. It's easy to read what someone else is doing to save money or pay off debt and try to implement it immediately yourself.
What I've learned, though, is that it's not always the best idea to scrimp everywhere. Sometimes it really does make sense to spend more money where it counts, such as on quality rather than quantity and on things that are important to you.
Here are three examples of when I think it's okay to splurge a little.
Quality Food
When I left my job in finance a year and a half ago, I lost a pretty good salary, so I wanted to save money where I could. My first stop was our grocery bill. It was out of control because my husband did most of the grocery shopping while I was working full-time. That meant that we regularly ended up eating steaks and other expensive meats several times a week.
It wasn't healthy or frugal, but I didn't complain because I wasn't the one doing the shopping. I worked on whittling down our food purchases to $80 per week for our family, and I was pretty happy about that until I started learning more about farming practices and where our food comes from.
It was then that I started favoring fresh, local, organic products and farmer's markets more than the grocery stores, and with that came an increase in our grocery bill. My husband started to rave about all the healthy produce we were eating, and I really enjoyed talking to the farmers who produced the food that I purchased at the farmer's market.
I quickly realized that sourcing food locally, supporting local farmers, and feeding my family healthier foods was much better than saving every dime I could on our food purchases. Quality food far outweighs the few extra dollars I spend every week to create healthy meals for my family.
Travel to New Places
There are many bloggers out there who write about how to take free, lavish vacations to all parts of the globe thanks to their awesome travel hacking skills, such as taking advantage of credit card points, and airline miles. I love that they can do that, but I'm not one of them.
I do, however, have no problem splurging on vacations. That's not to say that we stay in 4 or 5 star resorts for every vacation (in fact, we never do), but travel is one area that I'm happy to spend money on because it affords us great memories and experiences as a family. I will absolutely pay good money to travel to a cool place that we've never experienced before, because it makes us happy and we enjoy those experiences together.
Experiences as Gifts
We have given up on buying each other gifts for Mother's and Father's day, birthdays, and anniversaries, as well as Hallmark holidays like Valentine's Day. I hated the feeling of having to buy my husband a gift every few months, and I'm sure I gave him stuff he probably didn't even want half the time.
Since we are trying to become minimalists and not be surrounded by stuff, the gift giving definitely had to go, so we started gifting each other experiences instead. Last year, we took our daughter on a short train ride for her birthday (her choice), and this year my husband wants to ride a steam engine on an all day trip for his birthday. In the past, we've gone to festivals, aquariums, museums, enjoyed a Led Zeppelin cover band in concert, and have a trip scheduled to see an air show next month.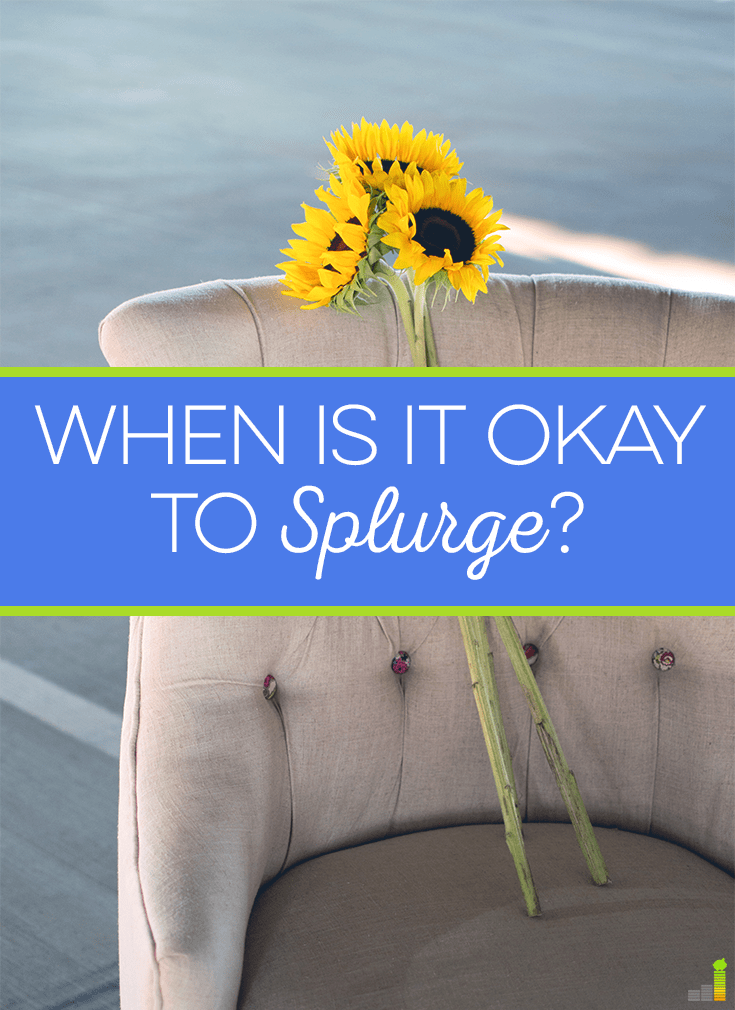 It's also very important to us to enjoy regular date nights downtown for just the two of us, even if we have to shell out some money to hire a babysitter and pay for an expensive meal to do it. It's worth it to us. The quality time we get from these experiences is worth far more than any knick knack, and the memories will far outlive any toy we could buy for our daughter.
Sometimes it's okay to choose not to be frugal as long as it's purposeful spending on things that actually make you and your family happier and healthier.
What are some things that you splurge on that are worth it to you? When do you think it's okay to forgo being frugal? How do you budget for splurges?
The following two tabs change content below.
Robin McDaniel
Robin is a freelance writer who chronicles her financial missteps and victories on her blog www.TheThriftyPeach.com.
Latest posts by Robin McDaniel (see all)