What is Your New Year's Resolution Costing You?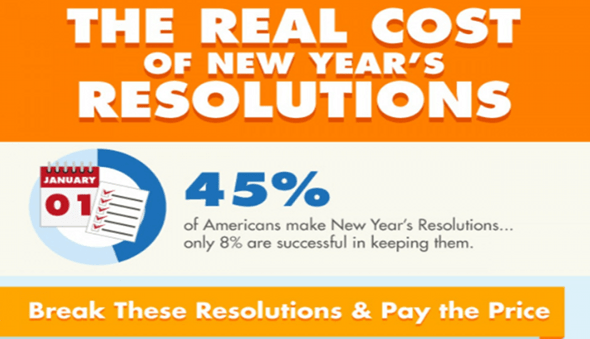 Happy almost New Year's Eve! I know that I ran an infographic last week, but what can I say – it's the Holidays. 🙂
I know this infographic was done by Bed, Bath and Beyond, but when I saw it over on Visual.y I knew that I wanted to run it. I wrote at the beginning of 2013 that I do not believe in New Year's Resolutions. I am not really against them because I want to be anti-improvement or anti-change. To the contrary, I think both of those are good and needed – as appropriate.
We all know what the common New Year's Resolutions are:
Lose weight
Stop smoking
Pay off debt, or something else financial in nature
Spend more time with the family
Those are all good things to strive for and I know that I need to work on a few of them myself, but they largely fail because there is nothing measurable, nothing expected of us in them. Sure, spending more time with the family can happen but what will you put in place to make yourself accountable to that and make sure it is something you can measure?
Our New Year's Resolutions Require Focus
That is what I like about this infographic. Not only does it give actionable tips of things you can do and possible costs associated with them, but it also suggests you take a small number of things you want to improve in and focus on those.
I'm not going to bore you with another rundown of the SMART goal system as that has already been done, if not overdone, by myself and others. However, the point remains that if you want to see success in your goal, resolution, or challenge you need to make it measurable and something you're going to hold yourself accountable to. This is also not to mention the fact of the related cost that comes with why we need to change such things. If the need to change isn't strong enough, then the cost should certainly be a motivator.
So, after taking a look at this infographic I see again that I simply need to become more organized in my life. I don't know where they got their numbers, but I know disorganization is costing me money…not to mention time!
What are your thoughts on New Year's Resolutions? What changes do you want to make and what will it cost you if you don't? What stood out to you on the infographic?
The following two tabs change content below.
John is the founder of Frugal Rules, a dad, husband and veteran of the financial services industry whose writing has been featured in Forbes, CNBC, Yahoo Finance and more.
Passionate about helping people learn from his mistakes, John shares financial tools and tips to help you enjoy the freedom that comes from living frugally. One of his favorite tools is Personal Capital , which he used to plan for retirement and keep track of his finances in less than 15 minutes each month.
Another one of John's passions is helping people save $80 per month by axing their expensive cable subscriptions and replacing them with more affordable ones, like Hulu with Live TV.
Latest posts by John Schmoll (see all)