The Most Loving Thing You Can Do For Your Family
Posted on September 10, 2015 by John Schmoll in
Insurance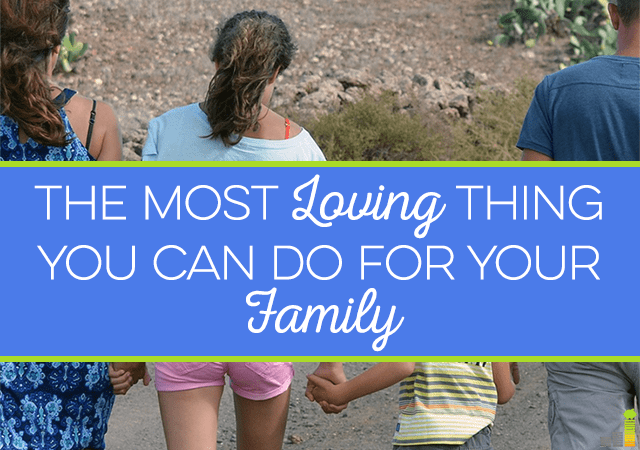 September is Life Insurance Awareness month and this post is in partnership with TermLifeInsurance.com, which helps spread awareness of the importance of term life insurance. Learn more about how you can protect your family and your finances.
We talk a lot about money here on Frugal Rules, and for good reason. Money is a tool you can use to accomplish many goals in life. I didn't always look at it that way, though have learned many lessons from my financial mistakes.
One of the most impactful lessons I've learned in life has had nothing to do with money. That lesson is you never know when you will lose someone you love. We don't like to talk about it for a variety of reasons, but all of us at some point will die. Shocker, I know, but it's true – thus the ever sexy topic of life insurance.
Who Needs Life Insurance?
There is regular debate over who needs life insurance. If you listen to most life insurance sales people, we all need some sort of expensive Whole Life policy. Don't fall for that lie! Many need life insurance, though not everyone.
If you're young, single and in your first career it's very unlikely you need life insurance. In most instances, a cheap group life policy through your employer is the most you'll need – if that. However, if you're married, have children, are a single parent, are part of a single income household or a small business owner, then life insurance should be a vital part of your planning.
In many cases, term life coverage should be sufficient, especially if you've managed to invest in the stock market adequately. The amount of coverage you'll need also depends on your given situation and the needs of your heirs. Some experts recommend having coverage equal to ten times your annual salary, though again it depends on your specific needs.
Why is Buying Life Insurance the Loving Thing to Do?
It stands to reason if you have a family that you want to provide for them. What happens if you die suddenly? You may have things like retirement accounts to care for them, but what about more immediate needs? Consider some of the following items and how your family would cover them:
Mortgage payments
Funeral and burial expenses
College expenses
Money to cover for childcare if your spouse will need to return to work
These are just a few of the expenses life insurance helps cover. The funeral alone is reason enough to have coverage. The average casket, according to the FTC, costs over $2,000 and upwards to over $10,000. That can wipe out an emergency fund if you don't have adequate coverage – and that's just for a casket!
Personally, life insurance is loving because I don't want my family to be in need when and if I die. I want them to be able to have the things they need and not have to deal with financial worries. While Mrs. Frugal Rules may have to continue to run the business, albeit it at a radically reduced level, I want her to have the option not to need to. I want our children to be able to go to college, if they choose, without having to worry about where the money will come from.
Having adequate life insurance can help provide for those things. That being said, with it being life insurance awareness month, this is a great reminder to me that I need more coverage. I had been putting it off for some time, though now that I lost 100 pounds, I know I'm in a place where I can get much better rates. If you're a part of the 44 percent of people aged 25-64 who don't have coverage, consider looking at coverage today.
Do you have life insurance? What needs would your family have to provide for in the event of your passing?
The following two tabs change content below.
John is the founder of Frugal Rules, a dad, husband and veteran of the financial services industry whose writing has been featured in Forbes, CNBC, Yahoo Finance and more.
Passionate about helping people learn from his mistakes, John shares financial tools and tips to help you enjoy the freedom that comes from living frugally. One of his favorite tools is Personal Capital , which he used to plan for retirement and keep track of his finances in less than 15 minutes each month.
Another one of John's passions is helping people save $80 per month by axing their expensive cable subscriptions and replacing them with more affordable ones, like Hulu with Live TV.
Latest posts by John Schmoll (see all)