6 Money Saving Tricks That Make You Spend More
The following is a contribution from Consumer Saving Expert Andrea Woroch for our Frugal Hack Friday series. If you'd like to contribute to Frugal Rules, please contact us.
Americans are finally feeling good about the economy. In fact, a recent survey shows consumer confidence is at its highest level since August 2007, before the market crash. Between then and now, however, those who faced financial hardships were forced to find new ways to stretch their paychecks. With the rise of couponing, money saving websites and online thrift stores, saving money has never been easier. Maybe that's why the desire to save money has given rise to a few money saving tricks that actually deceive you into spending more than you should.
While adopting such savvy savings habits into your daily routine is important, not every method is worth keeping. The truth is, some of these cost-cutting measures don't work and you may be blowing more money than you're saving. Here are six saving strategies that you need to kick to the curb.
#1 Subscribing for Coupons
Signing up to receive a retailer's e-newsletter often means you'll get a new subscriber coupon for 10 to 25 percent off plus ongoing updates on the latest sales. While this strategy ensures you never miss a deal from your favorite stores, these emails can do more damage than good, which makes them a prime candidate for inclusion in this money saving tricks list.
Flooding your inbox with tempting sales and limited-time promotions, retail newsletters cause distraction from work and tempt you to spend.
Just because something is on sale doesn't mean it's a good deal, especially if the store inflated the original price to make the discount appear like a better value. The best way to find sales and coupons is to review deal sites like CouponSherpa or a store's social media page when you actually need to buy something.
#2 Only Shopping at Walmart
If you associate Walmart with low prices on everything, you may need to rethink your shopping strategy. Retail analytics firm Boomerang Commerce found that this big box giant isn't always the cheapest place to shop.
This recent survey shows Walmart actually has higher prices on certain goods compared to Amazon, specifically electronics and video games.
Though you can certainly save big on home goods, pet care and automotive products at Walmart, it's important to compare prices. Luckily, tools like ShopSavvy make it easy to review prices instantly from your mobile phone while PriceGrabber shows you the cheapest offers online.
#3 Racking Up Credit Card Rewards
Using a credit card that offers miles or cash back is a great way to offset travel spending and other expenses. However, if you're driven by reward collection and failing to pay off your balance in full each month, it's not a good strategy.
Consumers often justify spending more on these cards to reap the rewards which ultimately overwhelms the benefits. It's better to shop with cash or your debit card if you're prone to overspending.
#4 Focusing on the Cheapest Price
Basing your entire purchase decision on price alone may cause you more frustration and money in the end. When it comes to certain consumer goods like furniture, home appliances and electronics, quality should always play a role in your buying choice.
Clothing is no exception, either; I recently contributed to the TODAY show about discount clothing sites that offer sweaters and dresses for $10 to $20. Most of the super-cheap items were poorly made and didn't fit right.
Instead, search local consignment stores for gently-used merchandise for a fraction of deparment store prices or scope out sites like thredUp.com and RecycleYourFashions.com which specialize in used clothing from top brands.
#5 Browsing the Clearance Rack
Heading straight to the clearance rack every time you enter a store certainly belongs on our list of money saving tricks because it could spell disaster for your spending, especially if you're tempted by sales and markdowns.
While searching for deals on items you need or plan to purchase is a smart shopping strategy, buying something just because it's on sale is a waste of money.
If you're contemplating purchasing a discounted good, always ask yourself if you'd buy the item at full price. If the answer is no, you don't need it and should move on. Instead, snag sales on items you actually need by tracking price drops available through one of the many free money saving websites out there.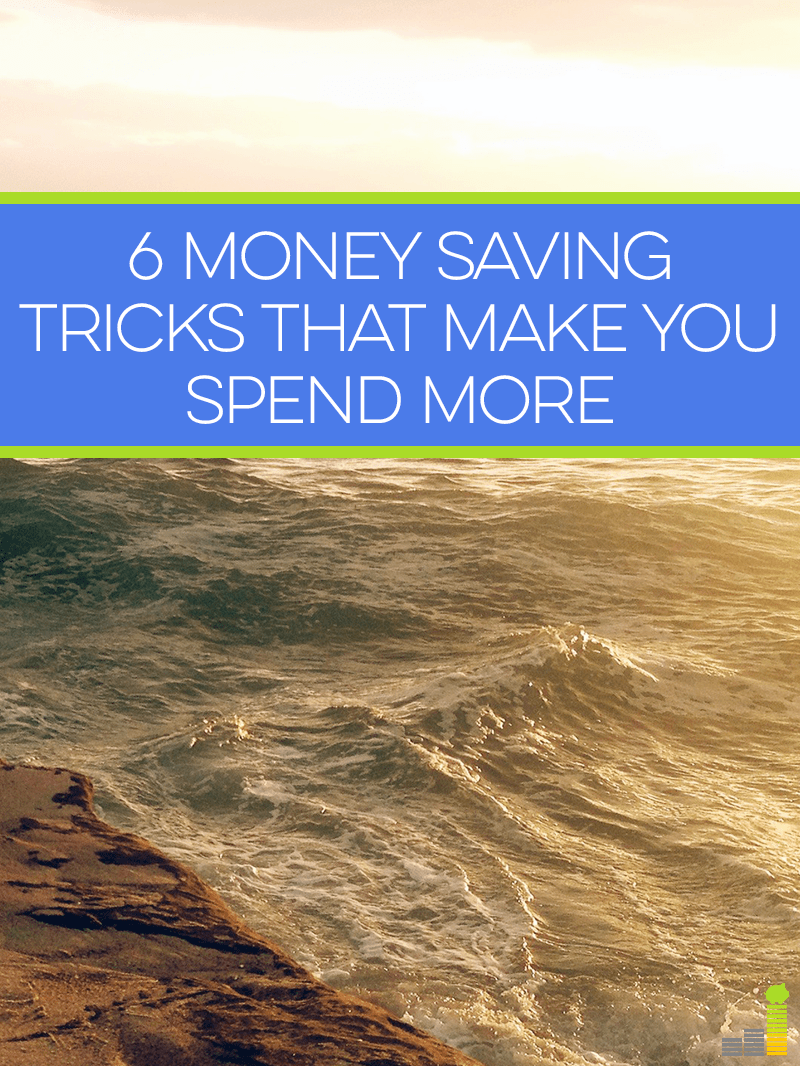 #6 Selling an Old Cellphone
Sites like Gazelle.com and NextWorth.com offer consumers the opportunity to sell unwanted gadgets for cash. While selling your old mobile device to offset the cost of a new one seems like a wise move, it may cost you more in the end, thus it rounds out this list of money saving tricks.
According to Plaxo's Mobile Trends Study, one third of smartphone users lose or damage their devices. Replacing these phones can get ugly, running up to $750 for the latest models like the iPhone 6 Plus. Holding on to an old cell phone will act as a form of cheap insurance and buys you time to save up or wait for a reduced upgrade should something happen to that expensive smartphone.
What are some other money saving tricks you think we tend to fall for? What is your go-to site to save money? What questions do you ask yourself before making a purchase?
About Andrea: Andrea Woroch is a nationally-recognized consumer and money-saving expert who helps people find easy ways to live on less without radically changing their lifestyles. From smart spending tips to personal finance advice, Andrea transforms everyday consumers into savvy shoppers and super savers. She is a regular guest contributor for the FOX News & FOX Business channels and has been featured among hundreds of popular media outlets such as Good Morning America, Today, CNN, Dr. OZ, New York Times, Money Magazine, Huffington Post, Kiplinger Personal Finance and many more. When not being interviewed, Andrea is on the other side of the news desk writing for New York Daily News, ClarkHoward.com and other top news sites.
The following two tabs change content below.
John is the founder of Frugal Rules, a dad, husband and veteran of the financial services industry whose writing has been featured in Forbes, CNBC, Yahoo Finance and more.
Passionate about helping people learn from his mistakes, John shares financial tools and tips to help you enjoy the freedom that comes from living frugally. One of his favorite tools is Personal Capital , which he used to plan for retirement and keep track of his finances in less than 15 minutes each month.
Another one of John's passions is helping people save $80 per month by axing their expensive cable subscriptions and replacing them with more affordable ones, like Hulu with Live TV.
Latest posts by John Schmoll (see all)