Money Saving Gardening Tips From a Frugal Mama
As I look out my kitchen window, I can finally see the grass that has been shrouded in a thick blanket of snow for months. I live in the Midwest where the seasons are obvious and the cold winter months make you long for spring. I grew up in sunny Southern California where my mom tended a rose garden and other temperate-climate plants year round.
Now that I have a family of my own, I have discovered that I inherited my mother's green thumb but not her gardening knowledge. I was too busy to pay attention as a girl so when the gardening bug bit me, I had to reach out to family members for their gardening tips. What I found along the way were gardening tips that made creating, maintaining and harvesting my own vegetable garden a very frugal endeavor.
A Productive Garden Starts with Good Soil
Healthy, productive vegetable gardening doesn't require as large of an investment of money as it does time. I started our backyard garden growing tomatoes, beans, corn, peas, carrots, onions, potatoes and peppers for less than $200. The cost outlay was a bit higher the first year because I needed to get my soil tested, amend it, create raised garden beds and fill them with a combination of top soil and composted manure. In the few years since I started a backyard garden I've learned that an abundant harvest doesn't require expensive seeds, just nutrient-rich soil.
I Gained one of my Best Gardening Tips From my Local Farmers' Market
We have three or four farmers' markets in our city. My favorite is the oldest one in town because it's held in our historic downtown district. There's something romantic and refreshing about strolling down cobblestone streets, smelling food from local vendors and seeing all of the vibrant, fresh food and plants from local farmers. On the outskirts of the market, a local farmer sets up rows upon rows of small vegetable plants and herbs that he starts in his greenhouse during the winter.
Throughout the spring and summer he sells peppers, rosemary, tomatoes, peas, beans, watermelon, sweet potatoes and more. His small plants are reasonably priced and produce abundantly. He's always full of helpful gardening tips and is the person who told me to grow what I can from seeds at WalMart or Home Depot and then buy what I can't at a farmers' market.
His strategy has worked well for me. I've peppered in a few heirloom seeds from Seed Savers along the way but generally have found that seeds from my local WalMart produce just as well if not better than heirloom seeds, and they cost a lot less (and I don't have to pay for shipping!). Another reason I like to buy my seeds in person is that I have yet to see any online coupons for seeds.
Growing an Organic Garden Costs Less Than Buying Organic Produce
I prefer organic produce but I feel like I can rarely afford it. I don't use any pesticides on my garden mostly because I don't want to spend the money on it but it has a fringe benefit of making everything I harvest organic. Yes, I lose some peas and beans in the process but overall, the bugs leave my garden alone (I've found out here at least they don't care for much of what I grow which are spicy peppers and tomato plants).
If you eat from your garden throughout the year, participate in a local gardening co-op where you share produce with friends and neighbors and can, you'll be able to enjoy homegrown organic produce for a lot less than what you'd pay for it at your local Whole Foods store.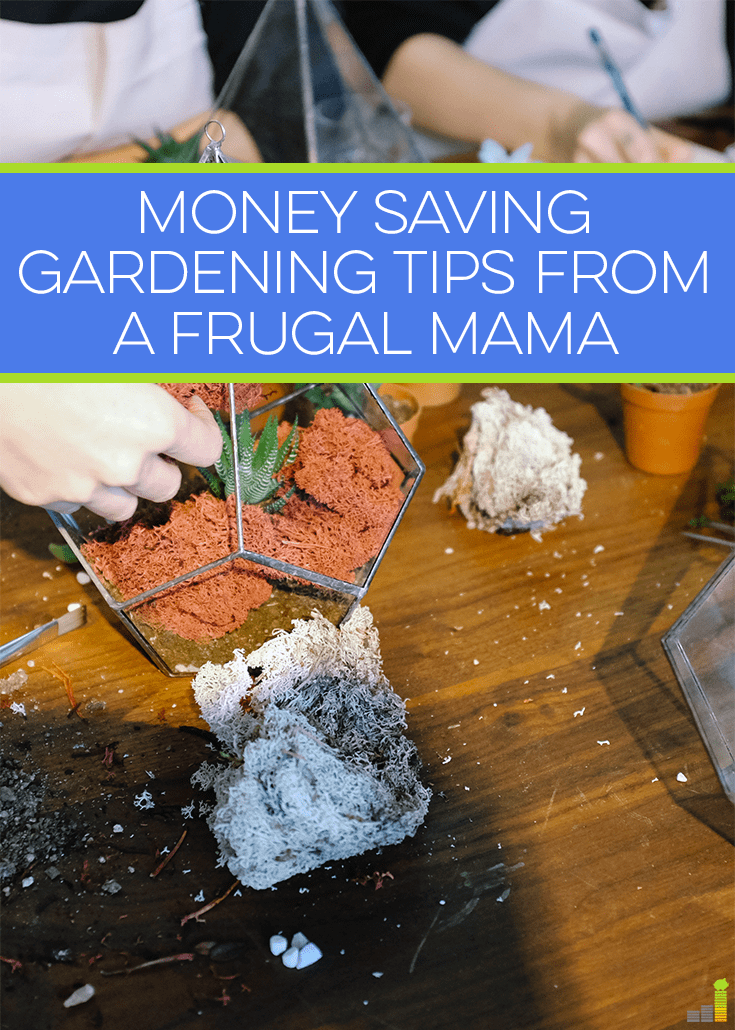 Gardening is an enjoyable hobby and has become one of my favorite ways to relieve stress and connect with with my kids. I try to involve them as much as possible in the planting, tending and harvesting of our garden. Along the way, they're learning to eat healthy and have a respect for things that grow. I feel as though I haven't scratched the surface of what could be discussed regarding gardening but I hope these gardening tips have been helpful.
If you have specific questions about starting a garden, ask them in the comments. Otherwise, share one of your favorite gardening tips!
The following two tabs change content below.
John is the founder of Frugal Rules, a dad, husband and veteran of the financial services industry whose writing has been featured in Forbes, CNBC, Yahoo Finance and more.
Passionate about helping people learn from his mistakes, John shares financial tools and tips to help you enjoy the freedom that comes from living frugally. One of his favorite tools is Personal Capital , which he used to plan for retirement and keep track of his finances in less than 15 minutes each month.
Another one of John's passions is helping people save $80 per month by axing their expensive cable subscriptions and replacing them with more affordable ones, like Hulu with Live TV.
Latest posts by John Schmoll (see all)