Why Money Envy Can Be A Good Thing
Posted on September 30, 2015 by John Schmoll in
Lifestyle
While I'm on vacation this week, please enjoy this post from Kristi at Modern Muse. If you'd like to contribute to Frugal Rules, please contact us.
Making the conscious choice to live frugally feels great about 99 percent of the time. It feels awesome to have an extra $300 a month in your savings account every month after you decide to cut out cable, switch to a cheaper cell phone plan and stop eating out so much. You start paying off debt, saving for retirement, and you're generally enjoying a frugal life.
Then it happens. Your co-worker rolls up to work in their shiny new car, or your cousin comes back from a month long trip to Europe. You start getting overwhelming feelings of jealousy and doubt with your financial game plan. "Why did I decide to save money again?" probably goes through your head. It's a rational response to automatic windshield wipers and heated leather seats.
Envy is such a powerful emotion; it creeps in and can make you lose sight of why you decided to live frugally in the first place. It isn't easy to be the financially responsible friend who always says no to fun or expensive events, and it's a big downer when you have to say no to a simple meal out. Nobody likes to feel left out or irrelevant.
Pretty much anyone on a budget or strict financial plan has dealt with money envy at some point. When jealousy pops up, you have two options: Let it creep in, fester, and make you lose sight of your financial priorities; or you can reign it in and use that jealousy to your benefit.
Remember Why You Save
You may not be able buy a new car or go on a cruise for vacation this year, but maybe you know the best ways to have fun with your family for free. Instead of feeling bad about what you can't do, take a minute to feel good about what you are choosing – like saving more, investing in an online brokerage account, or paying down debt. Do what you have to do right now to reach your bigger goals and don't let short-term jealousy affect your long-term finances.
Hold on to Gratitude
You know in your budget-loving heart why you made the personal financial choice to reign in your spending. Frugal living can feel alienating though, especially if your friends or family don't understand why you can't afford or have chosen not to have "nice things."
Instead of feeling jealous, try to feel happy for your friends and family when they get to buy or do fun new things. They may have different priorities than you, but they worked just as hard for their money as you did. Genuine happiness for others and gratitude for things that you have, goes a long way towards quelling those feelings of jealousy and resentment.
Look Deeper
That co-worker with a new car may struggle with their monthly loan payments, or they could have been saving for the past ten years to buy the car of their dreams with cash in hand. You never know how or why someone made a particular purchase or financial decision. It's easy to look at someone's shiny new purchase, get jealous, and project a judgmental attitude towards their decision, but realize that you don't know what they had to do to get it.
Learn From Your Peers
Is your co-worker drowning in debt to pay for that new car? If the answer is yes, then why on earth would you be jealous of them? Learn from their mistakes and stay on your frugal path to financial independence.
If they saved up for that car and paid for it all upfront, see what you can learn from them. Are they seriously kicking butt by doing great work at a side hustle? If so, ask them for business tips. Use the point of jealousy to spark a discussion. Just say, "Man, that's a beautiful car. Have any tips on how to pay for a car like that with cash in hand?" Ask them about their business or investments. Ask them to impart their wisdom to you, so that you can learn from them, go out, and emulate some of their success.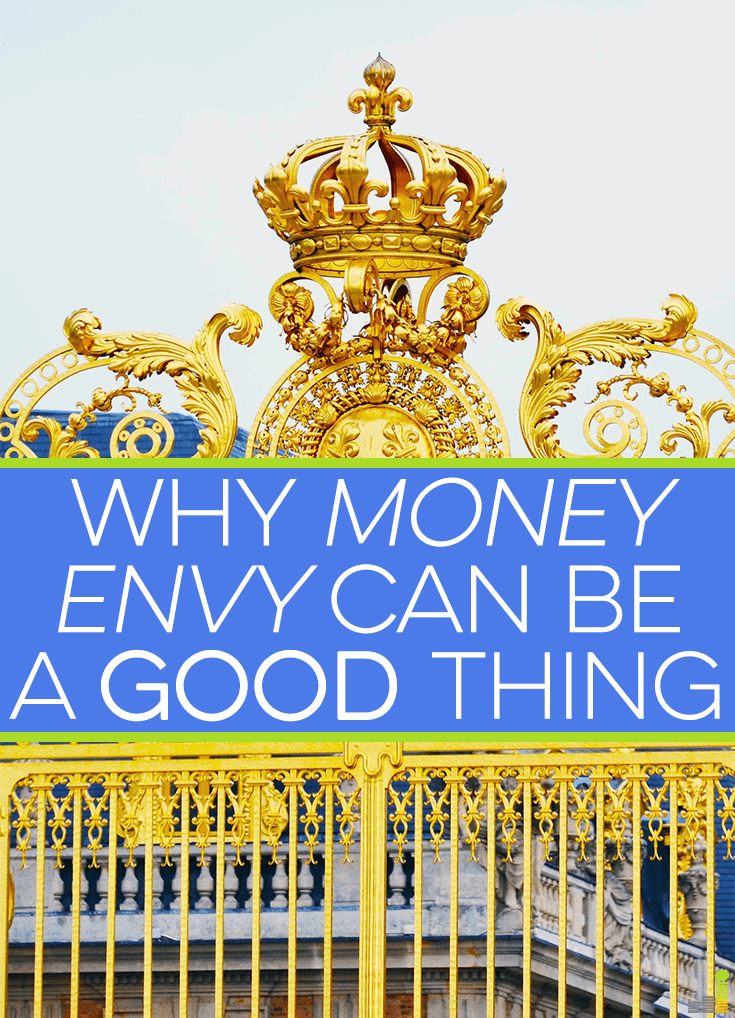 Focus on Your Priorities
Don't let the "Ohhh, shiny!" reaction to friends' new purchases cause feelings of doubt with your priorities. Insecurities damage your ability to make the best choices for your own financial situation. If you are doing what is best for your needs, wants, and bank account, then no amount of new clothes or new cars should be able to sway you. By focusing on the goals which direct your spending choices, you'll be able to look past those creeping feelings of jealousy and focus on the big picture.
How do you deal with money envy? Do you struggle with judging others for their financial choices – or do you feel judged for your choices? What mental tricks do you use to remind yourself of the "why" behind your financial choices?
About Kristi: Kristi Muse is a family finance freelance writer who loves writing about strategies to save money, get out of debt and live a frugal life. She shares her experiences about debt and parenthood on her blog Moderate Muse. You can also follow her on Twitter.
The following two tabs change content below.
I'm the founder of Frugal Rules, a Dad, husband and veteran of the financial services industry. I'm passionate about helping people learn from my mistakes so that they can enjoy the freedom that comes from living frugally. I'm also a
freelance writer
, and regularly contribute to GoBankingRates, Investopedia, Lending Tree and more.
Latest posts by John Schmoll (see all)